Bridgewater-Raynham boys' lacrosse off to a 7-1 start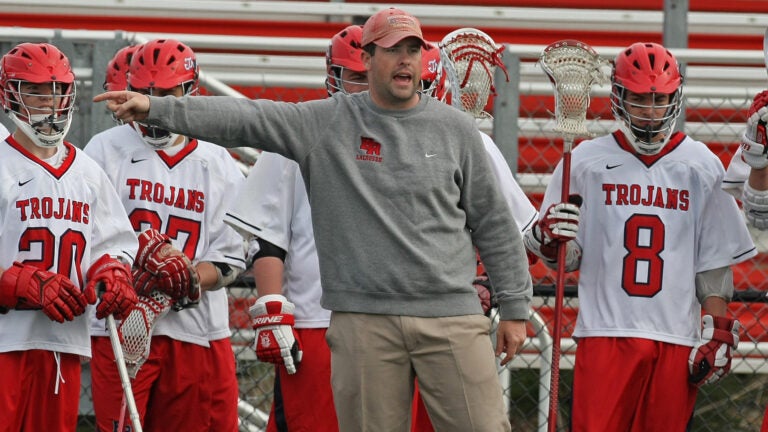 BRIDGEWATER — Matt Connolly
came away from the first sitdown with his captains elect last June with a huge sense of relief.
Connolly, the boys' lacrosse coach at Bridgewater-Raynham Regional, felt that he, along with rising senior leaders — midfielders Anthony Gallo
and Tim O'Connor
, goalie Matt LaFond
, and defender Ryan Murphy
— were all on the same page.
The Trojans were fresh off a disappointing 7-12 campaign that ended with a 20-7 loss to Westford Academy in the preliminary round of the Division 1 East tournament, the third year straight spring that B-R failed to win a postseason game.
The fix, according to all, was simple: Work more and work harder.
"That was one thing they all said, to a T,'' Connolly said. "They all agreed — it was unanimous. They said, 'We want more accountability, we want to be pushed harder, we want to be forced to work harder.' ''
"They brought it up to me, independent of any prodding or anything,'' he added with a smile. "It worked out very well.''
With a team motto of "getting the most by giving the most,'' the Trojans (7-1) are off to the best start in the program's five-year history, averaging 13 goals per game. B-R won seven straight games before losing to a quick Wayland High team, 5-2, on Saturday.
"Definitely, our hard work and our work ethic [has increased],'' Murphy said. "That's been a huge emphasis this season. We get after it every day and I think that's definitely a part of it.''
Even in defeat, one of the Trojans' biggest strengths, LaFond, put on an impressive display. The Bridgewater resident — all of 5 feet 9, 140 pounds — made 10 saves, and despite the time of possession being tilted well in the Warriors' favor, limited Wayland to just one goal in the first half.
Before the game, the three-year starter did not seem overly impressed with his own body of work — he is still in search of the elusive shutout — but with his .616 save percentage and 4.1 goals-against average, his coach could not ask for anything more.
"He's fearless in the net, he's an athlete, and he clears the ball really well, so I have the utmost confidence in him,'' Connolly said. "It's a great feeling when the ball is down in our defensive end to not have to worry about him.''
Murphy, a Raynham resident, anchors the backfield; Connolly calls O'Connor, a four-year varsity player, "the toughest kid on the team.''
On offense, a pair of sophomores are leading the way.
Attacks Travis Reid
(20 goals, 17 assists) and Gavin Perry
(20 goals, 10 assists) — the "Boys Wonder,'' as Connolly endearingly, if jokingly, refers to them — are the top two point-getters.
But what really makes the Trojans go is Gallo, another four-year varsity midfielder. His output (12 goals, six assists) is not as prolific as his underlings, but Connolly credits him with understanding the offensive concepts crucial to B-R's success. He can dodge defenders and force a slide, move the ball around the back, and dump it deep.
In short, he makes those around him better.
"If there are two guys on me, there's a guy open, so just move the ball. Keep the ball moving on offense,'' Gallo, a Bridgewater resident, said of his strategy.
"I've been steadily getting better, understanding lacrosse better. . . . [The younger attackmen are] putting up real good numbers this year, so that's definitely helping out. I just keep encouraging them to keep it up, not to get too low or too high on themselves if they make a mistake or make a good play.''
Staying even-keeled the rest of the regular season will be especially important for a Trojan team that will face a few stiff tests. Connolly wants to see his squad face high-caliber competition in preparation for the tourney. This spring, that includes Wayland, Wellesley, Natick, and Medford.
B-R registered its first-ever win over Maritime League rival Barnstable, 7-6, on April 8.
"We have to stay motivated,'' O'Connor said. "We definitely have a talented team. If we stay motivated, we can make a run.''
Duxbury girls begin picking up steam
The Duxbury girls, defending champions of the Patriot League, started slow this season, but after registering three wins in five days, the Dragons (5-2) seem to be flying just fine.
Coach Kelly Jurgens's squad beat Westborough, 15-4, Thursday before topping Marshfield Saturday, 17-7. The team then handled PL foe Pembroke, 17-4, on the road Monday afternoon. Senior captain Hannah Murphy
collected 11 goals and nine assists in the three games.
"The team is jelling,'' Jurgens said. "The two losses we had were against tough teams [Westford Academy and Notre Dame (Hingham)]. We took those games as a learning experience. We definitely learned from our mistakes.''
Jurgens said senior Kristen Brockwell
has shown a renewed sense of confidence with a lot of "presence and poise on attack'' after being a bit hesitant most of her junior season, her first since tearing an anterior cruciate ligament.
The Dragons' upcoming slate of games does not have any breaks: with Cohasset, a team with four Division 1 recruits, coming up Friday, followed by PL rival Hingham Tuesday. Two days later, Duxbury hits the road to play defending Division 1 state champ Westwood.
"We treat every game the same,'' Jurgens said. "Those are a big three games. Cohasset and Hingham are two rivals in the south, and Westwood is anyone's rival.''
Here and there
At 4-3, the Duxbury boys have already lost more games than they did during their 2012 Division 1 state championship season. All three losses, though, have come to out-of-state teams: Garden City, N.Y. (10-1, April 6), Fairfield Prep, Conn. (6-2, April 19), and Shoreham Wading River, N.Y. (9-7, April 20). . . . The Cohasset boys (5-2-1) have also won three in a row, outscoring Scituate, Norwood, and Hamilton-Wenham by a combined 39-7. . . . The Foxborough girls (6-0) are giving up fewer than six goals per game.