Newton North boys' lacrosse is back on the offensive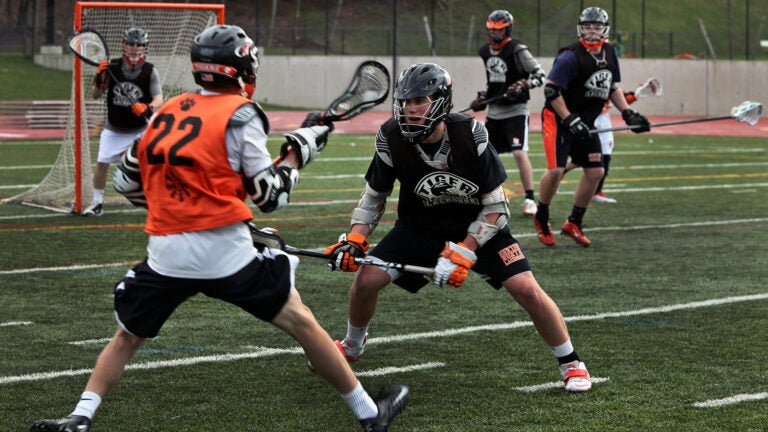 NEWTON — Bussy Adam would not say the lacrosse is necessarily better at Newton North High these days.
He says he is certain about only two things: One, this Tigers squad can score goals unlike any team in recent memory. And two, he is having a heck of a lot of fun coaching right now.
Given the theory that defense wins championships suffered a setback last spring, when the Tigers were ousted in the first round of the Division 1 East tournament despite having the 11th best defense in Eastern Massachusetts, Adam is responding with a new philosophy this spring.
"Well, the best defense is a good offense,'' said Adam, in his 35th season at Newton North.
The days of having three 6-foot-something, 200-plus-pound defensemen are over. The biggest player on Newton North this spring is attackman Anthony Wyse
, a junior transfer from St. Sebastian's School who stands at 6-foot-2, 210 pounds.
No longer do Newton North practices mimic those Geico commercials in which Dikembe Mutombo, the smiling 7-foot-2 former NBA player, swats away a box of cereal from a young boy who is trying to fill his shopping cart.
That is the way offensive players on the Tigers felt last year. Their passes through the crease rarely connected. Practices were frustrating. The hulking defensive unit was too good for the attacking unit to ever find consistency.
But those memories seem to be forgotten now.
"Of the four years we've been here, this has been the most fun year,'' said Joey Mariano
, a senior captain and attackman with 18 goals through the Tigers' 6-2 start.
"We're not struggling against our big power defense and having to slow down practice like we did last year. It's pretty even this year. It's easy to flow through practice, worrying about both sides instead of just worrying about offense.''
Since Mariano's freshman year, the Tigers have never had an offense ranked better than 41st in Eastern Massachusetts.
Through their first eight games this year, the Tigers have averaged 11.25 goals per game, 22d among all Eastern Mass. teams.
Twice this spring, Newton North has found the net at least 16 times. In 20 games last season, that happened once.
Offensive lacrosse is back at Newton North, which bodes particularly well for Adam, an attack-minded coach with three state championships under his belt, his last coming in 1996.
"I would say he's the best offensive coach in the state,'' said Lincoln-Sudbury Regional's coach, Brian Vona
, who played under Adam at Newton North and was an assistant on Adam's staff from 1992 to 1997.
"He adjusts. He makes midgame adjustments real well. Our teams, we used to make adjustments during the game. That's what separates good coaches from other coaches. Bussy is one of those guys who does that.
"I also think the reason he's such a good offensive coach is because he really understands defense. He understands the whole game. To be a good offensive coach, you have to understand defense. And he absolutely does,'' Vona said.
Adam's understanding of defense has allowed the Tigers to maintain some stability, despite graduating the entire starting unit. Sophomore long-stick Darien Clay has stepped into a more advanced role while midfielder T.J. McNicholas
, a senior captain defined as a workhorse, can now push higher on the offensive end.
The Tigers' offense operated strongly with a dodge-and-dump theme, using its small but quick attackmen to break free of opposing defenders and find seams close to the cage. And with the much stronger Wyse doing much of the dirty work — barreling over defenders on his way to a team-high 26 goals this season — it creates opportunities for Mariano and senior Ryan Quinn
, who have been standouts the past few years but are now hitting their full potential.
"A lot of kids — me, Ryan and T.J. — grew up together,'' said Mariano, who is cousins with both Quinn and McNicholas. "Now we're the big offensive guys. We know how each other plays, how each other works. And our new addition, Anthony Wyse, has been huge.''
"Coach is a little more excited,'' added Quinn, who has 21 goals and seven assists. "He's happier this year because we're scoring more goals.''
With a 10-9 win over Catholic Memorial highlighting the early part of the spring, Adam has also enjoyed the challenge of building a new defense in front of senior goalie John Hogan.
"You don't go out and beat CM unless you can stop their offense, and our defense did that,'' Adam said. "We have a young group of inexperienced players here. That's what makes coaching so much fun. If you had great players all the time, it's easy to coach. It's when you have some holes to fill and you have to get creative, it tests our limits too.''
After posting a losing record in 2009 and 2010, the Tigers are working their way back into the hunt for a Division 1 title.
"A lot of teams in the state have gone through a recoil period,'' said Vona. "About 90 percent of the teams have gone through that. Newton was going through that and they're on their way back up again.''
Warriors rise to Challenge Cup
With eight of the stronger boys' teams in Massachusetts competing in the Coaches Challenge Cup since its inception four years ago, the early-season tournament has provided some incredible games. Lincoln-Sudbury Regional's 9-8 win over Concord-Carlisle last weekend was one of those.
"One of the best high school lacrosse games I've been a part of in a long time,'' said Vona, who collected his 200th career win.
The Warriors went on to beat North Andover, 16-3, in the title game to improve to 7-0. Vona said sophomore long-stick Eamon Hunter
was the player of the tournament for his squad.
"Our defense is really settling in right now,'' Vona said. "That's important.''
Just a few with no losses
Undefeated watch: On the boys' side, it's Lincoln-Sudbury (7-0) and Medfield (8-0). On the girls' side, only Dover-Sherborn (6-0), Watertown (5-0), and Wayland (5-0-1) remain without a loss.