Rockland's Alyssa Jasper targeting a national title in javelin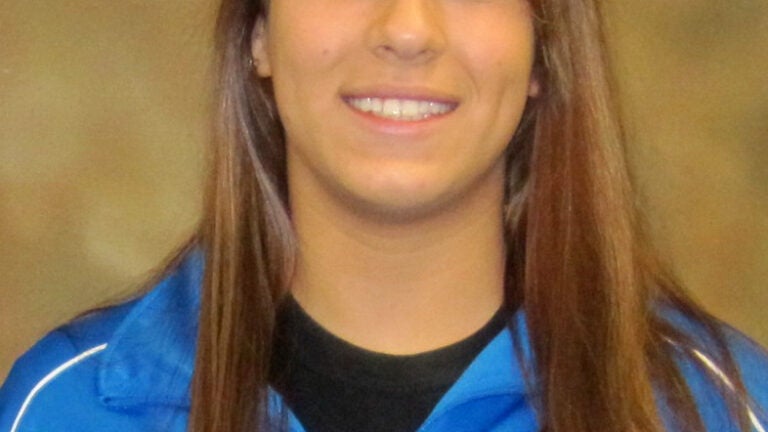 Rockland grad aiming to take javelin title
Launching the javelin into the air with all of her might is a relatively new passion for Alyssa Jasper
. The 2011 Rockland High grad has only been throwing the javelin for two years, but she is already targeting a national championship.
A sophomore at Worcester State University, Jasper is probably headed to the NCAA Division 3 Track & Field Championships, scheduled for Memorial Day weekend at the University of Wisconsin-La Crosse.
Her best throw is 141 feet, currently the fifth-best throw in the country in Division 3. The top 16 throws are invited to the nationals. Last year, Jasper placed 15th.
"Absolutely, I want to be number one,'' said the 5-foot-8 Jasper. "I don't want to go and just be an All-American. I want to be on top of the podium.''
Jasper played softball as a freshman at Rockland, but switched to outdoor track as a sophomore. By her senior year, she was the Division 4 state champion in the shot put and discus. She only threw the javelin during heptathlon competitions, but as a senior, finishing second in the event in the state track coaches association meet a month after she had graduated.
"In high school you can only do two throwing events, and I started with the shot put and discus and was winning those events and scoring the maximum points I could for my team,'' she said. "So I just stayed with them. When I got to Worcester one of my good friends threw the javelin, so I began practicing with her.''
The 19-year-old Jasper has also qualified for the New England Division 3 championships in the shot put, discus, and 100 hurdles. On Saturday, she established a school record in the shot with a career-best heave of 39 feet, 5.5 inches at the Eric Loeschner Invitational at Fitchburg State.
Jasper is also an accomplished sprinter, competing in the 100 hurdles and the 200 meters, but says she enjoys the field events the most.
"When you run a race, you only have one chance,'' said Jasper, a nursing major who would like to eventually work in the emergency room at Children's Hospital in Boston.
"When you throw you have three to six chances, so you always have an opportunity to better your throw.''
Jasper will attempt to defend her titles in the shot put and discus at the MASCAC Track & Field Championships Saturday. She will also compete in the javelin.
Worcester State track coach James Lemieux
said Jasper's prowess in multiple disciplines is a rarity.
"Most hurdlers are pretty good at the long jump or the high jump, or all they do is the hurdles,'' he said.
"It's not very often that you get somebody who is as fast as she is on the track who can throw as far as she can. If she can duplicate her best mark as of now, she should wind up in the top five finishers at the nationals.''
In her first heptathlon competion of the season, Jasper placed eighth — but third among Division 3 athletes — at Holy Cross with 4,167 points. Her javelin throw (135-6) was the longest of the day and she had the third-best toss in the shot. She has the 18th-highest point total in the country.
"She is an absolute competitor on and off the track,'' said Lemieux.
"Perfection isn't good enough for her. At one point last year she had one class that she didn't get a 4.0 in and she was less than happy about it. In practice she always wants to do more. She is always pushing herself to do better.''
Jasper is also an outstanding outside hitter for the Worcester State volleyball team, earning all-MASCAC honors as a freshman and a sophomore. This season she played for the Lancers' basketball team, although next year she will switch to winter track.
Group aims to honor Walpole coach Lee
After his legendary 25-year run on the sideline at Walpole High, John Lee
was inducted into the Massachusetts High School Football Coaches Association Hall of Fame in 1994.
A contingent of his former players, along with the Walpole High Gridiron Boosters, are further memorializing his career with the construction of the John E. Lee Press Box at Turco Field.
The group, headed by Millis High coach Dale Olmsted
, who played for Lee and later worked as an assistant for 10 seasons on Lee's staff at Walpole, has raised close to $200,000 for the project. Groundbreaking will take place in June and the facility will be ready for the 2013 football season.
"I've always wanted to do something in Coach Lee's honor because he had such a strong influence not only on myself but on a lot of my peers,'' said Olmsted.
Hired in 1968, Lee amassed a career record of 212-33-7, guiding the Rebels to six Super Bowl appearances, with four victories. Lee, who will turn 80 in October, lives in Walpole.