Westford Academy boys' lacrosse stepping up to face challenges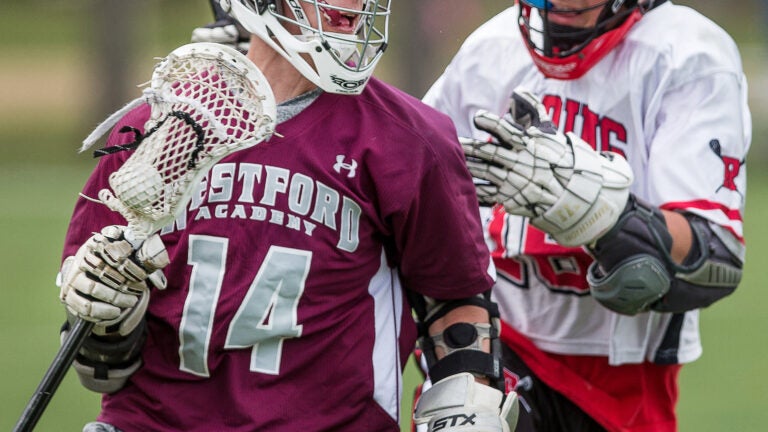 In the midst of a tight game against Reading High on Saturday afternoon, Westford Academy senior captain Jack Drapeau
limped off the field with a sprained ankle.
In a matter of moments, the defensive wheels started to slip off the Grey Ghost wagon, ultimately resulting in a 12-7 loss.
It's a microcosm of the season thus far for the Westford Academy boys: struggling with adversity, and stepping up in the face of those challenges.
Last season, the Grey Ghosts put together a 14-4 regular season to earn the seventh seed in the Division 1 East tourney. Peter Hargrave
came into his own as a sophomore goalie. Jay Drapeau
, Jake's younger brother, enjoyed a breakout season, piling up 122 points on 95 goals and 27 assists, earning a scholarship offer from Loyola University in Maryland. Ben Katz
developed into a force on the faceoffs, and emerged as one of the best 50/50 ball competitors in the state. In front of Hargrave, the elder Drapeau was the defensive anchor. The Grey Ghosts bounced Bridgewater-Raynham, 20-7, in the preliminary round of the tourney before falling to Boston College High, 10-7.
A season later, Westford is back for more, but not before going through the trials of a regular season first.
Through nine games, the Grey Ghosts were 7-2, sitting third in the Dual County League Large behind Newton South and Acton-Boxborough.
Katz, a senior, has been out with a lower back injury and may not return in the foreseeable future. The younger Drapeau, still an offensive force with 50 points (35 goals, 15 assists), hasn't quite been able to get to the cage as often as he's used to now that foes focus their game plans on stopping him.
So the 7-2 start has been a bit of a struggle.
Of the defensive attention the younger Drapeau is attracting, coach Matt Tholander
said: "It's a problem he's facing. No one likes to get locked. It's a work in progress.''
"Work in progress'' is fitting.
In tweaking the offense to allow Drapeau's natural talent to flourish, Tholander moved the young attack to midfield and started using him specifically on out-of-bounds plays. Once the ball gets in, it's off to the races for Drapeau, whose natural cutting and passing ability puts him in position to render defenders helpless.
Teams know it's coming, but most often don't have an answer. And his motor never stops.
"He hasn't changed his demeanor, or gotten complacent'' since committing to Loyola, said Tholander. "Jay's a competitor. Every conditioning drill we run, he's at the front. The team sees that and really responds.''
Where did he develop his leadership skills? Look no further than across the dinner table. Jack and Jay Drapeau feed off each other, and their competitive nature has helped carry what could have been a lost season for Westford.
Jack, "one of the top defenders in the state,'' according to Tholander, is also a stellar defenseman on the hockey team, and Westford's recipient of the Hobey Baker High School Character Award. He will play lacrosse at Assumption next year.
Tholander believes one of the reasons Jay has developed into such a force offensively is because he has gone head-to-head against a quality defender his entire life in the backyard. Same for Jack in developing his defensive skills: He's gone against his talented kid brother.
In Jay's selfless move to midfield, junior Timmy Curran
has thrived as an attack.
Minus Katz, Will Budski
, Ben Rodman
, Shane Kilday
, Scott McCord
, and Ryan McNabb
have stepped up in the faceoff circle.
"A lot of players underestimate us,'' said Tholander. "We put Jay in the crease and beat them with the other guys.''
Seeing their teammates sacrifice for the team has resonated throughout the locker room. Take Alex Antes, a big junior who is captain of the football team. He was thriving in an attack role, but with the onslaught of injuries, he was asked to move to defense.
With only three days of practice under his belt, Antes seamlessly slid back and made several key plays in his first game as a post defenseman.
It's only fitting for this Westford squad.
"The kids will compete; they're winning by attrition,'' said Tholander. "It's not just Jay and Ben – it's really a collective team effort. We want to be a state championship team.''
Little by little, they're making their case for it.
Here and there
Both the Reading High boys and girls got off to 5-2 starts. The Rocket boys resemble the hockey team – big, strong, tough, and senior-laden – probably because several members of the team played together on the ice for a Super 8 team. . . .
The North Andover High boys reached the finals of the Coaches Challenge Cup last week, but fell in the championship game, 16-3, to Lincoln-Sudbury. The NA girls suffered their first loss of the season against Westford. . . . St. John's Prep trailed for the first 41:15 of its game against longtime rival Beverly, but went on a 9-1 run in the second half, scoring the final six goals, to come from behind and defeat the Falcons, 13-11. Beverly's Ben Alpern
scored the go-ahead goal for the Prep with 1:56 to play.