Abbott wins fourth US men's figure skating championship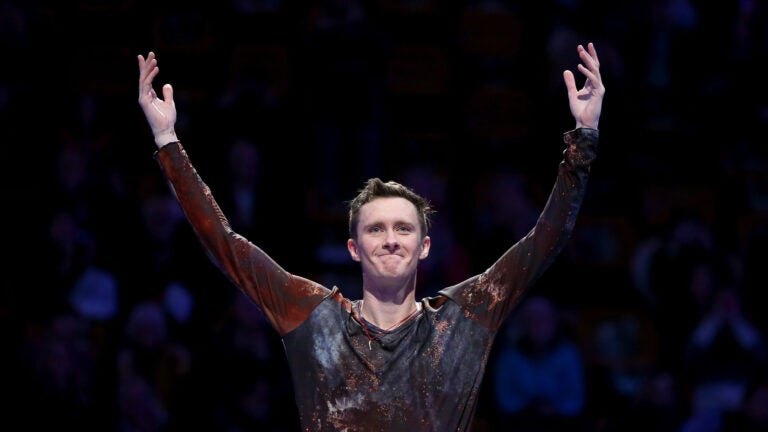 Jeremy Abbott was almost disqualified from the men's US Figure Skating Championship for not being set in place as his warmup minute expired. Luckily the crowd at TD Garden was there to count out the final 10 seconds for him and give the three-time national champion the chance to win one more.
The 2010 Vancouver Olympian ended the short program in first place after gaining a record 99.86 points Sunday. He skated a strong free program as well, ending with a record 274.27 total points to capture his fourth US Championship.
"I was really happy [with my performance],'' he said. "I did the quad in both programs, [which was a] huge thing for me, huge hurdle to get over. It wasn't a perfect skate, but God, I enjoyed every minute of it. I always enjoy this completion more than anything and it's always magic and I always feel it. I'm going to be sad not to be back on that ice next year.''
Silver medalist Jason Brown, the young star who took third in the short program with 87.47, was perfect on his free skate performance, wowing the crowd and dazzling his way to a final score of 270.08, the third highest total in the event's history.
"I'm kind of shaking right now, I can't believe what happened,'' Brown said. "The program that I put out I can believe that happened because I've trained so hard and I've worked so hard to be able to put out that type of program and to play to the audience. I work hard every day to work on calming my nerves before a skate so I can I go out and skate calm during these situations. I just stayed calm and am so excited; I have chills.''
Defending champion Max Aaron, who received a surprisingly low 86.95 in the short program, was solid in the free skate, netting a score of 173.49 and totaling 260.44. His score was still high enough for him to capture third.
"Today didn't go as planned as in training, but it's just an honor to be in the Olympic trials, it's huge for me,'' Aaron said. "Standing next to these two great guys who put on two great skates; it's just an honor to be up here with them.''
Richard Dornbush, who scored a then-record 92.04 points and eventually finished second behind Abbott in the short program, struggled in the free skate, totaling just 236.38 points overall and finishing fifth.
Boston native Ross Miner, the 2013 runner-up, finished seventh with a total of 224.81 points. His stirring "Boston Strong,'' free skate performance, a tribute to victims of the Boston Marathon bombings, drew great emotion and a standing ovation from the crowd. Wakefield's Stephen Carriere capped off his weekend with an impressive free skate, totaling 203.25 points and finishing 10th.