Will World Cup Construction Delays Become #BrazilProblems?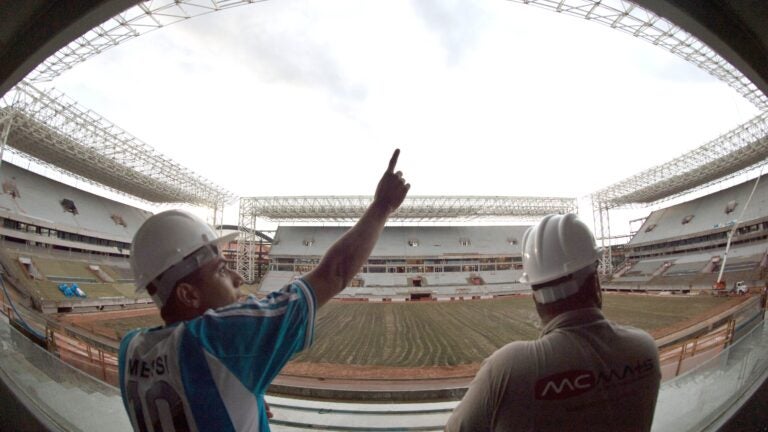 There is a chorus of concern over the progress being made in Brazil for next month's World Cup, a virtual echo of pre-Sochi paranoia that spread before this year's Winter Games were held in Russia.
In particular, "only 30 percent of the infrastructure projects'' for the World Cup is expected to be ready by the time the first match kicks off on June 12, global soccer legend Ronaldo said according to AFP.
[fragment number=0]
That fact was backed up by Jerome Valcke, the general secretary of Fédération Internationale de Football Association (FIFA), the governing body of international soccer competition.
[fragment number=1]
Construction of stadiums and arenas — among other notable issues — was slow for the 2014 Winter Olympic Games in Sochi, Russia, drawing considerable criticism and an unfortunate comparison between the two global sports competitions before their starts.
The result was the Twitter hashtag #SochiProblems, which accompanied tweets that documented Winter Olympic issues in that city that ranged from the stray dog population to where Olympians were expected to relieve themselves.
Aside from the athletic concerns, there is a real possibility that some roads and airports will not be completed on time and that each stadium may not even be equipped with an Internet connection for journalists covering the event, The Daily Beast reported.
FIFA vice president Jim Boyce, however, told BBC that "I have absolutely no doubt that the World Cup will start on time.''
Brazil has recently been rocked with protests over the lavish spending for the soccer tournament while its citizens complain about flimsy budgets for health, education, and transit, reported The Mirror.
[fragment number=2]
[fragment number=3]
Boyce added that the Brazilian protesters should beware that their actions may tarnish World Cup in their home country.
[fragment number=4]
Ronaldo, who has won two World Cup titles for his country, is "appalled'' at the situation but remains positive, according to the Associated Press.
[fragment number=5]