With Many New Faces on World Cup Roster, Revs Share Their First USMNT Experiences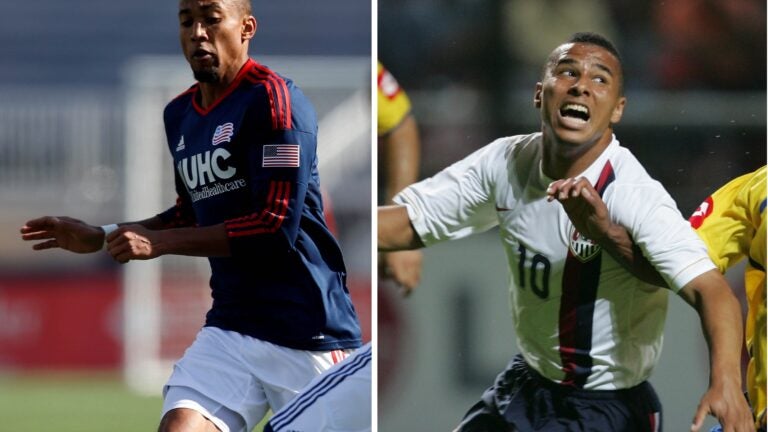 Getting chance to represent your country in the World Cup is the highest honor for any soccer player that takes to the field, and this year a whole new slew of Americans will get to experience it for the first time.
Of the 23 players heading the Brazil to represent the United States, only five have previous World Cup game experience – Jozy Altidore, DaMarcus Beasley, Michael Bradley, Clint Dempsey, and Tim Howard – meaning that for most of the roster, this will be their first time competing on the world's biggest stage.
With the World Cup quickly approaching, several members of the New England Revolution shared their experiences with the US Men's National Team.
"My first [National Team] camp was in South Africa [in 2010],'' said forward Teal Bunbury in audio released by the team. "It was my first season in [MLS], and I didn't know what to expect really with National Team opportunities. But throughout the season, I was being told by my agent, by my coach that 'Bob Bradley has you on his radar,' so that got me really excited.
"When it came to the end of the season, and they had a trip to South Africa, I first found out from my agent and then I got an email notifying me that I was going to be going to this camp in South Africa to play against South Africa, and for me I was ecstatic, having a great opportunity like that, playing or your country, traveling to South Africa where the Word Cup had just taken place. For me, it was a great honor and I really enjoyed that process and getting down there.''
Bunbury got his first opportunity with the USMNT on Nov. 11, 2010, in an international friendly against South Africa.
"I came on against South Africa, leading up we had a lot of training sessions and traveling down there, and it was just a lot of excitement,'' he said. "And for me, I just couldn't stop smiling on the sideline about to go in.
"Bob [Bradley] just came to me and said 'Go in there, have fun, and make a difference,'' and I went out there, and it was like a blur the first couple of minutes, but it was a lot of fun.''
Marlborough native Mike Burns, current general manager of the Revolution, earned 75 caps with the USMNT over his playing career, including two in the 1998 World Cup. He saw his first action for the National Team in 1992.
"My first cap for the US, it's something you do remember,'' he said. "We played Canada [and] we won the game, and it was a few guys that were part of the Olympic team program at the time were called into that game.'' Burns was named to his first World Cup roster in 1994.
"I was pretty excited; it was a great feeling,'' he said. "You were proud to be part of it and happy that you were one of the selections, because ultimately it comes down to the head coach and the assistant coaches who make the decisions.''
Forward Charlie Davies was on the 2009 FIFA Confederations Cup team that surprised everyone by making it all the way to the finals before falling to Brazil 3-2.
"Coming into that tournament, I was kind of one of the new young kids that were with the 'A' team and it was exciting,'' he said. "We were playing against the world's best, and I got my first appearance against Italy, in the first game. Coming on the field you're seeing [Andrea] Pirlo, and Giuseppe Rossi, and [Gianluca] Zambrotta, and [Gianluigi] Buffon, and I'm like, 'Whoa, this is like a dream; this is like FIFA the video game.'''
Going into the final game of group play, the US needed to beat Egypt in order to advance, and Davies found himself back in the lineup after sitting against Brazil.
"Everyone was counting us out, so coach Bob Bradley thought let's throw me out there and give me some experience, and I really took my chance, and scored the goal to kind of lead us into winning the game,'' he said.
In the semifinals, the US were heavy underdogs, going up against powerhouse Spain, who had won all three group play games and outscored their opponents 8-0.
"I had to calm the nerves a little bit, and once the whistle blew, I was able to play at my best, and again we won that game,'' Davies said. "The final was against Brazil, and I got my third straight start, and we jumped out to a 2-0 halftime lead and I thought, 'Wow, we really just won the Confederations Cup,' and we're going to be the best team in the world after this tournament ranking-wise.
"Before I knew it, I blinked we were losing the game 3-2. But what an experience that was for me personally. I haven't been able to play in the World Cup because of unfortunate circumstances, but that to me was as close as you can possibly get without being at the actual World Cup.''