Bruins
The End of Daisy Buchanan's: Sports Stars Flocked to Storied Boston Bar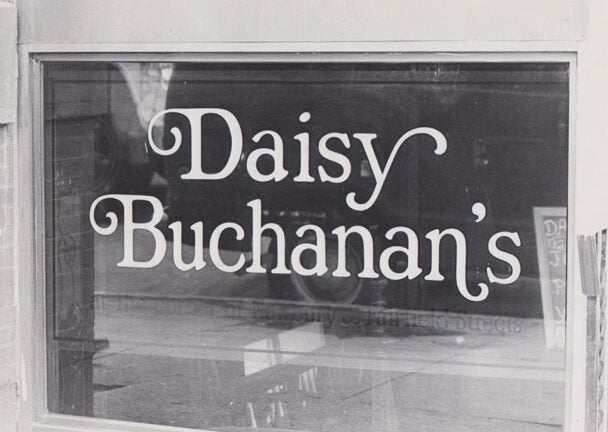 The Yankees were too loose.
Having just dropped their bags off at the Sheraton, a crew including Thurman Munson, Reggie Jackson, Ron Guidry, and Graig Nettles settled into Daisy Buchanan's, a cozy, subterannean bar on Newbury Street. It was October 1, 1978. The Bronx Bombers were in town for a one-game playoff vs. the Red Sox, the next day, that would decide the American League East.
"[Yankees pitcher] Catfish Hunter was standing by the service area, and a girl comes up and orders a series of drinks and beers, and the bartender went out and made them,'' said Joe Cimino, the bar's original and current owner. "So Hunter says to the bartender, 'How can you remember all those drinks without writing them down?' There's a guy who knows where every hitter in the American League likes, doesn't like, curveball, don't let him extend his arms, high and away, low and inside, and he thinks the bartender's famous because he can remember six drinks.
"The thing that I found was that they were so loose and easy… And that's when I knew, I said 'We're gone, we got no chance.'''
The Yankees would beat the Red Sox the next day, 5-4. Guidry started and pitched six strong innings. Bucky Dent's three-run homer sealed Boston's fate. Asked what he was thinking when he caught the final out, a foul ball off the bat of Carl Yastrzemski, Nettles told a television reporter, "I was thinking how long it was going to take me to get to Daisy's.''
A sign on the wall of the bar describes Daisy's as a place "where anything can happen,'' and that's especially true if you ever kept the bat on your shoulder for a 3-1 pitch at Fenway or laced up skates at the Garden. Athletes from Bobby Orr to Charles Barkley to Mike Napoli, as well as celebrities like Leslie Nielsen and Ellen Degeneres, have walked the step down from Newbury St. and bellied up to the bar.
There won't be many more chances. In April, Cimino told the Herald that he'd sold the property at 240A Newbury Street, along with an abutting building at 41 Fairfield Street, for a combined $14.5 million. The bar will remain open through the weekend before shutting down its Newbury St. location for good. Cimino tells Boston.com he plans to reopen the bar in another location, after taking some time off.
The property's new owners, Boston-based real estate firm UrbanMeritage, have mixed-use plans for the site, pretty appropriate given the bar's history.
The Big Bad Bruins
The Daisy's story begins in 1969, in the booth of a Manhattan restaurant. Jets quarterback Joe Namath had summoned Derek Sanderson, the wildly charismactic Bruins star, to New York for a business meeting. The NFL had told Namath that the bar he owned in New York was a conflict of interest. Namath had quit football over it, but he wanted back in, without giving up his business interests. Sanderson was his solution.
Sanderson signed on as a partner, helping to open a version of Namath's bar, Bachelors III, in Boston. In a recent memoir, Sanderson describes his early days as a bar owner:
"Every night was sensational fun. There were lineups around the block. When the Bruins were in town, we were there until two in the morning every night. All the waitresses were great-looking. It was a beauty contest. …I was thinking, "This is unbelievable! And I'm the boss!''''
Unhappy with making money for someone else, Sanderson cut ties with Namath, partnering with Cimino to open Daisy Buchanan's. The bar, named after the Great Gatsby's lover in the classic F. Scott Fitzgerald, opened in September of 1970.
Athletes clung to the place immediately, starting with Sanderson and his teammates.
"That Bruins team came from central casting,'' said Cimino. "Bobby Orr, Phil Esposito, Gerry Cheevers,Eddie Johnston. And of course Derek was my partner here, and he had a great deal to do with getting the name out there. He was a big attraction himself.''
Legend is that Jimmy Buffett wrote "Boat Drinks,'' the lone hockey song in his catalogue, after a wintery night of debauchery with Sanderson at Daisy's. "Visitor just scored on the home rink/Everything seems to be wrong …''
The camaraderie of the place outlasted that particular group of Stanley Cup winners. In April of 1980, the Bruins hosted a playoff game in which Terry O'Reilly got into a brawl on the ice with Clark Gillies from the New York Islanders. Cimino recalls the two enforcers being at the Daisy's at the same time after the game.
"It was like what happened on the ice, stays on the ice,'' said Cimino. "What happens in Daisy's, stays in Daisy's …That was a fun time and a lot of those guys came in. When you had a whole group of them, they were characters. …There was no cell phones, so nobody could take their pictures with them drinking a beer.
"Sports was different in those days. There were no charter flights, so they flew commercial. So on a given night after a game, you'd have both teams in here. The team that just played and the team that was staying overnight before leaving.''
Anyone, Even a Patriots Quarterback, Could Blend In
Scott Zolak worked in Foxborough for seven seasons (1992-98) as the Patriots' popular and fun-loving backup quarterback. He lived in Franklin. But his favorite place to revel in his famous youth had a Boston address: 240 Newbury Street.
"That place was the best,'' said Zolak, whose energetic persona has made him something of a cult figure as the analyst on the Patriots' radio broadcasts. "We'd go to Daisy's, a bunch of us, every Monday. Tuesday, that was our off-day. But we'd be right back there on Wednesday, on a Thursday, on a Friday night. And we'd go there after the game.''
Zolak and his crew of teammates did not go there to receive VIP treatment. They went, in part, for the opposite reason. They savored being part of the regular crowd, a place where they could be themselves.
"It wasn't a place where you got the velvet ropes out, let the players sit over here and everyone else over there like a nightclub,'' said Zolak. "Everybody talked to everybody. Nobody got bothered. Everyone was in on the fun. It was just a downstairs bar on a great street in a great city.
"It was intimate, it was small, it would never really get overcrowded. Everybody was there for one reason: to have a good time. That's what everybody knew. The drinks were stiff, everybody knew everybody, the doormen knew everybody, and you'd always see the same people every time you went it.''
By the '90s, word had long been out, and athletes from all sports frequented the place. Zolak recalls seeing the usual familiar faces when he'd walk in – but, also, on certain occasions, more famous folks, those he knew only from watching them play ball on television..
"Back in the day, Charles Barkley would go there,'' said Zolak. "I remember meeting [Shaquille O'Neal) there, back when he played for Orlando, back when the old Garden was still around. I remember shaking Shaq's hand right outside on the steps of Daisy's, and I'm a big guy, and his hand was about four times the size of mine, no kidding. He was there with Penny [Hardaway].''
Hardaway, once so famous that he had a series of Nike ads with a puppet-likeness of himself voiced by Chris Rock, saw his stardom fade while he was still young. And his friendship with Shaq proved fleeting.
But there were lasting relationships that were forged at Daisy's.
"I met my wife [Amy] there,'' said Zolak.
Zolak, so brash and confident on the field, must have been the same way off the field, right?
Not this time.
He saw Amy at Daisy's one night, and again the next.
"The second night I saw her, I tried to find enough guts to go up to her and ask her out,'' he said. "She said no the first time. I tried again. The second time, to get her to say yeah, we made a deal. I said hey, if it doesn't go well, I'll never call you again. We've been married for 16 years and have three kids.
"The two of us, we're real sad to see it close. You can imagine. Special place, man. Special place.''
Good Times Never Seemed So Good
When you walk into Daisy's, the first thing you see is a bench at the top of the stairs, adjacent to a DJ booth. Even though Daisy's didn't have a dancing license for the past 44 years, regulars could often be spotted getting their groove on in the back room dotted with dark wood paneling and tables and chairs with red vinyl padding.
The main bar is long, stuck against the center wall, with an old-timey cash register on top. Daisy's to this day doesn't take credit cards. Covering the walls are many photos of the bar through the years, with old posters and a few HD TVs scattered about.
Then there's the well-known smell in the old bathroom of the Back Bay establishment.
"Joe Nathan was a longtime regular,'' Cimino said. "The last time he was in here, I told him we had new bathrooms, but he said, I'm going to use the old ones because I like the smell.
"When you have high-tide in Boston, and we're in the Back Bay, it's inevitable that the water rises and it's like Nantasket beach at low tide.''
Nathan wasn't the only recent regular. John Lackey, loved then hated then loved again by the Boston fans, came in often during some of this worst times.
"He's a very nice guy, a perfect gentleman, and a very generous guy,'' said Cimino. "He used to come in here, the year that he had a bad year, he just wanted to be alone. Then the year he had surgery he used to come in so and then the comeback that he had… if he had some run support, his record would have been five or six games the other way. But he did win the World Series game.
"He used to come in here often, after the games because he came here when nobody liked him, and we liked him. And after that, people were chasing him down the street to get his autograph after he won the Series.''
The night of the Red Sox parade was particularly raucous at Daisy's.
"At the end of the night, I literally could not get people out of here,'' Cimino said. "They wouldn't leave. They would say to me, 'hey, we don't get a chance to see the Red Sox in real life that often.' So they said, 'We're not leaving. When they leave, we'll leave.' I said, well I can't tell them to leave but I can tell you to leave. People out-and-out told me, we're not leaving and they'd go back there, and the players were very gracious about taking pictures with them. That was the night Mike Napoli was getting shots poured down his throat. But during the year, he was conservative, never saw him have more than a couple of beers.
"And then that night, he let loose. He was actually behind the bar with his mother. So he was getting the shot poured down his throat and his mother was behind the bar with him and somebody said to me, "Don't you think you ought to stop that?' I said why don't you ask his mother?''
Zolak isn't the only former athlete to find love at Daisy's. Former Bruins enforcer Lyndon Byers also met his wife, Annie, at the bar in 2004, a year that was also pretty important to Red Sox fans. If you believe Lino Aiello, a Daisy's bartender for 14 years, the Red Sox' 86-year curse was actually broken at the bar well before October.
[fragment number=0]
"We used to have this whiffle ball game, the Yankees against the bartenders, and we always got crushed,'' said Aiello. "We always lost. We used to play outside after closing. The cops used to come and shine the lights on us for a couple of innings, and we always got smoked. We never had a chance.
"David Wells, David Cone, Alfonso Soriano all played. In 2004, that was the only year we ever beat them. It's funny, we had a couple of doormen who played baseball for Harvard and just everything seemed to click. It was like two innings, and we won 2-1 and we always said that was the Curse of the Bambino being broken right there.''
And while Daisy's will stay open through Nov. 9, some fixtures have already been removed… and not by choice. The four-foot outdoor sign from the Fairfield Street side was stolen in October.
"It was about a $2,000 sign,'' Cimino said. "Solid mahogany. Gold leaf. Hand-carved with 'Daisy's,' – it's been out there probably 30 years – and it was something obviously I wanted for myself as paraphernalia. I would want it to remain in my family.''