Jermaine Jones' Arrival Changed Everything for Revolution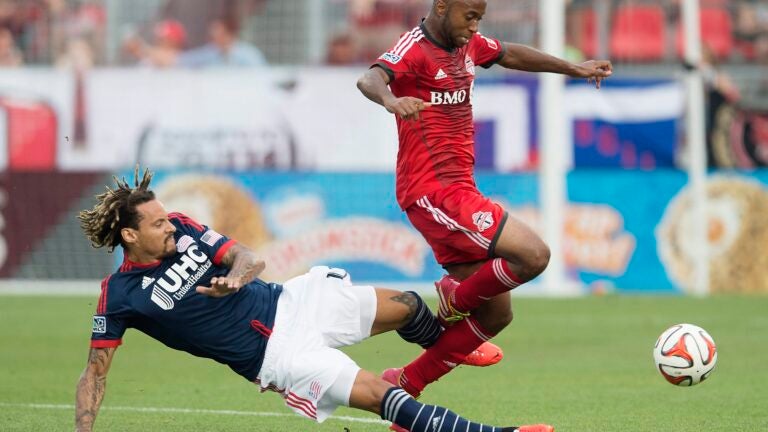 In Europe, Jermaine Jones was notorious for nastiness. But since arriving in Boston in August, Jones' image has gone from Bad Boy to Mr. Nice Guy as he has led the Revolution into the MLS playoffs, compiling more assists (five) and goals (two) than red cards (zero).
The reason for the change in disposition? Simply, a change in positions. It started in the World Cup when U.S. coach Jurgen Klinsmann allowed Jones to leave his holding midfield role and roam the field. Revolution coach Jay Heaps has given Jones a similar green light.
Before practice Friday, Jones spoke about his expanded role since moving to MLS from Europe.
"I would say that's the position I want to play, that I like,'' Jones replied. "Now, with the national team I play defense – I'm more happy I can play offense here. So, yeah, it's a cool balance. Everybody loves to attack more.''
The Revolution were preparing for their Eastern Conference semifinal playoff game (5 p.m. Sunday) against the Columbus Crew at Gillette Stadium. The Revolution won the opening leg of the playoff series, 4-2, in Columbus Nov. 1. The aggregate-goals winner (away goals are the first tie-breaker) will meet D.C. United or the New York Red Bulls in the conference final.
Before Jones arrived, the Revolution's playoff chances were in doubt. Since Jones' Aug. 24 arrival, they have a 9-1-1 record.
"His football sense is excellent,'' Heaps said of Jones. "He can get forward, he can defend. I think if you put him in a lot of different positions he would do well because of his soccer sense. So, if he plays right back, center back, whatever position he can play there's no question he's going to be one of the better players at that position.''
Jones is the first big-name designated player signed by the Revolution since the DP rule went into effect in 2007, and the team's highest-profile signing since Walter Zenga, a former Italian national team goalkeeper who played for the Revolution in 1997 and '99.
The Kraft family did not have to break the bank for Jones – his $4.3 million salary for an 18-month contract places him among the top 10 highest-paid MLS players – but it did break with comparatively skinflint traditions. While some MLS teams have made ambitious acquisitions, loading up on DPs, the Revolution had been content to stay within the salary cap, only reluctantly dabbling into DP territory.
And then along came Jones.
The Krafts were looking for a charismatic figure that could also provide on-field leadership for a group of talented, but inexperienced role-players. They found someone with dreads, tatts, a celebrity lifestyle, plus Champions League and World Cup experience. The attacking skills and U.S. passport were bonuses.
Jones checked all the boxes, though there are questions why it took so long for MLS to figure that out. A source familiar with the negotiations said before the World Cup MLS stated no team "would ever pay anything close to'' the 2 million euro contract Jones had with Besiktas in Turkey, adding: "It's not like he got a lot better in the World Cup.''
Then, Jones had a breakout performance in Brazil, his long-range strike in a 2-2 tie with Portugal in Manaus awakening one and all to his attacking prowess.
But even then, the Revolution were not hurrying to the door of Jones' Encino mansion (purchased four years ago from actress Tori Spelling). The Chicago Fire courted Jones in July and appeared to have the inside track. Once Jones signed an MLS contract, though, other teams could file a claim, and the Revolution did so in early August. On Aug. 24, a "blind draw'' was held at MLS headquarters in Manhattan. Chicago and Revolution officials were contacted by Skype, watching as commissioner Don Garber pulled the Revolution's name from an envelope, awarding them Jones' MLS rights.
Revolution fortunes were about to change, if they hadn't already. The team had snapped an eight-game losing streak with a 1-1 tie against the Portland Timbers on Aug. 16. Jones had not been paying close attention to his prospective employers, but he did tune in from Los Angeles for the Revolution's 1-0 win over Chivas USA at Gillette Stadium Aug. 23. That result, some positive conversations with Revolution forward Charlie Davies, plus the Revolution's willingness to meet his asking price, convinced Jones about a future in Foxborough.
"From the first day I like it,'' Jones said. "All the people are really nice to me and take care of me, not only here, in Boston, too. Boston is a great city – a lot of fun times. And, now, I hope we can finish the season good.''
English is a second language for Jones, who was born in Germany and gained U.S. citizenship through his father, who was stationed at a military base in Frankfurt. But Jones barely knew his father, believing he had abandoned the family. In fact, Halbert Jones was serving a 52-year sentence (reduced to seven-plus years) for cocaine and heroin distribution and smuggling charges at Fort Leavenworth's Military Correctional Complex. Jermaine did not get details of his father's situation until Nov. 2, 2007, the eve of his 26th birthday, when his wife, Sarah, set up a telephone call. Halbert and Jermaine talked long into the night. Jermaine got a lot of answers, though he refuses to go into details about the conversation, saying "this is private stuff.''
Halbert Jones also lives in Southern California and Jermaine considers the situation resolved, the family reunited.
Meanwhile, Jones has settled in with the Revolution, though not without avoiding controversy. In the second half of the Revolution's victory at Columbus, Jones hit the ground following an elbow from the Crew's Waylon Francis, who was cautioned on the play. On Wednesday, the league announced Jones would be fined for "simulation.''
"Of course, I have to pay it,'' Jones said. "I don't understand it but I have to pay it. I don't like to talk about it, it's done and I have to pay it. I think everybody who understands soccer can watch it and make their own decision – you like it or you say it's not right. I'll pay it and we have the next game and I'll try and win that game and make the next step.''