Record-Setting Revolution Set for Next Step on Road to Title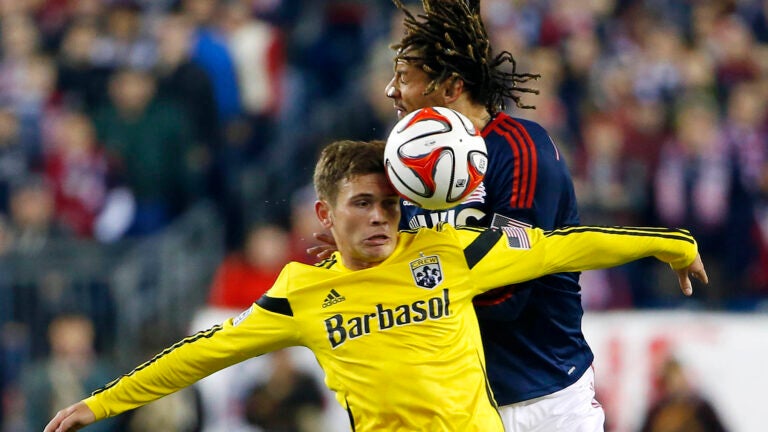 The Revolution used to regularly advance to Eastern Conference finals. But seven years ago, the team did not display such pyrotechnical playoff tactics and there might not have been as many people paying attention.
A 3-1 victory over the Columbus Crew Sunday night clinched the Revolution's first post-season series victory since 2007, setting an MLS record for aggregate goals in a series (7-3 over two legs) and the 20,184 crowd establishing a team playoff attendance record.
The Revolution, 11-1-1 in all games since Aug. 16, advanced to a two-game conference final against the New York Red Bulls, the opener set for Red Bull Arena on Nov. 23 and the return leg at Gillette Stadium on Nov. 29 at 3 p.m.
There were at least two good reasons for the Revolution to be considered favored to move on: Columbus arrived without starting strikers Federico Higuain and Aaron Schoenfeld, both injured; plus, a 4-2 first-leg advantage meant the Crew would have to outscore the Revolution by three goals, and also overcome an away goals disadvantage.
But the Revolution were willing to play a wide-open game and the Crew came out firing away. Lee Nguyen's 43d-minute goal and two Bobby Shuttleworth saves on point-blank shots allowed the Revolution to take a 1-0 halftime lead.
The Revolution broke things open early in the second half, then coasted, concluding the contest with a two-man advantage, the Crew's Ethan Finlay and Justin Meram issued red cards.
If it seems as though the Revolution are throwing caution, and everything else, to the wind it's because they are.
"We just want to win,'' Revolution coach Jay Heaps said. "Our best defense is a good offense. We want to keep teams off-footed. We are who we are. Sometimes you have to embrace what kind of team you are.''
With Nguyen, who scored 18 goals during the regular season and has two in the playoffs, plus Jermaine Jones (both are expected to be called to the U.S. national team for games next week) driving the midfield, the Revolution are taking playoff soccer where it has seldom been before.
The axiom of elimination situations producing cautious, low-scoring games is simply not holding true with the Revolution.
Central defender Jose Gonçalves showed why, scoring the second goal in the 55th minute, a point in the game when he would be expected to stay as far from the attack as possible. Instead, Gonçalves joined Charlie Davies on a breakaway, bouncing a shot off the inside of the left post for goalkeeper Steve Clark to carry into the net.
Six minutes later, the Crew were reduced to 10 men as Finlay was red-carded for a challenge that appeared to leave Shuttleworth briefly unconscious.
Shuttleworth recovered, but could not stop Tony Tchani's header off a Meram free kick in the 68th minute. Nguyen was replaced by Daigo Kobayashi in the 74th minute, Teal Bunbury adding the third goal by roofing a left-footer off a Kobayashi feed in the 78th.
Bunbury also set up Nguyen's goal, his initial cross stopped by former Revolution star Michael Parkhurst, ball returning directly to Bunbury, who then slipped a pass past four defenders for Nguyen to half volley past Clark.
By then, the Revolution had a 5-2 aggregate advantage, but they continued to pressure, nearly scoring again just before the end of the half. That left them open for a Crew counter and, seconds before the halftime whistle, Shuttleworth saved a Jairo Arrieta header.
"It's exciting,'' Davies said of the Eastern Conference final matchup. "I mean, when you're playing against Thierry Henry and Bradley Wright-Phillips, these are players who have performed at an extremely high level all season. And you wouldn't want it any other way, playing against the best.
"For me, it's a dream to play against Thierry Henry. Any time I can step on the field with such an amazing player, one of the best strikers of all-time, in my opinion – and, so, we have our work cut out for us and we're just going to take it game by game.
"That first game in New York is really going to dictate the series. That game (a 2-1 loss Aug. 2), when we were up a goal and up a man and we kind of crumbled when they put the pressure on us because we kind of stopped pressuring them — and that was in the beginning stages of us trying to find our identity. We're a much different team than we were then, so hopefully things will work out.''