The Knuckles: An All Higher Education Edition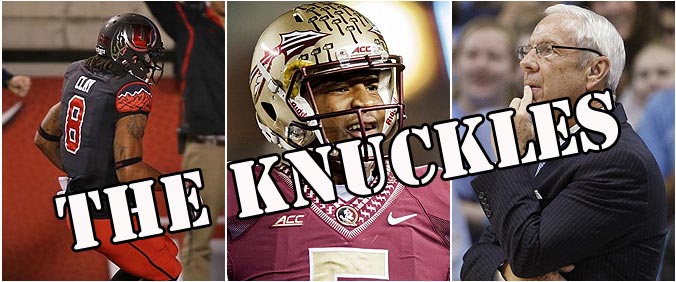 Just because you go to college, went to college or are in the employ of a college doesn't mean you're smart.
We're well aware of this here at The Knuckles, which is why we're presenting an all-higher education edition of your favorite awards show this week. Gaze in wide-eyed wonderment at the amazing follies and outrageous behavior of both college football and basketball players and coaches alike. Whether it's the complete brain fart of a player on the field, the despicable behavior of quarterbacks and their lawyers or the piling on of corruption to an already corrupt system, you can bet we have all your knuckleheaded angles covered.
Given the horrid nature of the NCAA itself, we shouldn't be even slightly surprised at all the knuckleheads parading about its ranks. So let's recognize them, shall we? We shall.
BRONZE: Kaelin Clay – You've almost got to feel bad for Clay, the University of Utah wide receiver who single-handedly produced a 14-point swing in the Utes' loss to Oregon last weekend. He's a kid, he was excited to score a big touchdown against a national superpower like the Ducks, he's kind of stupid and that's not necessarily his fault, etc.
[fragment number=0]
But at the end of the day, at the risk of sounding bitter or old or lecturey or worse – a bitter, old, lecturey sports writer – it's impossible to reach any conclusion beyond that Clay is a complete and total knucklehead.
Up 7-0 and playing at home, Clay caught a deep pass from Utes' QB Travis Wilson and was off to the races and a 14-point lead. But instead of actually scoring, he pulled a DeSean Jackson.
[fragment number=1]
The only thing less surprising than Clay's goof turning the game around completely (Oregon would go on to win 51-27 on the heels of its 99-yard TD return of Clay's fumble) was the fact that he almost instantaneously became world famous thanks to our dear friend, the internet.
Clay seems to be over his monstrous gaffe, at least publicly, and that's a good thing. The Utes weren't going to win a national championship thanks to his royal screwup. But he still looked like an ass in front of the entire world and you'd have to have think that's not the easiest thing to deal with. I feel like a schmuck for hours if I trip or wipe out or anything like that even when there's no one around.
But man, just wait until you actually, you know, score the touchdown before you start celebrating scoring the touchdown. See the thick, white line that demarcates the field from the end zone – cross it, and then do whatever you want. Your chances of being a knucklehead will then decrease exponentially.
SILVER: Jimbo Fisher/Jameis Winston/His Lawyer – Florida State quarterback Winston, his lawyer David Cornwell and his Neanderthal of a coach Fisher could easily take out some permanent real estate in this space, as could the school itself. This week, Cornwell magically got the university's investigative hearing into whether the sexual assault allegation involving Winston counts as a violation of the student conduct code postponed until Dec. 1.
That particular date, moved from Nov. 17, falls three days after the Seminoles' regular season finale against Florida. School policy states that students receive decision letters within 10 class days of the end of each hearing. With the last day of fall finals at Florida State Dec. 12, and with the spring semester starting Jan. 7, Winston could very easily remain eligible for the playoffs (Jan. 1) and national championship game (Jan. 12) regardless of the hearing's outcome.
I don't want to think about any of these horrible people any more than is absolutely necessary for the purposes of this column, nor should you. Just know that Cornwell has repeatedly named the alleged victim on social media, Winston was accused last week of possibly shaving points in an effort to help a friend win a bet and Fisher routinely tells anyone who will listen what wonderful "kids'' Winston and starting running back Karlos Williams, recently interviewed by police about possible involvement in an alleged robbery and who also allegedly assaulted his pregnant ex-girlfriend (he wound up not being charged), really are. "A tremendous kid,'' was Jimbo's actual description not long before he started Williams against Louisville, the same game in which Winston may or may not have shaved points.
Totally.
Look, maybe Jimbo is really a good guy. Maybe Winston is just misunderstood and a tremendous kid. Maybe Cornwell… nah, no chance. Same goes for Jimbo and Winston most likely. But hey, at least Jimbo is absolutely ridiculous looking. Cold comfort, but at least it's something to laugh about when considering these knuckleheads.
[fragment number=2]
GOLD: North Carolina Basketball and Football – A few weeks ago, former Justice Department official Kenneth Wainstein published a report detailing an independent investigation of the University of North Carolina, in which he discovered that the school's department of African and Afro-American Studies offered fake classes for almost 20 years, that more than 3,100 students took them, and – surprise! – nearly half of them, 48 percent to be exact, were athletes.
It seems a dude named Tydreke Powell, who played defensive tackle at UNC, went on the radio in the Tobacco Road area on Monday and discussed some details. As reported by Deadspin, Powell said that his former coach Butch Davis, who has been involved with his fair share of sketchy programs, told players, "If you all came here for an education, you should have gone to Harvard.'' Outstanding.
Powell, who confessed to taking one of the "paper classes'' and said that players were not only sent in that direction by coaches, but were told to intentionally fail learning disability assessment exams in order to guarantee extra help taking tests. He also referred to Tar Heels men's basketball coach Roy Williams as "a snake,'' while noting that plenty of students – not just athletes – enrolled in classes they knew basketball players took because that automatically meant they wouldn't have to do any work.
Wainstein's report pretty much paints Williams as an innocent bystander, but if somewhere in the neighborhood of 1,500 UNC athletes took these sham courses over nearly 20 years, and Williams has been the coach there for over 10, the idea that his "actions were inconsistent with being complicit with or really trying to promote the scheme,'' seems kind of dubious, don't you think?
Anyway, whether Williams was in on it or not, whether Powell is a credible source or isn't, the fact remains that there is plenty of credible evidence detailing massive academic fraud at a major, Division 1 school known on a national level primarily for its sports teams – specifically basketball. The Tar Heels are one of the most storied, popular men's hoop programs in history. Six national championships. Three of the most well-known, highly respected coaches of all-time in Williams, Dean Smith and Frank McGuire. An alumni starting five of Michael Jordan, James Worthy, Billy Cunningham, Phil Ford and either Walter Davis, Vince Carter, Sam Perkins, Bob McAdoo or plenty of other stars, take your pick.
But from here on out, it's going to be tough to believe anything they accomplish is anywhere near on the level. Granted, the Heels aren't anywhere near the only college hoop or football team that cheats. If you think UNC is the only Division 1 school that sends its football and basketball players to fake classes, you simply aren't paying attention. It's just the latest to get exposed. I'm sure there will be more, soon.
Still, even if the NCAA actually does the right thing (highly doubtful) and punishes the Tar Heels properly, we'll still be treated to Carolina/Duke at least twice a year, almost rich a tradition as the players having someone else to do their work, taking phony classes or just not going at all.
[fragment number=3]
[fragment number=4]