Conor McGregor Brings Down the House at UFC Fight Night Boston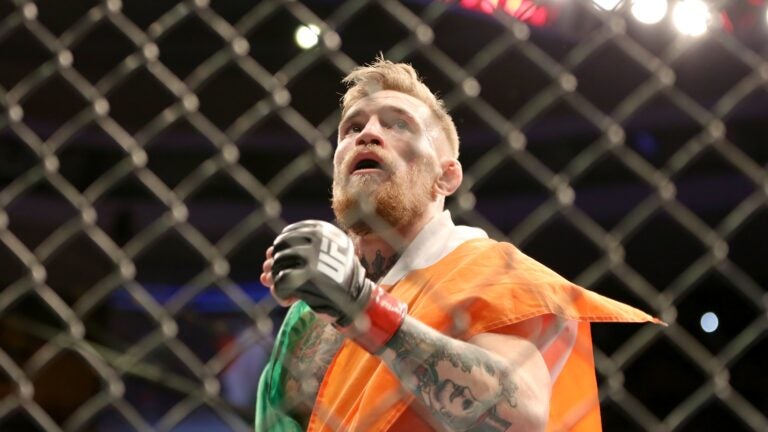 UFC featherweight Conor McGregor turned a packed TD Garden into a mad house with his triumphant performance over Dennis Siver on Sunday night.
The arena erupted into deafening applause after the Irish superstar knocked out the German veteran early in round two. McGregor dropped Siver with a hard straight left and quickly followed up with a flurry of strikes on the ground, forcing referee Herb Dean to end the fight 1:54 into the second frame.
While it was an exciting finish for "Notorious,'' it wasn't exactly what the 26-year-old fighter had in mind. McGregor hoped to finish Siver in the first round, a point he was quite vocal about during the lead-up to Sunday's showdown.
"I said two minutes, I meant two rounds,'' McGregor told UFC commentator Joe Rogan during his post-fight interview inside the Octagon. "They keep saying this guy's all talk. But never once in your life will you hear them talk about the skill, the technique, because they know I own that.''
A perfect 5-0 under the UFC banner, McGregor's latest victory has earned him the next title shot against featherweight champion Jose Aldo, who was cageside for the bout. "Notorious'' lived up to his bad boy persona and jumped out of the cage and after the champ, yelling obscenities at him as security intervened to keep them separated.
[fragment number=0]
UFC President Dana White confirmed at the post-fight press conference that the two fighters will face each other in May on a pay-per-view card set in Las Vegas.
McGregor made a point during his interview with Rogan to let the champion know exactly how he feels about him and their upcoming matchup.
"I'm going to hand him my spit bucket and tell him to go spit shine that belt and bring it back here ready for me to take it,'' McGregor said.
His drove of supporters, many of whom traveled from Ireland to attend Sunday's fight, seemed to enjoy his antics. The nearly sold-out crowd made themselves known throughout the night with their noisy chants and sometimes rowdy behavior.
The atmosphere was electric and even more intense than the last time McGregor fought in Boston. During the UFC's trip to the Hub in 2013, the Irishman got the royal treatment from the fans despite it being only his second fight for the promotion.
McGregor said it felt good to fight in Boston again and believes the increased attention is a sign that he's established himself as a true superstar.
"Honestly, I felt absolutely amazing,'' McGregor told Boston.com at the post-fight press conference. "Walking out, I looked up at the screen and see 'The Notorious' written on me side and I see the McGregor crest on me shoulder. I'm looking up at the screen and see the Reebok crest on me other shoulder, and then I'm seeing the packed out arena and the Irish flags and the fans everywhere. I'm thinking, this is it now. I've done it, I've made it.''
Charles Rosa Shows Why He's 'Boston Strong'
Peabody native Charles "Boston Strong'' Rosa came up big in front of the hometown crowd on Sunday night.
Wearing a Bruins jersey during his walkout to the Octagon, the local featherweight quickly got Boston fans on his side during his bout against Rhode Island's Sean Soriano. It was a back and forth matchup for most of the fight, but Rosa's grappling turned out to be the difference and earned him the third round submission victory.
Rosa showed great jiu-jitsu skills and dominated Soriano on the ground, eventually landing a D'arce choke 4:43 into round three.
"All my Boston fans, New England fans… thank-you,'' Rosa told Rogan during his post-fight interview.
[fragment number=1]
Ironically, the Peabody fighter used to be nicknamed "The Boston Strangler,'' an apt title after choking out his opponent.
Rosa changed his moniker to "Boston Strong'' when he entered the UFC, but still has an affinity for his old nickname.
"When I step inside the Octagon, I'm 'The Boston Strangler,''' Rosa told Boston.com. "I do a lot of charity stuff, I go to hospitals, I'm around little kids a lot, helping people. So I like to keep it casual. 'Boston Strong' when I go and I see that. But when I step into the cage, I'm 'The Boston Strangler'.''
Tough Night for 'Doomsday' Howard, Matsuda
It wasn't a great night for all of the local fighters.
Dorchester's John "Doomsday'' Howard was a fan-favorite among the packed crowd, but he was unable to deal with Lorenz Larkin's heavy hands.
After a few back and forth exchanges early in round one, Howard ate a hard right hand that sent him straight to the canvas. Larkin ferociously pounced on his hurt opponent with a number of strikes on the ground, taking home the technical knockout victory 2:17 into the first round.
The loss is Howard's third straight, putting the local welterweight in a precarious position on the UFC's roster.
White told the media at the post-fight press conference that they have not made a decision about "Doomsday's'' future with the promotion, but praised the fighter for his heart and grit.
"Let me tell you about John Howard, he brings it every time he comes to fight,'' White said. "Even if John Howard wasn't with us anymore, he'd go get some fights in another organization, he will win, and he'd be back.''
Somerville flyweight Tateki "Tech'' Matsuda also came up short in the first bout on the night's preliminary card.
Taking on Joby Sanchez, Matsuda put on a gritty performance, but ended up on the wrong side of a split decision.
It was "Tech's'' second straight loss since making his promotional debut on the UFC's card at Foxwoods in September.
Full Results
Main Card
Conor McGregor def. Dennis Siver via technical knockout 1:54 into round 2
Donald Cerrone def. Benson Henderson via unanimous decision
Uriah Hall def. Ron Stallings via technical knockout 3:37 into round 1
Gleison Tibau def. Norman Parke via unanimous decision
Preliminary Card
Cathal Pendred def. Sean Spencer via unanimous decision
Lorenz Larkin def. John Howard via technical knockout 2:17 into round 1
Chris Wade def. Zhang Lipeng via unanimous decision
Patrick Holohan def. Shane Howell via unanimous decision
Johnny Case def. Frankie Perez via technical knockout 1:54 into round 3
Charles Rosa def. Sean Soriano via submission (D'arce choke) 4:43 into round 3
Sean O'Connell def. Matt Van Buren via technical knockout 2:11 into round 3
Joby Sanchez def. Tateki Matsuda via split decision
Bonus Awards
Fight of the Night: Sean O'Connell vs. Matt Van Buren
Performance of the Night: Conor McGregor and Lorenz Larkin