Providence Can't Overcome Dayton, Ohio Crowd in NCAA Tournament Upset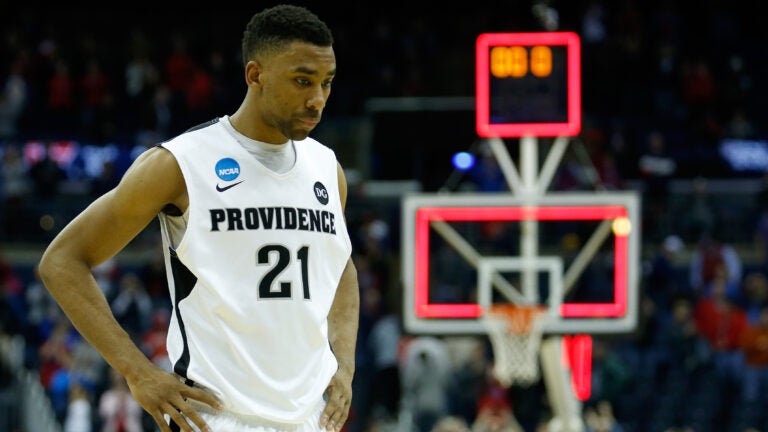 It just wasn't the Friars' night — or their crowd.
Playing a de facto road game, No. 6 Providence lost to No. 11 Dayton, 66-53, in the 2015 NCAA Tourament on Friday at Nationwide Arena in Columbus, Ohio. The defeat made Providence the only higher seed to lose on the day and marked the second straight year the team lost its opening tournament game.
"Obviously we didn't play well,'' Providence coach Ed Cooley said after the defeat. "Credit Dayton. They played very well. For whatever reason, we didn't have it today.''
Playing apprioximately 70 miles from their campus, the Dayton Flyers, darlings of the 2014 tournament, jumped out to an early 16-7 lead as both teams struggled to shoot the ball at the start. PC was plagued by early foul trouble, with a pair of whistles going against guard Kris Dunn, who shared Big East Player of the Year honors in 2015, in the opening minutes.
[fragment number=0]
With Dayton leading 50-42 and time running out on his team's comeback bid in the second half, Cooley was hit with a controversial technical foul after he knocked over a chair during a timeout.
[fragment number=1]
[fragment number=2]
After his team's defeat, Cooley expressed his displeasure with the official's decision.
"Me personally, I'm a character guy,'' Cooley said of the incident. "That to me was wrong in my opinion. I'm coaching my team.''
After a First Four win over Boise State in Dayton and a second round win in Columbus, the Flyers advance to face No. 3 Oklahoma in the East Region on Sunday.
"It was powerful,'' Dayton coach Archie Miller said of his team's backing in Ohio."Our fans continue to be on front and center stage right now. In Columbus, I had a hunch it was going to be like this.''