Ex-Revolution Star Taylor Twellman Wants Soccer Stadium For Boston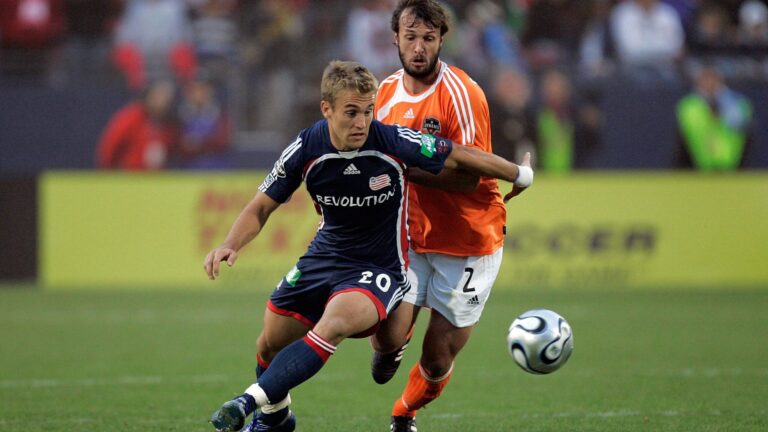 Taylor Twellman is impressed by the home-field advantage his former team, the Revolution, has been able to derive from Gillette Stadium. But Twellman is looking forward to the Revolution actually having a home field to themselves.
"People laugh every time I say it, but I do see it happening,'' the retired forward said of a Boston stadium. "Robert and Jonathan [Kraft] are not going to make a business decision on a soccer stadium and make it a bad one. And if they do it, it will blow 80 percent of the league away, if they do it right.
"I swear on my life it becomes Portland, Ore., in Boston, with that kind of feel. And you've got a real home field advantage and an environment which would be tops in the country.''
Twellman, who has resided in Boston since joining the Revolution in 2002, will be the analyst for the Revolution's visit to Philadelphia (5 p.m. Sunday, ESPN2-TV). This will be a reunion for Twellman, who will be working with play-by-play commentator Adrian Healey (ex-Revolution, plus WFNX and WBCN), and assessing former opponents and teammates, including Revolution coach Jay Heaps.
"I do think the Revolution have a legitimate chance of getting out of the East,'' Twellman said. "The playoffs are such a coin flip, but they should be vying for the No. 1 seed in the Eastern Conference.
"And I think it's important because of Gillette Stadium. It's a home-field advantage because nobody wants to go there and play and that is one of the great accomplishments of Jay Heaps. He has made the players believe it is good to play on the [artificial] surface in that stadium. He won't say that and people in the organization won't, but I'll say that. Deep down, if you ask players if they want to play on turf, their answer is 'no.' But if the coach and his staff can get them to embrace it, that's an accomplishment.''
Striker Juan Agudelo, returning to the Revolution after an unproductive year in Europe, should play a major part in the team's attempt to return to the MLS Cup final. Agudelo has scored once for the Revolution this season, a spectacular finish at Colorado April 4. On Wednesday, he became the first Revolution player since Twellman in 2007 to convert a goal for the U.S. national team, scoring in a 2-0 victory over Mexico.
"I still think there is another level he can get to,'' Twellman said of Agudelo. "He has that X factor, he has it all. But my question is, does the fire burn inside him to reach his potential? I'm not sure it bothers him when he goes home after a game he doesn't score in. Can he score 15-20 goals on a regular basis? He went through a little trial the last 15 months and the passion he showed against Mexico – maybe he has that fire.
"Remember, he's not 29, he's 22 years old, and if he really takes hold of his opportunities with both hands, watch out. If not, we're talking could've, would've, should've.''
Twellman believes the Revolution's adjustments during the CONCACAF Gold Cup in July will be key to securing home-field advantage in the postseason. Agudelo, Jermaine Jones and Lee Nguyen could miss three Revolution MLS games with national team duty. The team may also have to account for a possible U.S. Open Cup match in July.
"They need to take advantage of Jermaine,'' Twellman said. "Whether it's the roster for an MLS game or a pickup game, Jermaine is the guy you want on your team. No different than Shalrie Joseph was for [the Revolution]. He's the same kind of player. But Father Time, as you saw with Shalrie, some time, that is going to hit him in the face. So, this team, with the attack it has, needs to maximize its potential. And this is the year. I don't think all of their front six will be here next year.''
Twellman, in the first of an eight-year contract with ESPN, is not going anywhere soon. And he plans to be around when a soccer-specific stadium in Boston.
"It has to be natural grass,'' Twellman said. "And it becomes the national team hotbed. If they do a Sporting Park (Kansas City) 2.0 or 3.0 near the Broadway 'T' Station, you can see it off the highway, my goodness.
"I want it and I know I'm not alone. Everyone in the city – look at the TV ratings for soccer, Boston's always there. People who live in the city know about the Revolution but they don't want to drive to Foxborough. That's the reality. And that is the demographic MLS is trying to get, smack dab in Boston, young professionals with a heritage of soccer.''
Twellman seems confident New England will get such a stadium in the near future. Of course, he may be willing to take matters into his own hands if it does not.
"I see it happening in the next five years,'' Twellman said. "If it doesn't happen while I'm at ESPN, I'll find a way to buy the team and build it myself.''