NFL
Kirk Minihane done at Comcast following last month's Goodell 'murder' joke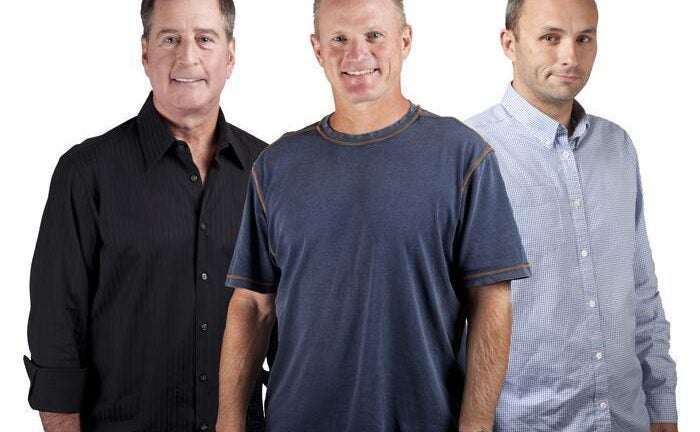 COMMENTARY
Kirk Minihane had been absent on Comcast SportsNet New England programming since early September, when he joked on air that one way for Patriots ownership to get commissioner Roger Goodell out of office was "to hire somebody to murder [him].''
Minihane, whose day job is as one of the three hosts on WEEI's cantankerous "Dennis and Callahan'' morning program, announced on Twitter Monday night that he would not be returning to CSNNE.
Tuesday morning, he offered his account of how the situation unfolded and what happened during the last seven weeks during the D&C show. Few bridges between Minihane and CSNNE – which simulcasts The Sports Hub's Toucher and Rich morning show, Dennis and Callahan's chief competition – were left without chars.
"That's the last time I will ever be on Comcast,'' he said in reference to the night of the Goodell comment, which was made on the Early Edition program, which he frequently co-hostoed.
"Ever?,'' asked fellow host Gerry Callahan.
"Ever. Ever. It's done,'' said Minihane.
Minihane explained that on September 2, the night he made the Goodell comment, it appeared as though CSNNE management had no issues with it.
"I talked to Comcast people that night,'' said Minihane, who cited Kevin Miller, CSNNE's senior news director, as someone who was "a good guy'' to him during the process. "They had no issue with it.''
But a video clip of the segment went viral that night – and the clip, tweeted initially by New York Post writer Bart Hubbuch, a nemesis of the D&C program, had a crucial element edited out that might have added context.
At the end of the segment, Minihane had joked to co-host Gary Tanguay that he was just kidding, which was evident in his tone all along. That part was not included in Hubbuch's tweeted clip.
The story was picked up by numerous influential news sources, among them The Washington Post, USA Today, and the Big Lead. While it might have been a dangerous thing to say, tone and context were lost as the story spread. The Washington Post's headline – Boston media personality says on TV that Patriots should murder Roger Goodell – was a typical reaction.
Minihane said it was then that phone calls to appear on CSNNE programming stopped coming. A few weeks later, he said, he met with Miller and Len Mead, another CSNNE executive, and was given a list of words he could no longer say on the air. Murder, he said, was one of them. Mead told him then, Minihane recalled, that he had seen the Goodell comment while watching at home and was offended.
"I knew it was over [then],'' said Minihane. "We were now in the middle of playing pretend.''
Minihane said he was supposed to meet with CSNNE executives a couple of days ago, but it was pushed back. It was then that he decided to make the decision for them.
"I said, you know what, screw it. It's been seven weeks. I'm sick of being [expletive] around by people who don't want me to be part of their show anymore. It's fine, but let's just call it right now.''
Asked for a reaction to Minihane's comments, a CSNNE spokesperson offered a brief on-the-record comment: "We sincerely wish Kirk the best.''
Photos: Unbelievable images from the old Boston Garden
[bdc-gallery id="108044″]
Chad Finn can be reached at [email protected]. Follow him on Twitter @GlobeChadFinn