Celtics
Celtics' Brad Stevens on former Butler player's death: 'We love you and will always be inspired by you'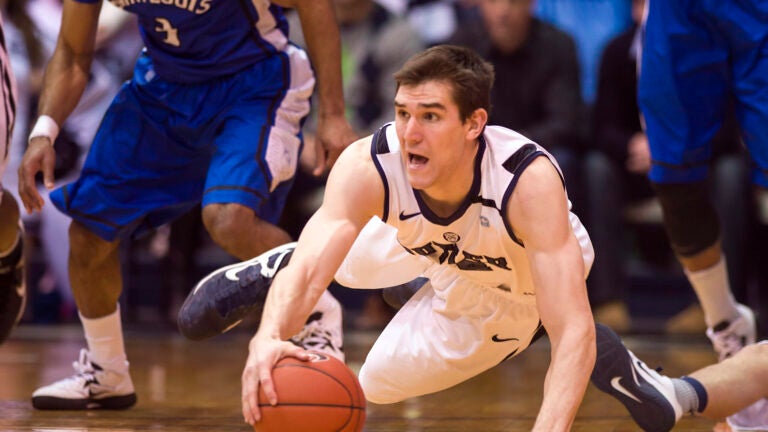 Former Butler University player Andrew Smith, who played in two Final Fours, in 2010 and 2011, under now Celtics' coach Brad Stevens, died Tuesday after a two-year battle with cancer, according to a tweet from his wife, Samantha. He was 25.
[fragment number=0]
Stevens missed last Thursday's game against the Chicago Bulls to visit Smith in the hospital in Indianapolis.
During his two minutes of pre-game media availability Tuesday night, Stevens emotionally spoke about Smith as a player and a person.
"I was happy that I got a chance to say goodbye,'' he said, holding back tears. "This is really about, when you coach somebody, you get a lot more out of coaching them than they do from you.''
Earlier Tuesday, Stevens called his former player and friend "the toughest guy I ever met'' in a tweet.
[fragment number=1]
Smith, who was diagnosed with non-Hodgkin lymphoma in January 2014, was readmitted to the hospital January 6, according to an Indianapolis Star report.
[fragment number=2]
Smith's former Butler teammate, Matt Howard, tweeted that he was "thankful for our few years we had.''
[fragment number=3]
[fragment number=4]
Butler University also released a statement on Smith's death.
"The Butler community is profoundly sad today with the news of Andrew's passing,'' the school said in a statement. "We saw the way Andrew fought on the basketball court and we saw the way he fought for his health. In both cases, we saw the best of Andrew Smith. But that's what we always saw from Andrew. He gave his all, all the time. As an Academic All-American, he represented the best of Butler in the classroom and on the court. Above all else, what made Andrew special was the way that he genuinely cared for others. Within his large frame was an even larger heart. He is, was, and always will be a Bulldog. The Butler community is proud to have been part of his life, and our thoughts are with his wife, Samantha; his parents, Debbie and Curt; and the rest of his family.''