Patriots fans react on Twitter to Tom Brady's suspension
And others are excited for Jimmy Garoppolo.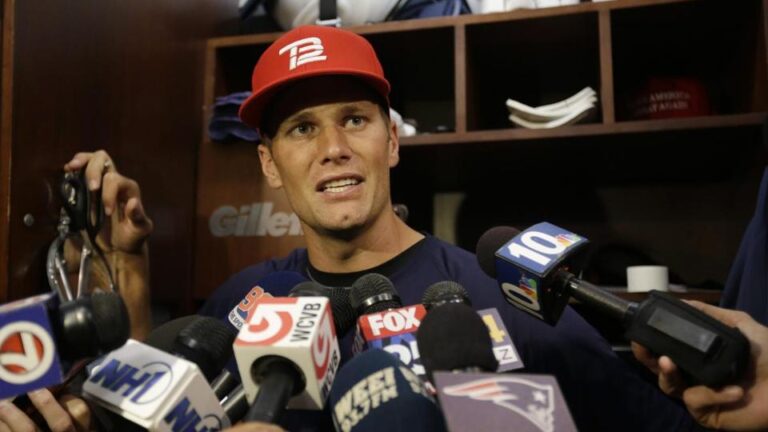 Monday's news of the NFL's reinstatement of Tom Brady's four-game "Deflategate" suspension has Patriots fans bummed out, to say the least. While it's still uncertain as to whether or not the suspension will stick this time, many took to Twitter to share their feelings of displeasure, while others saw a reason for optimism: Patriots backup quarterback Jimmy Garoppolo.
Many are disappointed with the ruling itself:
Literally me when I found out Tom Brady was suspended #FreeBradyAgain #FireGoodell pic.twitter.com/TMqZDdiumw

— Kassie Dunnihoo (@kdunnz23) April 25, 2016
"Tom Brady's 4-Game Suspension has been reinstated." #FreeBrady
Me: pic.twitter.com/MMN14avHn5

— εмιℓу❥ (@emily_jalisa) April 25, 2016
Instant analysis of this Tom Brady news: pic.twitter.com/Ojw4NePlNh

— Randy Scott (@RandyScottESPN) April 25, 2016
This is all. @NFL re: #TomBrady pic.twitter.com/OoeXrQldjj

— Kem Foley (@officerenegade) April 25, 2016
Some are just sick of hearing about "Deflategate":
The moment you notice #deflategate and Tom Brady are trending again… pic.twitter.com/REnzLmdL4N

— Darrell (@SpiderDarrell) April 25, 2016
When #Deflategate re-enters the news cycle… pic.twitter.com/1gaGrFH2h7

— Rob Riches (@Riches61) April 25, 2016
Some folks are already preparing for round two:
Tom Brady summoning his lawyers. https://t.co/xANwmV9cFd

— Judson Richards (@Judson1360) April 25, 2016
What do you say @MarkHellendrung? #FreeTB12 https://t.co/8owEhTUZHw

— Narragansett Beer (@Gansettbeer) April 25, 2016
And others are looking ahead to Jimmy Garoppolo's (potential) start in week one:
Jimmy Garoppolo be like pic.twitter.com/fgeFv9rJ1H

— OG Chef Curry (@NickPastenieks) April 25, 2016
live look in on jimmy garoppolo pic.twitter.com/imuzpFnqTH

— Brett S. (@shaverbr) April 25, 2016
Jimmy Garoppolo be like… pic.twitter.com/kqTyOnGWKe

— 120 Sports (@120Sports) April 25, 2016
What do you think Jimmy Garoppolo? pic.twitter.com/SlGujMsNZN

— Rich Keefe (@Keefe21) April 25, 2016