Your Brady versus Belichick arguments will never be useful here
Greatness doesn't exist in a vacuum, and it's ignorant to think otherwise.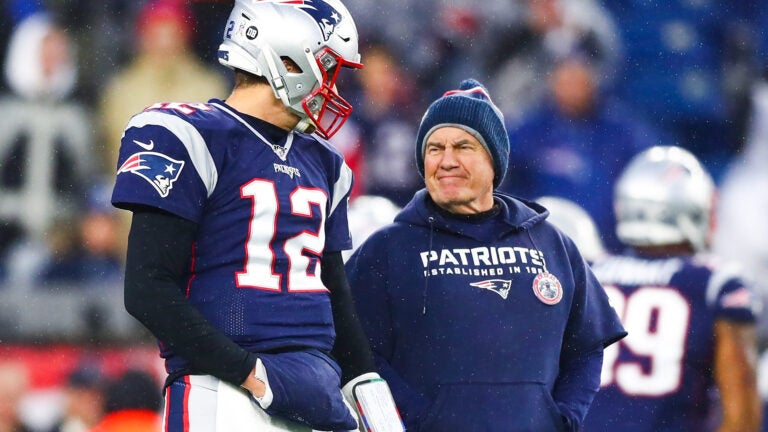 COMMENTARY
You'll never know the answer. Now that Tom Brady and the Patriots have divorced and true love is dead, every Sully and Brian with a Yosemite Sam tattoo is gonna use next season (if there is one) as a referendum on whether Bill Belichick made Tom Brady or the other way around. This is an ancient bar argument technique, even if you can't go to a bar right now and are stuck holed up in your apartment with your Larry Bird fathead. And it's one of those bar arguments designed specifically to have no provable verdict, so that you can argue about it until the sun dies.
In this case, it doesn't matter how Brady performs next season with the Bucs. The likeliest outcome is that he gets hurt, because he's a tired old man. I'm sure Tom Brady is invulnerable to coronavirus because he ate some enchanted rhubarb, but you don't go to Tampa without contracting SOMETHING you don't want. Even if Brady stays upright, he'll be playing for a comically stupid franchise that just spent five years and three coaches trying to get Jameis Winston to keep his hands and his passes to himself. He'll also be playing for a coach whose predilection for 17-step drops makes Mike Martz groan in ecstasy.
But Brady WILL have a coterie of decent skill position players to throw to, as opposed to 2019 when he only had personal lapdog Julian Edelman and a complimentary bag of soup crackers at his disposal. So it's possible that Tom Brady, forced to play in an actual division for the first time in decades, will carry these Bucs to the playoffs and prove, at least to your worst college roommate, that he's his own man. In terms of Brady's "legacy"— God, what an annoying word — it won't and shouldn't matter either way. Brady is about to enter his Jordan-on-the-Wizards phase, and we're all better off forgetting about it in advance. There are already signs that Brady will use his time in Florida to team up with Derek Jeter and formally become An Ex-Athlete Turned Grifter Who Stares Thoughtfully At An iPad In A Nice Office Somewhere. This development will prove irrelevant to your personal affairs.
Nor should it matter what happens to Belichick and the Patriots this coming season. They could deliberately suck for a year to get Trevor Lawrence. They could trade for Derek Carr and sign him to a contract that Belichick would almost certainly find offensive in its generosity. They could grab… (quickly looks up the basement of the 2020 draft's QB rankings)… oh, let's say Brian Lewerke in the late rounds next month and hope that history magically repeats itself. Or Belichick could pull Matt Cassel out of a nearby dumpster and win another 11 games with him, just because he can. That won't prove that Brady is a glorified system QB. And if the Pats are horrific for the next decade (fingers crossed!), that won't prove that Belichick's genius could only be unlocked by greatest unearthed diamond in NFL history.
That ain't gonna stop people from trying to will such takes into existence. I know because I was alive when the LAST greatest quarterback of all time did a career nightcap in Kansas City and the still-probably-greatest wideout of all time did likewise in Oakland: the place all players used to go when they were Officially Washed. Both Joe Montana and Jerry Rice were capably replaced by the 49ers once they left, spurring a round-robin of Who Made Who? takes that are still perhaps fluttering around some insufferable Area Boomer's noggin somewhere unimportant. You could argue that Montana made Rice, or that Rice made Montana, or that Bill Walsh made both men. No matter what side you take, you're just batting a ball of yarn around.
As you will if you wander through our current Great Sports Desert trying to kick up a similar fight between Brady and Belichick. They are, in tandem, the greatest QB ever and greatest head coach ever. Neither man is likely to relinquish their respective titles in your lifetime, no matter how much they might potentially suck without one another. There is no ambivalence in rightly believing that both of them needed each other to be great. That's how greatness works. Greatness doesn't exist in a vacuum, and it's ignorant to think that sharing in greatness somehow diminishes it on an individual scale. Both of these men proved their own mettle. But they also proved something that is inexorably true in all of sports and of life in general, which is that no one can be great alone.
Drew Magary is a columnist for GEN magazine and the author of four books.