Celtics center Robert Williams learned 'how to be a pro' from time with Al Horford, Aron Baynes
"I watched those guys a lot without them knowing."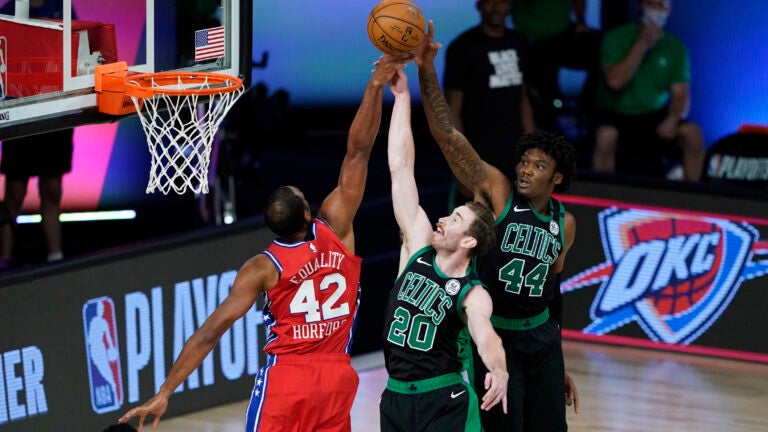 Boston Celtics coach Brad Stevens remembers when then-assistant coach Kara Lawson told him something surprising before the 2019 Summer League: She wished everyone on the team talked as much as Robert Williams.
At the time, Williams didn't have a reputation as a role model. His career with the Celtics had gotten off to a rocky start — he overslept his initial call with local media after the 2018 NBA Draft, and he missed a flight to Boston prior to the team's first Summer League practice. In the wake of a draft-night slide out of his projected range in the late lottery to No. 27, which was reportedly due in part to concerns about his maturity, his first few days were less than auspicious.
But as Williams navigated his rookie season, the Celtics were impressed. Williams played just 283 total minutes — partly due to injuries, partly due to Boston's depth at center — but he avoided making the wrong kind of headlines the rest of the season.
So when Lawson approached Stevens about Williams' communication, the Celtics' head coach was "very encouraged."
"That was a reminder that people can improve, and drastically be ready to take the next step without ever playing a minute," Stevens told reporters on a Zoom call Tuesday afternoon. "The way he can communicate a defense and know what we're trying to do one year in is really good, and now he's more experienced than that and it's translated on the biggest stage, so hopefully he can build on that."
Stevens credited two of Williams' mentors for helping show him how to stick in the NBA: Aron Baynes and Al Horford, both of whom were ahead of him on the depth chart his rookie season. Neither player stuck around — Horford left for the Philadelphia 76ers, while Baynes was dealt to the Phoenix Suns to make room for Kemba Walker's max contract — but both left an impression on Williams.
"In all honesty, they just really taught me how to be a pro," Williams said on Tuesday. "Not even just having conversations with them, it was just the every-day life. Like Baynes, he's going to come in and get his work in, do his job. Al, he's going to come in and show you what a pro's supposed to do. So I watched those guys a lot without them knowing. A lot, a lot, a lot. They didn't even know."
Horford may have had an inkling. After he signed with the Sixers, Horford sent Williams a text telling the second-year center to keep working, and that he expected to see Williams blossom in the league — a gesture Williams called "a respect thing" at the time.
Now, as he enters his third season, Williams has an opportunity to claim real minutes (and real money, if he earns an extension next summer). Tristan Thompson is out to start training camp as he nurses a hamstring strain. If Thompson misses time in the regular season, Williams will be the back-up big man behind Daniel Theis.
"I honestly feel like I'll make a great jump this year not only for myself, but also for my team," Williams said. "I feel like I'm around great guys to do that, too. Bringing in Tristan, somebody I can learn from easily, and every day learning stuff from Theis, I feel like they put me in a great position too."
Perhaps the biggest difference for Williams, however, is that he is now a player from whom the youngest members of the team can learn.
"I've been there," Williams said. "Some people won't help you or correct you, or help you correct something before Coach notices it, so I just try to step in with those guys, and even to the older guys, I feel like I play a major part in our defense. Coach stresses the bigs being vocal and the defensive people being vocal, so I just try to keep it up."
The younger players appreciate the help.
"Him being able to muck up the paint and talk in the back of the defense and be one of the anchors of the defense makes life a lot easier for guys like me," rookie wing Aaron Nesmith said. "Running around, flying off screens, constantly hearing his voice and helping guide me through our defense has been really helpful the past couple days."
Get Boston.com's browser alerts:
Enable breaking news notifications straight to your internet browser.