Tom Brady: Nearly undefeated 2007 season would have made Patriots 'immortal'
"That was the one that got away."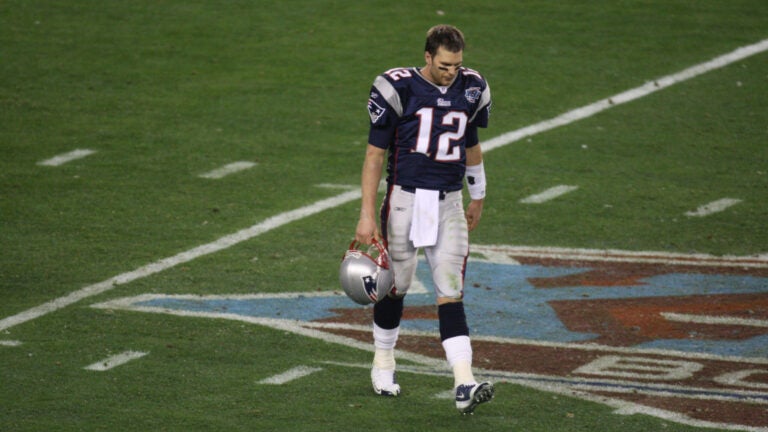 Tom Brady can't credibly claim many regrets in his career with the New England Patriots, except for one which will come as no surprise to Patriots fans: Super Bowl XLII, in which New England coughed up an undefeated season in a stunning 17-14 loss to the New York Giants.
Speaking to Westwood One's Jim Gray on Monday, as the Pittsburgh Steelers fumbled their own bid for an undefeated season to the Washington football team, Brady discussed how close the Patriots came to making history.
"You always think about the ones that got away," Brady said. "That was the one that got away. Michael Strahan has become a good friend. Obviously Eli [Manning] I've known for a long time. A lot of players on that team, I'm still holding a little bit of a grudge over that one because that one would have been — immortal would be the word.
"We accomplished some amazing things that year. That 2007 team was incredible. We played so well for so long. I wish that team would have been remembered amongst the all-time greats. And unfortunately, when you don't win the last game of the year, that's the reality. No one really remembers who finishes second. We, unfortunately, finished second that year."
Brady said finishing off an undefeated season is incredibly difficult beyond the obvious challenge of winning 16 regular-season games in a row and finishing the task in the playoffs. Look no further than the reaction of Washington's players after Monday's win: Every team wants to knock off an undefeated giant.
"Every game is so competitive," Brady said. "You look at some games on paper, and you think that this is a shoo-in for a home team playing at home. And you realize all these games, all these teams come to play. There's pro football players with a lot of pride and a lot of determination. And they end up being very hard-fought, tough games. And that's the reality of life in the NFL. It's a week-to-week league."
Brady also admitted that undefeated teams can't help but dwell on an opportunity to run the table as it unfolds, even if they want to stay focused on the task at hand.
"The team definitely thinks about it," he said. "You can't avoid it because it's not only on the TV, but it's also in your home and every question you get asked and so forth.
"The closer we got to it in 2007, I wouldn't say it got more challenging, it was always very challenging. It's just there's just a lot of other teams that don't want to see you ever accomplish that. And I think that's what you always see, you see this highly competitive situation."
Get Boston.com's browser alerts:
Enable breaking news notifications straight to your internet browser.