Celtics' Romeo Langford is out of a cast, but still 'a ways away' from a return
"He's still a young guy, and a lot of these have been freak injuries."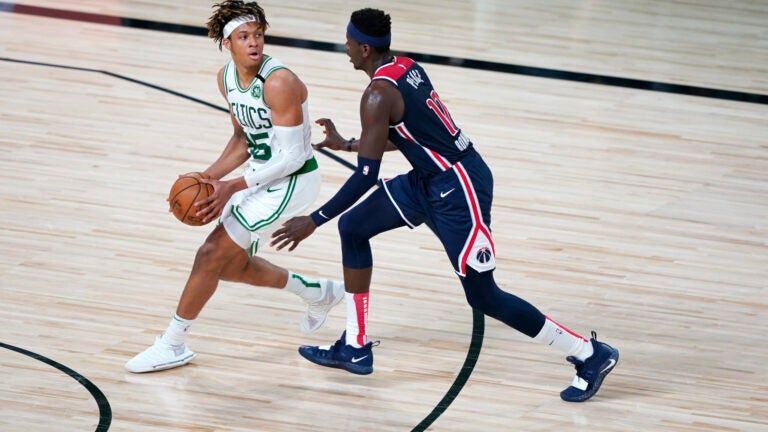 The Boston Celtics are thin at the wing outside of their best players, and they will be even thinner than usual at the start of the season until second-year guard Romeo Langford returns.
Langford underwent surgery to repair the scapholunate ligament in his right wrist in September. On Wednesday, Langford spoke to the media via Zoom and gave an update on his status.
"The wrist is feeling good," he said. "I just got out of a hard cast yesterday. Right now I'm focused on getting my range of motion back in my wrist and strengthening it back up.
"I just have to get the strength back in my wrist, and once I'm done with that, that's when I start shooting, dribbling. I've been doing other things without my right hand. I feel like I've been getting in shape, running, still doing a lot of left-hand workouts, and still in the weight room. Getting in shape isn't one of the hard things with this rehab process."
Langford said he had surgery in September hoping the timing wouldn't coincide with the start of the season.
"I was really just hoping that it wasn't going to start as soon as it did so I wouldn't be missing as much of the season as I'm going to miss now that it's starting now," Langford said. "I was going to get surgery either way. I think that's why I didn't really get surgery as soon as I realized that I needed surgery, which was back in September, so like a couple of games or a game before the playoffs started. Knowing that maybe I probably would have gotten the surgery done a little bit earlier, so I wouldn't miss as much as I am now."
Langford dealt with a variety of injuries that limited his minutes in his rookie season. Most recently, he suffered a right groin strain. He missed Summer League as he recovered from thumb surgery, and ankle sprains limited his minutes both in the NBA and in the G-League when he returned.
Celtics coach Brad Stevens said Langford is still "a ways away" from 5-on-5 action, and that one of the biggest challenges will be avoiding falling into a rut.
"I think about it more in terms of he's just missing half of his second season, or whatever it is, and I think that that's hard when you already went through injuries as a rookie," Stevens said. "You know, he pulled his hamstring a minute into the stint versus Miami, so like, that's frustrating. But as far as big-picture, long-term, I would venture to guess that he's going to have a long career based on who he is, his work ethic, and his ability. Now, that said, the best ability is availability. But at the same time, he's still a young guy and a lot of these have been freak injuries. So hopefully he'll use all his bad luck now and have a great, healthy career after this."
Get Boston.com's browser alerts:
Enable breaking news notifications straight to your internet browser.