World
In Kenya, running can be a road to ruin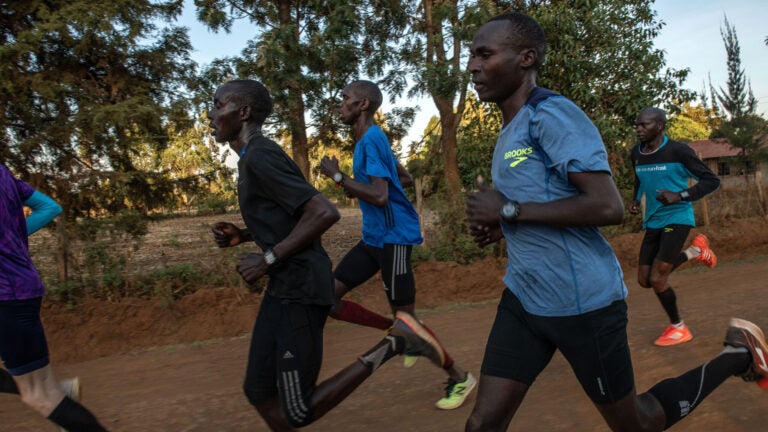 ELDORET, Kenya — Ten years ago, in the Dutch port city of Rotterdam, Duncan Kibet lay spread-eagle on the pavement, trying to process the record-setting run he had just completed and how it was about to change his life.
When he toed the starting line of the 29th Rotterdam Marathon that morning, April 5, 2009, he had been earning a living as an elite athlete for nearly a decade. But with a marathon personal best of only 2 hours, 7 minutes, 53 seconds, he was hardly a household name in Kenya, home to the world's greatest concentration of distance running talent. Then he ran a 2:04:27, nearly 3-1/2 minutes faster, making him Kenya's national record-holder and the second-fastest marathoner in history.
The win was worth big money for Kibet, who, like most of his running peers, had grown up poor. He earned $180,000, including his appearance fee. Nike would soon sign him to a contract worth $100,000. In Kenya, where the cost of living is low, a payday like that was supposed to set him up for life. But it rarely works out that way, and it didn't for Kibet.
He bought a house for his mother in Eldoret, the de facto Kenyan running capital, and a Toyota Hilux truck. There were school fees for various relatives and contributions to a home for orphans. He bought Italian suits and had baseball caps and shirts shipped from the United States.
A groin injury kept him from finishing marathons in Berlin and London. His fitness waned, and two years after his Rotterdam triumph, he was essentially broke and out of work.
"I ended up spending everything," Kibet, 40, said on a recent afternoon from his home in Eldoret, a one-bedroom apartment in a concrete-block building that sits between two gas stations.
Here in the Rift Valley, the high-altitude region that is home to the vast majority of Kenya's elite athletes, the belief in running as an escape from poverty remains prevalent, but few among the thousands of young athletes who flock to training camps each year ever make a living from running. Even for those like Kibet who ascend to the sport's pinnacle, long-term financial stability is rarer than most realize, even if they win one of the world's biggest marathons, such as Boston, where Kenya's Lawrence Cherono this past week took first place and $150,000, or London, where the race is set for April 28.
Benjamin Limo, the 2005 world champion in the 5,000 meters and a former Kenyan representative to the International Association of Athletics Federations, the sport's governing body, estimated that only 25% of the country's former top-level athletes were living in a "sustainable" manner. "More than half are really struggling," he said.
Kenyan champions often have large networks of family to support. Most haven't finished high school, some are barely literate and few have any experience managing money. A sudden infusion of cash, veteran athletes said, can distract from training and lead to careless spending. Some call it intoxicating. "When you drink a lot of alcohol you become stupid — you don't know what you're doing," said Moses Tanui, a Kenyan marathoning pioneer who won the Boston Marathon twice in the 1990s. "It's the same when you get a lot of money."
Robert Kiprono Cheruiyot, who was little known when he set the Frankfurt Marathon course record in 2008 and ran a course record in Boston two years later, avoided the pitfalls thanks to a trusty lawyer who guided him through a series of investments, including a 20-acre tea estate that has given him a comfortable income since his running days ended.
Many are not as fortunate. Eldoret, like most cities in Kenya, is home to its share of con artists, and athletes flush with cash are easy targets. A common scam involves the sale of fake land titles. In 2011, Kibet sold the house he had purchased after Rotterdam in a financial pinch. The buyer, he claimed, paid him only half the value, but gave him the title to a smaller property. That deal turned out to be a fraud.
Trouble can also stem from intimate relationships, particularly for women. Many in Eldoret say female athletes tend to manage winnings more responsibly. Yet in a culture in which men generally take charge of family finances, they are also more vulnerable to exploitation. Athletes speak of male "hyenas" who show up to junior-level competitions and scout for emerging female stars, many of them still in high school. Reporting in February by The Star, a Kenyan newspaper, identified at least 16 female athletes who had lost tens of thousands of dollars' worth of assets to men.
Those who have fallen hardest include some of Kenya's biggest stars. Robert Kipkoech Cheruiyot, a four-time Boston Marathon winner (who is not related to Robert Kiprono Cheruiyot), won $500,000 as the inaugural World Marathon Majors series champion. In multiple interviews, he insisted that he was living well and enjoying his treasured Dunhill cigarettes, but several former training partners said he had sold most of the properties he purchased and routinely asked to borrow money.
Samuel Wanjiru won the 2008 Olympic marathon, then began drinking heavily. He died after an apparent fall from a balcony in 2011. The death was initially ruled a suicide, but a government pathologist later determined he had been struck with an object in the back of the head.
In contrast to many former champions who have struggled, Kibet speaks openly about his financial challenges. Like many of his peers, he grew up with little: His father, a truck driver, was not around much, and the family relied on money from traditional spirits that their mother brewed out of their home. Kicked out of school in 11th grade for misbehaving, he worked a series of odd jobs: at a factory grinding maize to make the staple dish ugali and as a conductor on a minibus, or matatu, in charge of collecting fares.
He eventually got into running through his older brother, Luke Metto, a 2:10:57 marathoner who was competing in France. Metto bought him his first pair of running shoes, helped connect him to a manager and paid for his first flight to compete abroad at age 22. He scratched out a living running internationally for eight years before Rotterdam.
"That race changed everything," he said.
The win enabled purchases like the new home for his mother. But the money and the accompanying fame led to temptations. Nicknamed Jamaica in school because of his westernized manner of speech and dress, he sported a hipster beard and a flashy necklace, and carried an iPhone when it was still a novelty. He hung out in pool halls, where he ran the table with customized cue sticks and sipped on Amarula, a South African cream liqueur.
"He was living life as if there's no tomorrow," said Shadrack Biwott, Kibet's younger brother and an elite runner now based in California. Biwott finished third at the 2018 Boston Marathon and 15th on Monday. "Duncan wanted to help people as much as he could, and some of his friends took advantage of that."
There is some hope for change. Kenya's Ministry of Lands is in the process of digitizing land title databases to prevent fraud. A new generation is learning from the mistakes of the old one, though Renato Canova, an Italian coach who has worked with Kenyan runners for two decades, said most managers, who arrange race appearances and endorsements, were based in the United States or Europe and offered little guidance on financial matters.
Athletes say the same about Athletics Kenya, the national federation that oversees the sport on behalf of the Kenyan government. It has gotten mixed up in a series of scandals, including the embezzlement of payments from Nike by former top officials. As an Athletics Kenya representative, Limo proposed the creation of a pension plan to assist athletes struggling in retirement. He failed to gain support. Athletics Kenya officials, including its president, Jackson Tuwei, did not respond to repeated requests for comment.
Now Kibet, like many former stars, is entering middle age unsure of what to do next. These days he spends much of his time in his apartment, where he lives alone, watching crime dramas or CNN. Occasionally, he said, he uses his connections to help friends selling land find reputable buyers; the small commissions help him stay afloat. He visits with his 8-year-old daughter, Alexis, who lives with her mother, and his lawyer, who is trying to reclaim the property he sold in 2011, arguing the fraudulent deal should nullify the whole transaction. The home's value has since risen to $230,000 from $90,000 — Kenya's property markets are booming.
Over cups of tea in his apartment, below a framed photo of his Rotterdam finish with arms raised in triumph, he said he had been thinking about becoming a criminal investigator. After all, he said, he was a victim of land fraud and is addicted to crime dramas, such as the "CSI" shows. He would need to finish high school first — in his 40s — then pursue higher education.
Running still has its lure as well. He hasn't completed a race since 2014, when he ran a disappointing 2:18:38 marathon in a comeback attempt in China. Despite a nagging groin injury, he dreams of standing on a starting line next to his brother.
"Give me three good months of training," he said. "I'll be ready."