Arts
This event has passed. Check out other things to do instead.
Celebrate diversity in comics at Boston's third Comics in Color Festival this Saturday
The April 29 event features comics superstars, workshops, an artists alley, animated short films, music and dance performances, a cosplay contest, and a fashion show.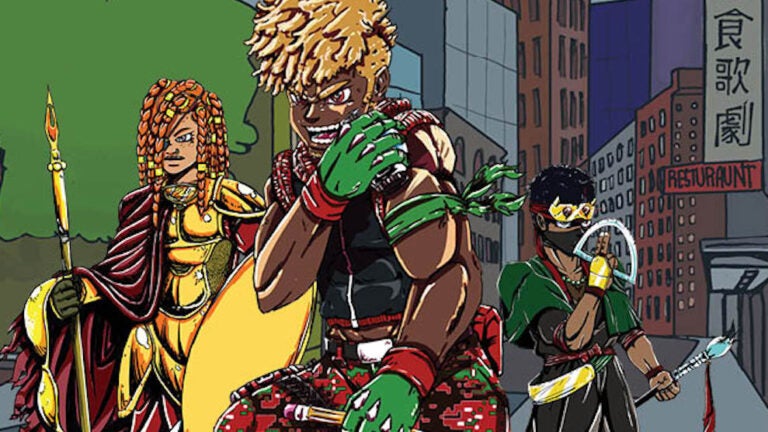 When Boston cartoonist Cagen Luse and fellow artist and comics fan Barrington Edwards headed to the Black Comic Book Festival at Harlem's Schomburg Center back in 2015, they were inspired by seeing "a space for people of color to come and enjoy comics together," Luse recalls.
"We felt like Boston needed that," he says.
And now, eight years later — thanks primarily to their efforts during that time — Boston has that. April 29 will see the third free Comics in Color Festival come to the Reggie Lewis Center in Roxbury, billed as "New England's first comic arts festival focused on stories by and about people of color."
Plans for a full festival in 2021 got sidelined by the COVID-19 pandemic, but Luse and Edwards did manage to pull off a hybrid event with online workshops and an in-person, outdoor vendors gathering. But last year, the first fully in-person Comics in Color came roaring into Roxbury, and "it was really like everything that I had worked for for so many years actually coming to fruition," says Luse, who created the LunchTime Comix strip that ran in Dig Boston.
"People were very excited about it — all very, very positive," he says of last year's event. "People had never seen something like this before, so they were very excited to be in the space. And people are even more excited this year, now that we have one under our belt and people know what to expect."
And what to expect includes an all-star lineup of guests, including "Iron Man" and "Batgirl" artist Alitha E. Martinez, "X-Men" and "Ghost Rider" artist Larry Stroman, and comics historian and scholar Joel Christian Gill. Plus workshops, an artists alley, animated short films, music and dance performances, a cosplay contest, and even a fashion show. Not bad for something that started on a single table at Grove Hall Library.
"We started out just as a meet-up — I brought my collection of comics, Barrington brought his collection of comics, and we just put them out on the table and talked about them. And that was really it," Luse recalls. "And from there it grew — we started doing workshops and artist talks and more panel-type stuff. And after about two years of doing that, we said it's time to go for a full festival."
And in its few years of existence, the festival is already becoming an extremely valuable outlet for artists and fans alike to connect, network, and learn new skills and perspectives, says ZeroSnake, a.k.a. Tyrone Motley, a local manga artist and animator who designed the promotional artwork for the festival this year.
"Whether it's, like, young children still in school, or older adults who may know someone who likes comics, or may even be trying to get into it themselves — this is a great, great place to do it," he says. "The community really get involved. You get to chop it up with some artists that you don't even know is in the area, and a lot of them, like me, have books and other projects that are just in full swing."
Zero says he tried to reflect that diversity of tastes and artists when he designed the comics characters who represent this year's fest. "So they feature characters of color, and all of them feature some kind of art-making tool, whether it's an ink brush, a pencil, something of that nature, and then on top of that I also gave them [each] their own distinct genre," he explains.
Zero also touted the festival as a great way for artists to market their own work, like his manga collection "Unrivaled," which he'll be promoting there. "You've got to believe in the project and push forward yourself — no one else is gonna do it until you do it," he points out.
For his part, Luse hopes the festival continues to grow and expand in its efforts to provide a forum for diverse perspectives in comics and comics art.
"We definitely feel like it's a necessary thing to do. We really believe that diverse storytelling is good for everyone — it fosters understanding, the more kinds of stories and voices that you hear from," he says. "We also want to encourage folks to get into the business, right? We want to encourage more people to tell their stories, make their own books, be creative. So I want this to be an inspiration."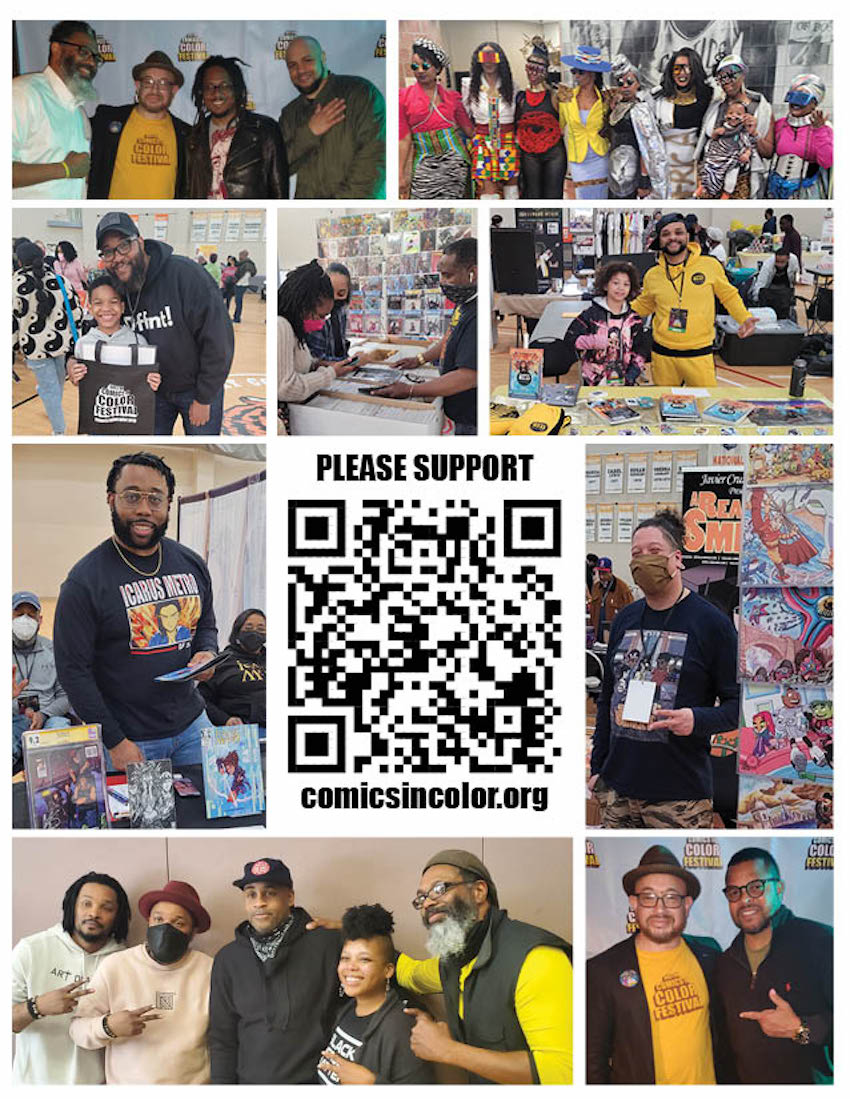 Featured guests:
Alitha Martinez ("Iron Man," "Batgirl")
David Crownson ("Harriet Tubman, Demon Slayer")
Joel Christian Gill ("Strange Fruit," "Tales of the Talented Tenth")
Jarett Melendez ("Chef's Kiss," "The Comics Kitchen")
Tina Lugo (internationally known tattoo artist)
Larry Stroman ("X-Men," "Ghost Rider," "The Punisher")
Featured programs:
Writing the Revolution: Activism and Identity in Comics Writing
Gaming While Black
Wakanada Forever: The impact of "Black Panther" on comics and pop culture
Build Your Character Workshop
Truth Telling in Graphic Memoir
Do It Yourself Publishing
See website for full schedule.
For the full discussion with Cagen and ZeroSnake about Comics in Color and their own comics work, listen to their appearance on "Strip Search: The Comic Strip Podcast," below:
Need weekend plans?
The best events in the city, delivered to your inbox