Arts
This event has passed. Check out other things to do instead.
Explore the New England Aquarium's new public photography exhibit
Discover the extensive marine life of Stellwagen Bank in the outdoor exhibit, open to the public.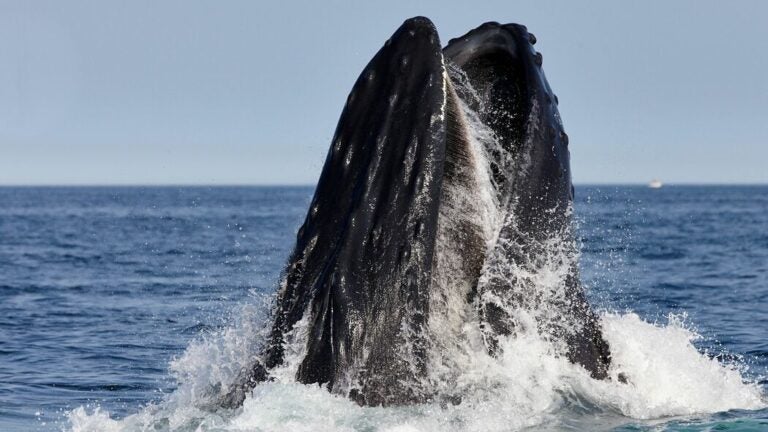 Just a handful of miles off shore from downtown Boston lives some of the world's most majestic marine life, protected at Stellwagen Bank National Marine Sanctuary. On June 22, the New England Aquarium opens a new exhibit by underwater photographer Keith Ellenbogen, getting up close with the marine life of Stellwagen Bank. "Space to Sea: A Photographic Journey into Stellwagen Bank Sanctuary" features up-close shots of creatures like great white sharks, sea turtles, and humpback whales, and will be open to the public on the aquarium's Central Wharf.
The exhibit marks Stellwagen Bank's 30-year anniversary with 50 of Ellenbogen's larger than life photos wrapped around the aquarium's Simons Theatre and main building along the Harborwalk. Ellenbogen has used MIT's latest technology to snap photos of great whites, breaching whales, plankton as seen from satellites, and even the view from inside a school of Atlantic mackerel.
Stellwagen Bank National Marine Sanctuary sits just 25 miles off the coast of Boston, between Cape Ann and Cape Cod. It's home to countless marine animals who feed in the nutrient-dense waters, and is one of the world's top whale-watching destinations. Ellenbogen says that this exhibit is "​​a moment to celebrate 30 years of Stellwagen Bank's vital role in marine conservation as well as a very unique and intimate way for visitors to engage with the very wildlife that may otherwise seem elusive out at sea."
While he currently lives in Brooklyn, Ellenbogen grew up in Newton, Massachusetts, and is a visiting artist with MIT's Sea Grant. For those who don't often go diving in the Atlantic, Ellenbogen brings the wonders of the ocean to Central Wharf, helping visitors become more connected with our vitally conserved marine areas.
"It's fitting that this exhibit of Keith's amazing work is located at the New England Aquarium in downtown Boston, the skyline of which is visible on a clear day from the western edge of New England's only national marine sanctuary," said Pete DeCola, Stellwagen's superintendent, in a statement. "People from Massachusetts travel round the world to see wildlife, but many are not aware that a short ocean safari can bring them to an area of rich biodiversity here in our own backyard."
Need weekend plans?
The best events in the city, delivered to your inbox