Arts
This event has passed. Check out other things to do instead.
'Frida: Immersive Dream' explores Kahlo's life and work
"Our hope is that guests will obtain a rich appreciation of Frida Kahlo not only as an artist, but also as a remarkable woman."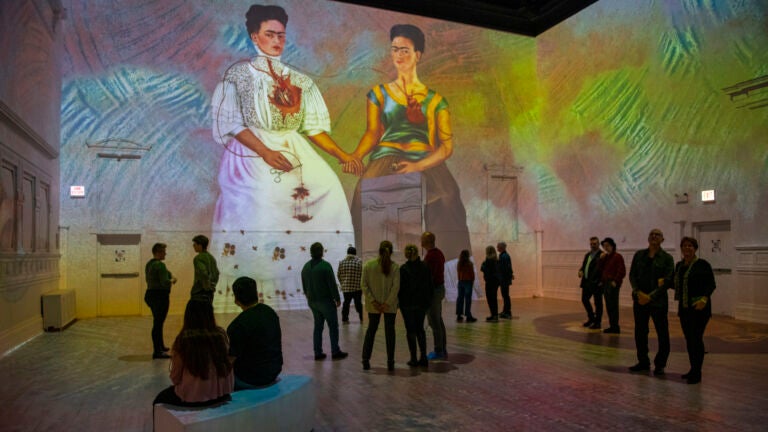 On the heels of the two buzzy Van Gogh exhibits in town comes a new immersive gallery — this time focusing on Frida Kahlo. Located at the Castle on Columbus Avenue, the exhibit will chronicle the life and artwork of the iconic Mexican painter known for her many portraits.
"Our goal is to give our viewers more than an examination of her work," said Svetlana Dvoretsky, producer of the exhibit. "We also hope they will leave with a deeper understanding of the brilliant, complex, audacious, and profoundly talented woman who created these timeless masterpieces."
Brought to life by Lighthouse Immersive, this exhibit completes Lighthouse's trilogy of immersive shows, alongside explorations of Vincent van Gogh and Gustav Klimt.
However, neither of the two Van Gogh exhibits visiting Boston this winter belong to Lighthouse Immersive — one, which runs through Feb. 20 at Dorchester's Strand Theatre, was put on by Fever Up, and Image Totale will put on the second, through March 19 at the SoWa Power Station.
"Frida: Immersive Dream" will mark Lighthouse's first immersive show in Boston, as the Van Gogh and Klimt exhibits haven't visited—though they've shown Van Gogh in cities across North America like New York, Las Vegas, San Francisco, and Nashville. "Frida" also opens this winter in Dallas, Houston, Chicago, Denver, Toronto, and Los Angeles.
"Frida: Immersive Dream" creator, Italy's Massimiliano Siccardi, regarded as a master of digital art, uses his expertise in the digital medium to tell the tale of Kahlo's work and life. Kahlo's own story is enriched by the photos and documents Siccardi uses to paint a picture of the world in which Kahlo lived.
"He finds it extremely important to show the world that influenced Kahlo and affected her political views," said Dvoretsky. While she was a member of the Mexican Communist Party, Kahlo was also influenced artistically by Mexican nationalism and Indigenous art and tradition.
Siccardi has also collaborated with composer Luca Longbardi, with whom he's worked for decades, for the show's original score.
"They use the work of Frida Kahlo the way a sculptor uses clay to create an artform entirely new," said Dvoretsky.
In the exhibit, guests can expect to see many of Kahlo's recognizable works, full of vibrant colors and unflinching emotions, like her folk-art inspired pieces, her many self-portraits, and her surrealistic works.
"Our hope is that guests will obtain a rich appreciation of Frida Kahlo not only as an artist, but also as a remarkable woman," said Dvoretsky, emphasizing Kahlo's remarkable life, laced with both heartbreaking tragedy and incredible success.
After surviving polio at six years old, 18-year-old Kahlo had her dreams of medical school crushed after a streetcar accident left her with a broken spine and leg, a punctured uterus, and a dislocated shoulder, among other injuries, from which she had lifelong complications.
While bedridden, she began painting, often portraits of herself. Her turbulent marriage to painter Diego Rivera was another source of lasting hurt for the artist, whose work explores themes of gender, colonialism, chronic pain, and Mexican pride.
"To me, Kahlo is not just a feminist icon but also a person of huge courage who always used her sense of humor to overcome major obstacles," said Dvoretsky. "If we are successful, our visitors will feel as though they have seen a well-rounded portrait that examines Frida Kahlo's art, and her life, the way she might have seen them."
Need weekend plans?
The best events in the city, delivered to your inbox