Arts
This event has passed. Check out other things to do instead.
Frida Khalo and Ukranian artist Taras Shevchenko share an exhibit space for one day of fundraising
All proceeds from the two-for-one immersive art event go to humanitarian needs in Ukraine.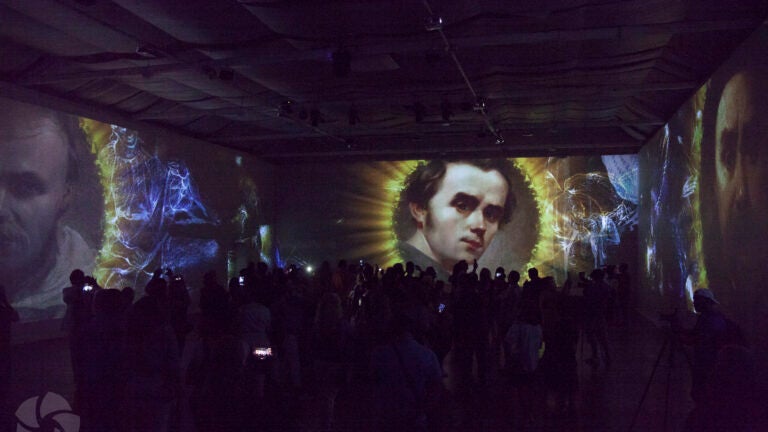 While workers at the National Museum of Taras Shevchenko in Kyiv, Ukraine, recently crated away the artist's valuable art in the same containers used to shield them from invading Nazi forces in 1941, Lighthouse Immersive is doing their part for the country and its citizens by hosting an immersive fundraising event in Boston. A two-for-one art experience in conjunction with "Immersive Frida Khalo," "Immersive Shevchenko: Soul of Ukraine" will be available for viewing on March 15, with all proceeds from ticket sales going directly to the Red Cross Humanitarian Crisis Appeal Fund to Benefit Ukraine and National Bank of Ukraine Fund. Held across six cities throughout the United States, visitors to Boston's exhibit will be able to experience this famed artist's work within the spacious Lighthouse at the Castle at Park Plaza. Known as a Ukrainian liberty idol, artist, poet, writer, and political activist of the mid 19th century, Shevchenko's art celebrates the soul of Ukraine — everyday people and their lives and struggles, set against the country's natural beauty. Following the event, guests are welcome to remain to enjoy the entire "Immersive Frida Kahlo" exhibit as part of the ticket price.
The "Immersive Shevchenko: Soul of Ukraine" show runs on hourly reservations.
Need weekend plans?
The best events in the city, delivered to your inbox