Arts
Get festive at these 12 holiday shows in Boston and beyond this season
Find out when and where to catch "The Nutcracker," "A Christmas Carol," and more.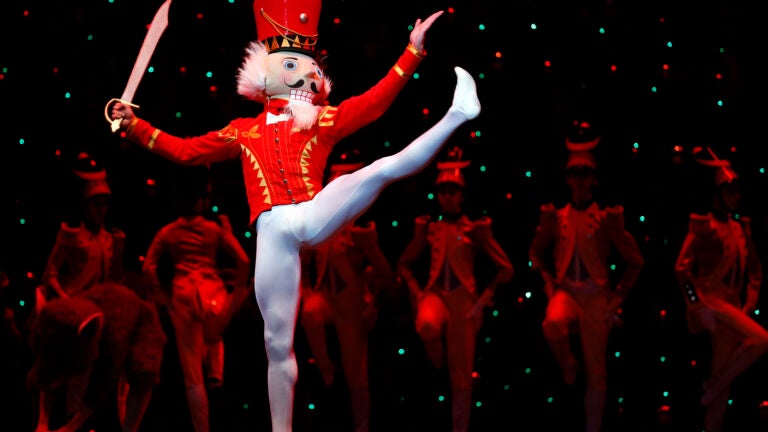 Boston brings a fantastic lineup of shows and musicals this year at venues like the Citizens Bank Opera House and Emerson Colonial Theatre, including "Chicago," "Moulin Rouge! The Musical," "The Book of Mormon," and "Les Miserable." But before musical season gets into full swing, the city will see its annual calendar of holiday shows at venues in Boston and beyond. This year's program features returning classics like the "Urban Nutcracker," "Midwinter Revels," and "A Christmas Carol," along with a few new special shows like "Rudolph the Red-Nosed Reindeer" and "A Very Darren Crissmas." Ahead, discover 12 holiday shows in Boston this season.
Kicking off the holiday show season here in Boston, "Rudolph the Red-Nosed Reindeer: The Musical" comes to the Shubert Theatre for seven shows over three days the weekend after Thanksgiving. The show follows the Christmas icon with the blinking red nose as he saves Christmas and goes on adventures with Yukon Cornelius, the Abominable Snowman, and Hermey the Elf. The family-friendly musical runs for 90 minutes, including a 20-minute intermission. (Shubert Theatre, Nov. 24-26)
One of the country's most prestigious versions of the timeless holiday show, Mikko Nissinen's "The Nutcracker" continues to delight audiences year after year with its stunning sets, impressive choreography, and glittering costumes. The show is set to Tchikovsky's iconic score and follows the story of Clara, a young girl who receives a nutcracker from her Godfather at a Christmas party — which then comes to life and whisks her away on a magical journey for the night. Boston Ballet puts on 45 performances of the show between Nov. 24 and Dec. 31. (Opera House, Nov. 24 to Dec. 31)
Darlene Love once again returns to the Cabot in Beverly this year to perform her annual holiday show. Since the '60s, Love has thrilled audiences with her singing and acting, from her stint with girl group The Blossoms to her annual live performances of her hit "Christmas (Baby Please Come Home)" on "The Late Show With David Letterman" for 29 years before Letterman retired. She visits the Cabot for one show on Nov. 25 this year. (The Cabot, Nov. 25)
Another Boston holiday tradition, the Holiday Pops return for a month of shows at Symphony Hall. Led once again by conductor Keith Lockhart, the Boston Pops put on their annual holiday show 30 times this December, featuring classic holiday songs and a visit from Santa. Singing along is encouraged at this joyous, family-friendly production — the Boston Pops are known for their fun, lively shows, called by Lockhart the "perfect orchestra for people who don't know they like orchestras!" (Symphony Hall, Dec. 1-24)
This fun, raunchy, sexy adaptation of Tchikovsky's classic ballet once again returns to the Somerville Theater this December for its 16th season. The burlesque show features classical ballet along with other, saucier types of dance, like belly dancing, pole dancing, and hula hooping, as it follows a grown up Clara while she explores the Kingdom of Sexual Sweets (the show is 18+) for a performance that's inclusive, impressive, and hilarious. (Somerville Theater, Dec. 1-31)
Broadway veteran Darren Criss brings his first ever full-length project to the Colonial Theatre for one show only on Thursday, Dec. 7. Best known for his role on Fox's "Glee," Criss is an Emmy and Golden Globe winner whose career has spanned television, film, and the stage. His holiday show will feature Christmas hits alongside folk-pop ballads. (Colonial Theatre, Dec. 7)
North Shore Music Theatre once again performs "A Christmas Carol" this December for the 32nd year at the Beverly theater, with David Coffee returning to play Scrooge for his 29th season. Based on the Charles Dickens classic Christmas tale, the musical follows Ebenezer Scrooge as he's visited by the ghosts of Christmas past, present, and future, and features traditional carols like "God Rest Ye Merry Gentlemen" and "We Wish You a Merry Christmas." The company puts on 14 shows this season. (North Shore Music Theatre, Dec. 7-23)
The Greater Boston Stage Company presents "All is Calm: The Christmas Truce of 1914," a musical about the incredible true story of a night of peace during WWI. The show follows the story of the camaraderie on Christmas night of 1914, during which German and Allied Forces soldiers emerged from their trenches to share food and songs. The Greater Boston Stage Company performs the show in Stoneham. (Greater Boston Stage Company, Dec. 8-23)
For the 53rd year, the Cambridge-based Revels presents its annual midwinter show, this year called the "Feast of Fools." A holiday tradition for thousands of annual visitors, this year's show features lively carols and dance numbers set against the backdrop of a medieval feast. While they're best known for their yearly holiday show at Harvard's Sanders Theatre, Revels puts on other song and dance performances throughout the year dedicated to bringing to life cultural and folk traditions from around the world. (Sanders Theatre, Dec. 15-28)
Filmmaker, writer, and actor John Waters brings his holiday show, "A John Waters Christmas," to the Berklee Performance Center for one night only. The "Old Saint Nick of Nutcases" once again brings his "holiday comedy show from hell," according to Berklee, this time with all new standup and storytelling to entertain audiences. Please note, the show content may be inappropriate for guests under age 16. (Berklee Performance Center, Dec. 16)
This yearly Boston tradition takes the story of Tchaikovsky's "Nutcracker" and its well-known music and blends it with more modern sounds like Duke Ellington's jazz. The multicultural show, set in present-day downtown Boston, is rooted in classical ballet but incorporates other dance styles like hip hop, tap, jazz, and even flamenco. Anthony Williams' "Urban Nutcracker," which first ran in 2001 at Dorchester's Strand Theatre, is produced by the City Ballet of Boston. (Shubert Theatre, Dec. 16-23)
Experience the score of the classic Christmas film performed live during "Elf in Concert," coming to the Wang Theatre for two shows Dec. 22-23. The performance features a showing of the classic movie projected onto a huge screen while an orchestra plays the entire score live. The show runs on Friday, Dec. 22 at 7 p.m. and Saturday, Dec. 23 at 1 p.m. (Wang Theatre, Dec. 22-23)
Need weekend plans?
The best events in the city, delivered to your inbox