Arts
This event has passed. Check out other things to do instead.
'Immersive Klimt: Revolution' comes to the Castle
The Lighthouse ArtSpace is awash with the golden hues of the artist's famous works.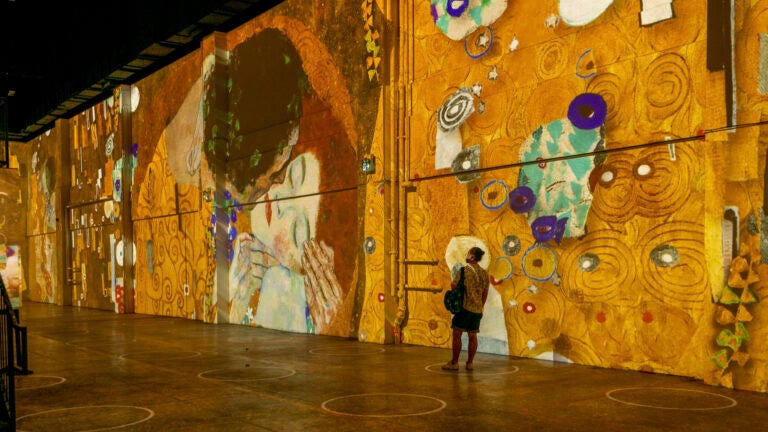 Maestro Immersive Art and Lighthouse Immersive (of Immersive Frida Kahlo fame) have yet another venture coming to Boston. And this one begins with a kiss.
Opening on April 14 in the Lighthouse ArtSpace in the Castle, "Immersive Klimt: Revolution" breathes life to famed artist Gustav Klimt's evolution from thousands of hand-drawn sketches to works from the pinnacle of his Golden Phase, such as the "The Woman in Gold," "Tree of Life" and his most famous and storied work, "The Kiss." You'll stand before all this electrifying world of sensual colors and vivid imagery, watching it seamlessly transform from image to image accompanied by multimedia composer Luca Longobardi's curated music selections and compositions.
"Klimt was a leader through a time of unrest among artists who wanted to completely re-imagine what art could be and make art that favored graphic style and symbolism," said producer Svetlana Dvoretsky, in a statement, of the Viennese artistic revolution, a period full of energy accompanied by the collision of the traditional with the modern. "He was a bold provocateur, particularly in his daring take on the female form."
Along the way, the exhibit will also introduce the work of some of Klimt's contemporaries, Egon Schiele and Kolomon Moser.
"They are a bit more playful in this show with how they animate Klimt's work," said producer Corey Ross, in a statement. "The show has a really celebratory energy that will absolutely meet the moment as Boston continues to return to normalcy this spring."
Need weekend plans?
The best events in the city, delivered to your inbox