Arts
Take a (virtual) trip to Europe with 'Immersive Vatican'
The latest immersive exhibition takes visitors from the depths of the Roman catacombs to the heights of St. Peter's Basilica.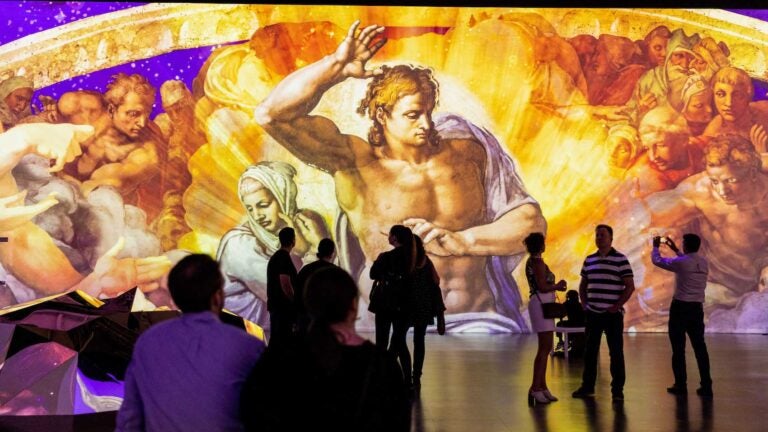 Following in the footsteps of "Immersive Van Gogh" and floor-to-ceiling installations inspired by the work of Monet and Klimt, Lighthouse Immersive and Maestro Immersive Art are taking visitors on a virtual trip overseas with "Immersive Vatican."
The Boston exhibit, which opens Oct. 7 at Lighthouse Artspace Boston (130 Columbus Ave.), takes visitors on a tour from the depths of the Roman catacombs to the towering ceilings of St. Peter's Basilica, tracking centuries of history cataloged in the Bible and in history books.
Similar to past immersive exhibits, the images projected on the walls at "Immersive Vatican" are composed of thousands of high-resolution photos, and enhanced by animation and a musical score accompanying audiences on the historical journey. Visitors will see the frescoes of Michelangelo's Sistine Chapel, the artifacts of the Vatican Museums, and other Vatican City treasures.
"Immersive Vatican" producer Corey Ross said in a press release that Boston's large Catholic community played a part in the decision to debut the exhibit in Boston, but he believes that all audiences will enjoy the spectacle.
"Centuries worth of history are carved, painted and sculpted into this monument to western art and culture, in addition to the 70,000+ artifacts in the Vatican Museums," Ross said. "This program also has tremendous educational value as an introductory exploration of the Vatican's art and architecture, particularly for those who have not had the opportunity to visit it in person."
Tickets to "Immersive Vatican" are on sale now, at immersivevatican.com. The exhibit will be on display in Boston from Oct. 7 through Nov. 6.
Need weekend plans?
The best events in the city, delivered to your inbox