Arts
Check out 'The Obama Portraits Tour' at the MFA this fall
The paintings of Barack and Michelle Obama will be on view in Boston starting Sept. 3.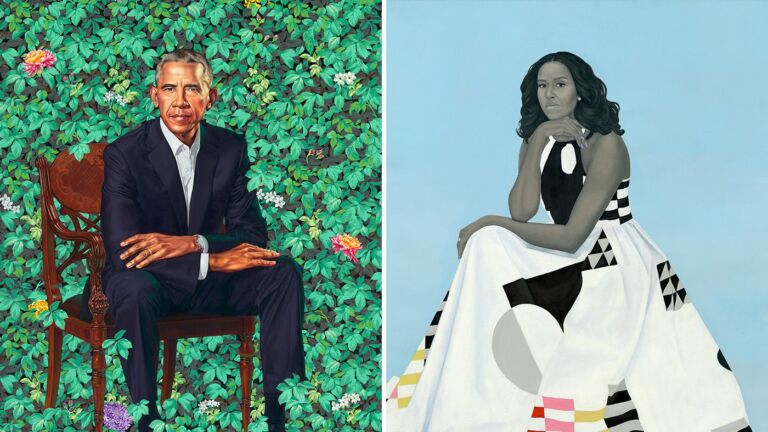 Paintings of former President Barack Obama and First Lady Michelle Obama are coming to Boston this fall as part of a traveling exhibition.
"The Obama Portraits Tour," organized by the Smithsonian's National Portrait Gallery, will be on view at the Museum of Fine Arts, Boston, from Sept. 3 through Oct. 30, 2022.
The nationwide tour, which began in 2021, was originally set to visit only five cities before being extended to include stops in San Francisco, Boston, and Washington, D.C.
The portraits of Barack and Michelle, by artists Kehinde Wiley and Amy Sherald, respectively, garnered a nationwide response upon their unveiling in 2018, standing in stark contrast to the styles of previous presidential portraits.
"Kehinde Wiley and Amy Sherald are visionary artists whose paintings both pay homage to and reimagine the centuries-old tradition of American portraiture, which has strong roots in Boston," MFA director Matthew Teitelbaum said in a press release. "It is an honor for us to host their Obama portraits at the MFA and to offer New England audiences a chance to experience these powerful works of art."
Ahead of the portraits' MFA debut, the museum announced that it will begin a collaborative art-making project with community partners that will be presented simultaneously with the exhibit, offering Bostonians a chance to "respond to these captivating paintings of the former President and First Lady, and explore the evolving dynamics of leadership," according to the release.
"The Obama Portraits Tour is an opportunity to bring the power of portraiture to different audiences across the nation," National Portrait Gallery director Kim Sajet said in the release. "Portraiture is incomplete without the viewer and these paintings have elicited responses that range from deep contemplation to pure joy."
Tickets for "The Obama Portraits Tour" are not yet on sale, but MFA members will receive free admission to the exhibit.
Need weekend plans?
The best events in the city, delivered to your inbox