Arts
This event has passed. Check out other things to do instead.
See PEM's new exhibit 'Down to the Bone: Edward Koren and Stephen Gorman'
The exhibit is open through February 2023.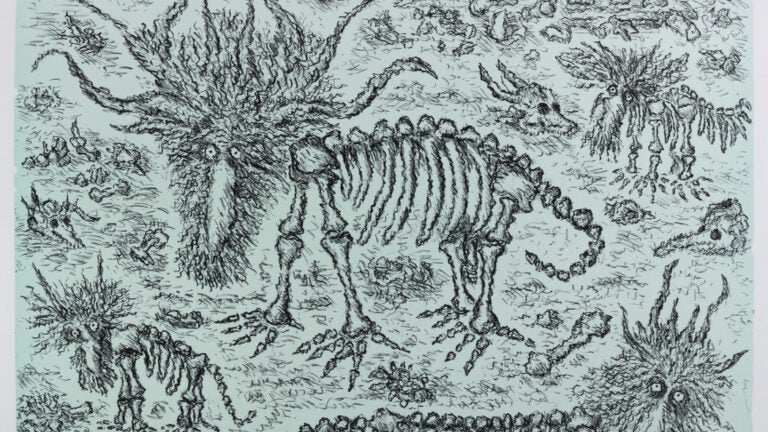 New Yorker illustrator Edward Koren and nature photographer Stephen Gorman display their work side by side in PEM's new installment, "Down to the Bone."

Koren's recognizable cartoons feature charming, hairy creature-characters, while Gorman's photographs document Inuit cultures and the frigid northernmost regions of the world.

Presented together in this exhibit, Gorman's photos and Koren's drawings both focus on the climate crisis's collateral damage: animals. For this installation, Gorman shot photos of polar bears in the Arctic National Wildlife Refuge, near an Inupiat village in northern Alaska called Kaktovik. Polar bears have been impacted by the climate emergency for decades, fighting for survival in a rapidly melting environment.

Gorman is a best-selling book author, and has worked with publications like National Geographic and the Discovery Channel.
Describing himself as a "dramatist of the Anthropocene," Koren has illustrated a number of his familiar creatures, whose hairy, anthropomorphic forms often occupy the pages of the New Yorker, for "Down to the Bone." Woeful and resigned, they occupy landscapes decimated by human-made climate change. The simple cartoons with wide eyes show the dangers of realizing too late the impacts of the climate crisis.
"Down to the Bone" stays on view at the PEM for almost a year, through Feb. 26, 2023, as part of PEM's Climate + Environment Initiative.
Need weekend plans?
The best events in the city, delivered to your inbox