Arts
This event has passed. Check out other things to do instead.
See 'Each/Other,' a collaborative exhibit by two Indigenous artists
The exhibition comes to the Peabody Essex Museum.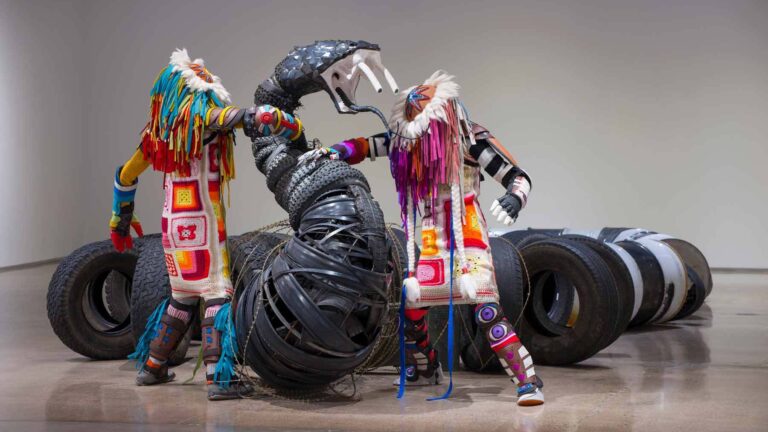 The exhibit by contemporary artists Marie Watts and Cannupa Hanska Luger comes to the Peabody Essex Museum in Salem this winter.
To artist Cannupa Hanska Luger, "art is a verb, not a noun. Art is a practice, it's an activity. It is an action." In this installment at the PEM, from January 29 through May 8, artists Luger and Marie Watts display their large-scale and mixed media contemporary works, many of which were made with community help.
In artworks made through "social practice," non-artist volunteers collaborate with the artists on moving, community-focused works. Some pieces in this exhibit were made by many hands.
For a sculpture called Each/Other, made collaboratively by both artists, they asked volunteers to send in bandanas embroidered with messages. Sent in by folks from all walks of life, the bandanas read "Dismantle All Colonial Systems Now," "I Miss Your Embrace," or "MMIW," calling attention to the epidemic of missing and murdered Indigenous women.
Luger's projects, which often revolve around social change, include the Mirror Shield Project, a work from 2016 in which Luger helped volunteers make huge mirrors which they then held up on the frontlines of the Dakota Access Pipeline protests, forcing police to see their own reflections. Ukrainian women who used mirrors similarly in 2014 inspired the project.
One of Watt's cooperative projects on view in this exhibit is Blanket Stories, an emotive work consisting of a stack of blankets, each donated by the public with a specific story attached.
Cannupa Hanska Luger is a member of the Mandan, Hidatsa, Arikara, and Lakota nations, while Watts is a Seneca citizen. These works along with 23 others, emphasizing human connection, boundless creativity, and empathy, will be on view at the PEM until May 8, 2022.
Need weekend plans?
The best events in the city, delivered to your inbox