Arts
This event has passed. Check out other things to do instead.
Take a look at and listen to Armenia at an Arlington photographer's striking multimedia show
Photographer Winslow Martin shows and discusses two decades of chronicling life in Armenia on May 7.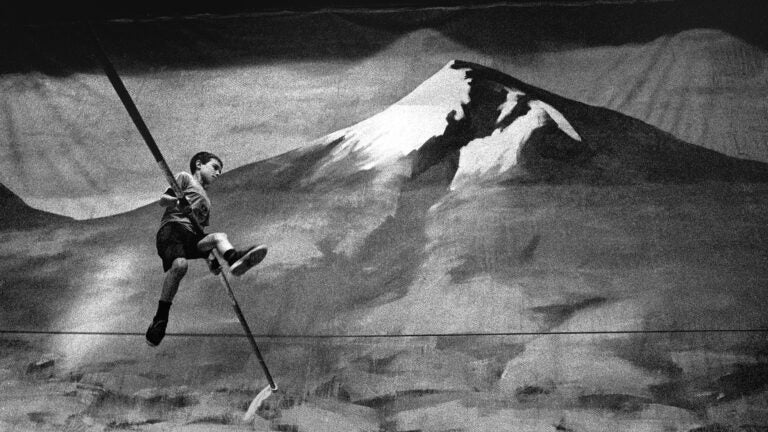 The subjects of the visual-musical-spoken word presentation "We Wait for Your Return: A Love Letter to Armenia" — coming to Northeastern University May 7 — are the people and places of the small, mountainous country just east of Turkey and north of Iran.
Winslow Martin, the photographer who has been chronicling Armenia for the past two decades, and whose work provides the focus of the production, is an Arlington resident. There's no Armenian blood coursing through him; the project comes from the passion he's developed for those people and places over the years.
Like so many other young kids, Martin's first experience shooting photos was with what he recalls being "a basic amateur Instamatic" when he was 9. He got his first proper camera, a Russian-made single-lens reflex, a few years later. Photography remained a hobby while he pursued a career as a high school history teacher.
But by his late-20s, he decided to make a livelihood out of that hobby, turning to photojournalism at Community Newspaper Company (CNC); general business gigs shooting weddings, bar-mitzvahs, and corporate gatherings; and eventually people-oriented commercial work.
The first of what would become a long string of trips to Armenia came about while he was still at CNC's TAB Newspapers, soon after he got an idea for something more than just another news story. He wanted to do a personality profile on a priest – of any denomination. That's how, in 1998, he met Father Dajad Davidian from St. James Armenian Church in Watertown.
Martin — currently back in Armenia, where he's organizing an exhibit at the National Gallery of Armenia — recently spoke via Zoom about the origins of "We Wait for Your Return" and what will be happening when he steps up to a microphone to host it on May 7.
Boston.com: How did you meet Father Davidian and what led to you first going to Armenia?
Winslow Martin: When I said I wanted to do a story on a priest, somebody in the newsroom said I should meet him, so I did. I spent a lot of time with him, and at the end of our time together, I went to Armenia with him to finish the story, and I ended up doing a six-page photo essay in The TAB. The stage presentation is about what happened next, and then what happened next.
I'm guessing what happened next is you went back to Armenia on your own.
Yes, I had an opportunity to go back one more time, but I've since returned 17 or 18 times. The answer to why I kept going back was the people. I love the people. It's a great country, it has a lot of history, and it's interesting. But it was the people and how open they were and the connections I made, and how that enabled me to photograph. Also, I was photographing for myself. There were no assignments, no deadline or pressure. I really enjoyed that.
What is life like for you when you go there? Where do you stay?
At different times, I've stayed in apartments and I've stayed in people's homes, and I've been in villages everywhere. But now I rent Airbnbs.
Was there a moment when you started thinking about doing a photo exhibit?
I was there a lot until 2008, then some other things happened in my life. I knew I wanted to keep coming back, but at that point, it was time to stop. I thought about doing a book, maybe an exhibit. But I couldn't pull it together. Then, 10 years later, I went back. My mission kind of shifted, from just taking cool pictures for myself. I wanted to put them together in a meaningful story way, but I had no story; it was just daily life in Armenia. Then I realized that I had been building a historical archive of the country, in my own way. Now I can keep going as long as I want because everything I do contributes to that.
How did the Northeastern show come together?
I gave a talk at Kickstand Café in Arlington of my pictures and my stories that happened in Armenia. I knew a singer – Noune Karpetyan – and decided I would start the talk with her doing some songs, to focus people's attention. There was a gentleman in the audience, Allen Feinstein, a professor of music at Northeastern. He asked me if I wanted to do this show, and I initially said no. But I thought about it. I like collaborating with people, it would be a new way to present photography because it's multimedia, and I figured it would be a more effective, interesting way to educate people about Armenia and my Armenia.
So, what exactly will be happening there?
I will be the only one talking on the stage. The pictures will be behind me on a huge screen, and I'll be telling stories about them and about Armenia. We'll also have the singer-composer Astghik Martirosyan leading a five-piece band doing Armenian folk songs and her original compositions, and we'll use lighting in a dramatic way. So, it'll be an evening with four elements: me, the pictures, the musicians, and lighting to create an experience with a theatrical flair to it.
Need weekend plans?
The best events in the city, delivered to your inbox