Arts
This event has passed. Check out other things to do instead.
View 'Fantasy and Truth' by Jordan Nassar at the ICA
The artist brings Palestinian embroidery to the ICA.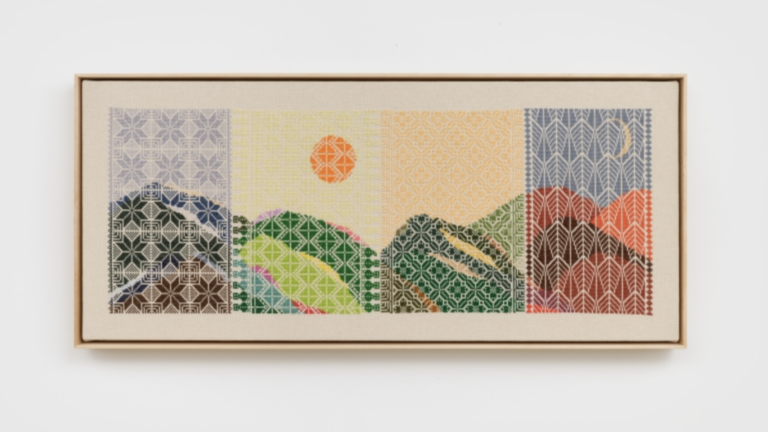 Artist Jordan Nassar exhibits his first solo show in Boston, "Fantasy and Truth," at the ICA, opening this August. The New York City-based textile artist, born in New York to a Polish mother and a U.S.-born Palestinian father, works in tatreez, a Palestinian cross-stitch embroidery. His embroidered and mixed media works will be on view at the ICA through January 2023.
Nassar's small compositions, usually around 8-by-10 inches, combine traditional Palestinian motifs with landscape vistas, often rolling hills in vibrant colors, evoking a utopian view of Palestine as held by members of the Palestinian diaspora. Working from imagination rather than photos, Nassar investigates themes of land, home, memory, and hope.
In Palestinian embroidery, different villages use different symbols in their artwork, often corresponding with local flora or other geographic indicators. Nassar has created his own symbols, representative of his identity and background. His set of symbols includes images like a white loop, depicting the rotary by the 79th Street Boat Basin on New York's Upper West Side where he grew up.
In Nassar's more recent work he's collaborated with women in the Hebron region of Palestine, who embroider traditional patterns that Nassar then fills in with his more abstract landscapes, linking long standing matrilineal embroidery tradition with Western painting motifs. Each work may have up to 75,000 individual stitches.
Need weekend plans?
The best events in the city, delivered to your inbox