Arts
This event has passed. Check out other things to do instead.
View 'Legacies' by Rose B. Simpson at the ICA
The New Mexican ceramic and mixed media artist displays her sculptures in Boston this year.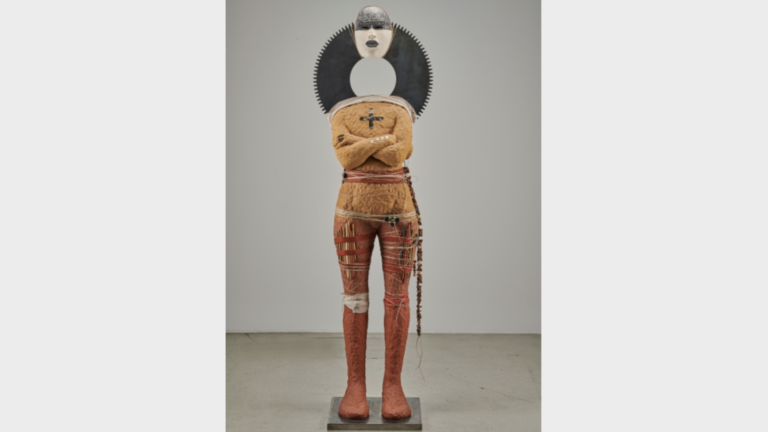 Artist Rose B. Simpson's ceramic sculptures go on view at the ICA this August in an exhibit called "Legacies," featuring new works alongside her signature ones. Simpson lives and works in Santa Clara Pueblo, New Mexico, and is an enrolled member of the Pueblo of Santa Clara, a federally recognized tribe of Native American Pueblo people.
Simpson comes from a long line of ceramic artists in the Pueblo of Santa Clara, known for its pottery. She received her BFA in studio arts from the Institute of American Indian Arts in 2007, an MFA in ceramics from the Rhode Island School of Design in 2011, and another MFA in creative nonfiction from the Institute of American Indian Arts in 2018. Simpson grew up off the grid, living at Santa Clara's Flowering Tree Permaculture Institute and learning to use natural materials from a young age.
Working in ceramic, metals, wood, found objects, and sometimes performance or automobile design, Simpson creates sculptures of mostly humans, investigating the damages of our "postmodern and postcolonial era," says her artist statement, like objectification and our detachment from creativity. Unlike the Santa Clara Pueblo's traditional black and red polished pottery, Simpson's earthy, raw figures dive into complex issues of humanity's past and future. Her sculptures, says her artist statement, "function in the psychological, emotional, social, cultural, spiritual, intellectual, and physical realms."
Simpson's work has been collected by the Museum of Fine Arts and Peabody Essex Museum, and she's exhibited at museums throughout the country and the world.
Need weekend plans?
The best events in the city, delivered to your inbox