Arts
This event has passed. Check out other things to do instead.
Watch Cirque du Soleil's first experience on ice
A breakthrough acrobatic experience comes to Boston's Agganis Arena in June.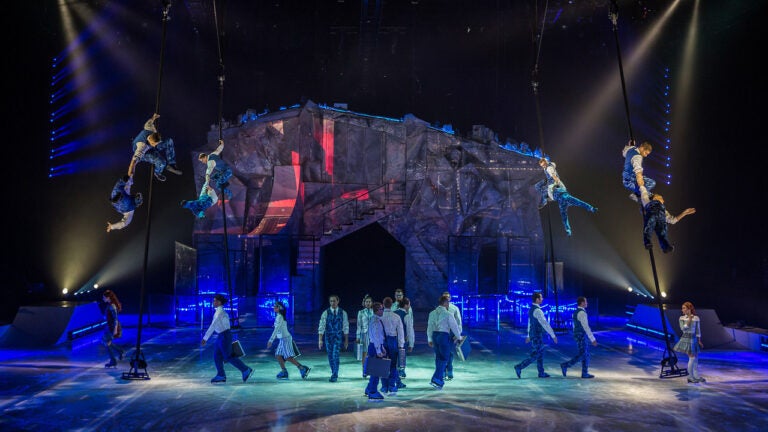 What began in 1984 as 20 street performers, today has completely reinvented circus arts. And Cirque du Soleil is about to do something pretty cool again. Literally. A very first for the troop, these acrobats and talented performers take to the ice for "Crystal" — a one-of-a-kind performance that blends circus art and the world of ice skating, turning the Agganis Arena into a frozen playground full of skating and aerial feats.
"We are absolutely thrilled to finally bring CRYSTAL back on the road," said Mike Newquist, senior vice president of touring shows division for Cirque du Soleil, in a statement. "For two years our performers have been waiting to skate again and experience the joy of the audience once more. It will be an emotional and magical return."
Watch world-class ice skaters and acrobats claim their new place on the ice with speed and fluidity as they challenge the laws of gravity with never-before-seen acrobatics. Created by Shana Carroll and Sebastien Soldevila, the story follows Crystal, the misfit lead character, as she takes you on an exhilarating tale of self-discovery throughout her imagination. As usually rings true for its shows, the arena transforms into a colorful experience with astounding visual projections and a soundtrack that seamlessly blends popular music with the signature sound of Cirque du Soleil.
Performances are June 1-4 and June 7-11 at 7:30 p.m.; June 4 and June 11 at 3:30 p.m.; June 5 and June 12 at 1 p.m. and 5 p.m. Tickets go on sale to the public March 7 at 10 a.m.
Need weekend plans?
The best events in the city, delivered to your inbox