Arts
This event has passed. Check out other things to do instead.
Watch Sleeping Weazel in 'Everyday Life and Other Odds and Ends'
The world premiere of playwright Charlotte Meehan's multimedia work comes to Boston.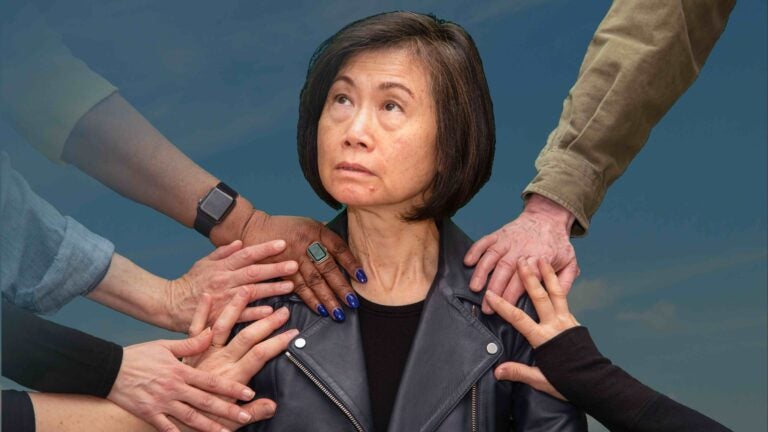 Everyday life is filled with odds and ends. And it's what we do with those small pieces that makes all the difference. ArtsEmerson addresses what happens when mundane moments become more meaningful during the world premiere of "Everyday Life and Other Odds and Ends."
A multimedia work born from playwright Charlotte Meehan's own experiences and performed by Boston's acclaimed experimental theatre troupe Sleeping Weazel, "Everyday Life and Other Odds and Ends" is a powerful (and frequently hilarious) story that reveals the inner life of those living with and affected by Parkinson's disease. The play introduces three very different couples, each of their relationships uniquely impacted by the illness. Striving for unconditional love, each pair responds to the avalanche of advice heaped on them with a mix of hilarity, pain, and love, while every day patterns take on deeper meaning and urgency.
In addition to videographer Lee François' multimedia imagery and onscreen therapists, doctors, and Parkinson's specialists, this play contains a film of actual people with Parkinson's and Peter DiMuro's Public Displays of Motion dancer/collaborators bombarding the scene in a big dance of joy and rebellion against the onslaught of their diminishing mobility.
"This play has been three years in the making, and began well before that, as I was experiencing my husband Steven Bell's decade-long struggle with Parkinson's disease," explained Meehan in a press release. "Since Steve passed away in May 2020, I have continued with this project, hoping to share a more expansive view of our love via three differently configured couples enacting their daily lives while stumbling through the challenges that life brings. Rather than focusing on the gloomy inevitability of death, this play celebrates the precious moments of life together now."
Attendees can also meet with members of the show's creative team after certain performances for a conversation about navigating relationships — from the mundane to life-altering — and how the team at Sleeping Weazel made them theatrical.
Performances are at the Emerson Paramount Center's Jackie Liebergott Black Box on March 12, 18, 19, 25, and 26 at 8 p.m.; March 13, 19, 20, 26, and 27 at 2 p.m.; and March 16, 17, 23, and 24 at 7:30 p.m. Proof of COVID vaccination is required for entry.
Need weekend plans?
The best events in the city, delivered to your inbox