Beer
This event has passed. Check out other things to do instead.
The Veil, Foam, and more acclaimed brewers pop up at the A4 Beer Garden in Cambridge
Some of the coolest names in craft beer are on tap for the summer and fall series.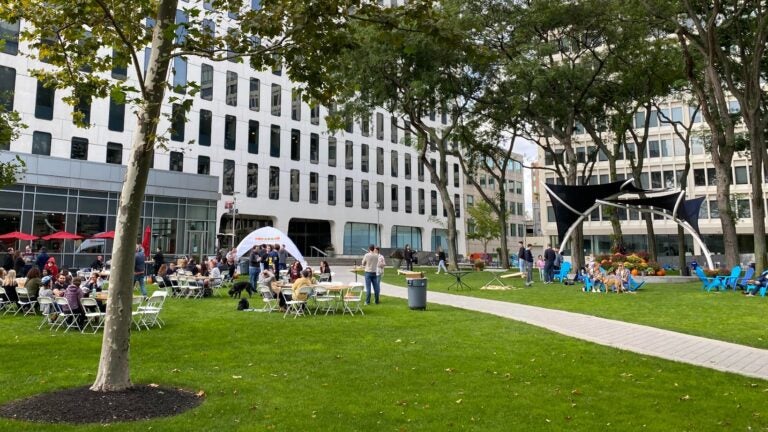 Sure, there are benefits to traveling around to visit new breweries (see: the mountains, the Seacoast, etc.). But there's really no need to leave the our metropolis to taste some of the coolest beers on the Eastern Seaboard. Just check out this season's schedule at the A4 Beer Garden at Tech Square.
The outdoor series from Area Four brings Bissell Brothers, Foam, Tilted Barn, The Veil, and more acclaimed breweries to Cambridge select Saturdays and Sundays this summer and fall:
June 11: Definitive Brewing (Maine)
June 24: Trillium Brewing Company (Boston)
July 8: Deciduous Brewing Company (New Hampshire)
July 22: Schilling Beer Co. (New Hampshire)
August 5: Kettlehead Brewing Company (New Hampshire)
August 19: Bissell Brothers (Maine)
September 2: Long Live Beerworks (Rhode Island + Boston)
September 16: Foam Brewers (Vermont)
September 30: Tilted Barn Brewery (Rhode Island)
October 14: The Veil Brewing (Virginia)
The Tech Square Beer Garden takes over the grassy courtyard adjacent to Area Four, with lawn games and live music. Each brewery will send a representative along with a selection of craft beer on draft and in cans for enjoying on-site. Match must-try beers with the restaurant's signature wood-fired pizza, garlic knots, and more.
Family-friendly and also welcoming to dogs, the Tech Square Beer Garden will cancel in the event of rain. Watch Area Four's Instagram for updates.
Need weekend plans?
The best events in the city, delivered to your inbox