Beer
This event has passed. Check out other things to do instead.
Vitamin Sea Brewing tests the waters in Boston with a Roslindale beer hall pop-up
The South Shore's popular IPAs, hard seltzers, and more are on tap Fridays and Saturdays from March until May.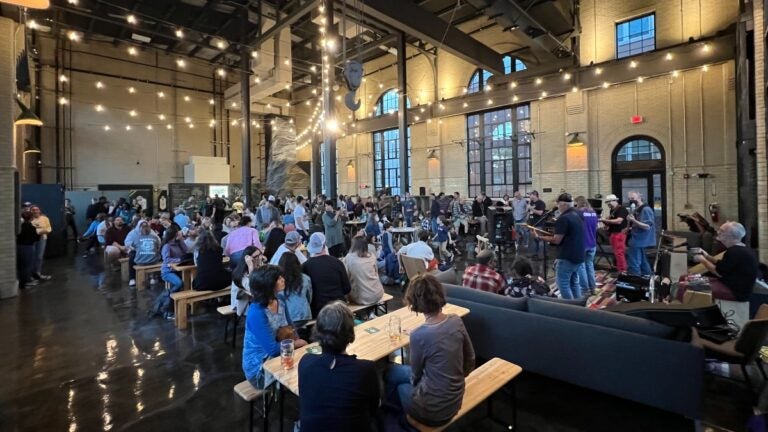 A wave of craft breweries has hit the South Shore in recent years, and one of the region's biggest names will have a Boston taproom this spring. Vitamin Sea Brewing is the next resident of The Substation Beer Hall in Roslindale, bringing sought-after suds and cool collaborations to the historic location from March 3 through May 20.
Vitamin Sea bounded onto the beer scene a couple years before opening a Weymouth taproom. Dino Furnari and a few friends had been homebrewing in his Hull basement when they purchased a canning machine and began to offer their beers to friends and social media followers in-the-know. The group soon started representing Vitamin Sea at beer festivals around the region, making industry connections and fans wherever they went.
Furnari, a co-founder and "the visionary" of VSB, said those contacts are part of the plans in Roslindale, where the Friday and Saturday-only bar is licensed to serve both beer and wine.
"We think we can call on some of our friends in the industry around the country and do some fun stuff," like hosting guest taps and collaborations, he said, mentioning possibilities like visits from Bissell Brothers, of Portland, Maine, and Other Half, of Brooklyn. The Roslindale beer hall will also serve wine, with a winery partner TBD. Hosting craft fairs and live music are also in discussion, Furnari said. It will have merch for sale (including Roslindale exclusives) and host regular food vendors.
The beer list will regularly feature a rotating selection of draft and can pours of VSB's many beers, including highly-rated hazy New England IPAs like Frame Lines and Alone and Adrift; sours, stouts, and more. In Weymouth, Vitamin Sea has also been making gluten-free, cocktail-inspired hard seltzers of varying flavors and strength, such as an easy-drinking mimosa, and a spiced sangria imperial hard seltzer that packs a 12% punch. Complete with garnish, these fizzy alternatives to beer have been very popular, Furnari said, and will definitely be on the menu in Rozzie.
Adding a second taproom "gives us another opportunity to test out some new recipes" on VSB's one-barrel pilot system, Furnari said. "We can see how these new beers do before we decide to scale them up and package them."
The Roslindale pop-up also gives VSB more exposure in Boston, where it's only been sporadically available; as well as more foot traffic then the business is used to on the South Shore.
"I'm a sucker for old buildings," Furnari added, so he was excited to learn about the rotating brewery series at the brick building with large windows in Roslindale Village, about a 35-minute drive from VSB headquarters. The Substation, as it brands itself today, was built in 1911 as part of the electrical network that powered trolleys running throughout Boston. The property was decommissioned in 1971 and sat empty until 2014 when Historic Boston and Peregrine, a Rhode Island developer and the building's owner, embarked on a multimillion-dollar renovation project.
In 2020, current operators Adam Rogoff and Laura Charles established a coworking space there called Workhub at The Substation. Last year, they opened the space for private events and launched the weekend beer hall series with Brockton Beer Company. Jack's Abby Lagers flowed from the taps on the Substation's main floor from September through December.
"We are excited to see our brewery residency program continue and grow," said Charles, director of community and business development. She said Vitamin Sea is a partner with "exceptional beer" that will collaborate on The Substation's mission to "build, activate, and connect communities" by bringing its network to the venue.
Beginning March 3 and running until the Saturday before Memorial Day Weekend, VSB at the Substation will be open Friday from 4-10 p.m. and Saturday from noon-10 p.m. Follow @vitaminseabrewing for event announcements.
Need weekend plans?
The best events in the city, delivered to your inbox