Books
10 literary events happening this spring
Looking for ways to satisfy your inner reader? Here are 10 must-visit book events happening around Greater Boston.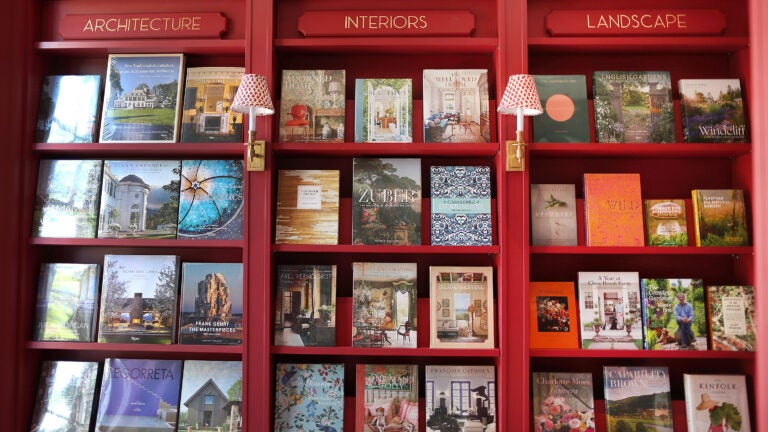 Boston is a city of rich culture and history, especially when it comes to the literary community. Louisa May Alcott, Edgar Allen Poe, Henry Wadsworth Longfellow, are just a few of the local influential writers behind classic works like "Little Women," "The Raven," and "Paul Revere's Ride."
More recently, bookstores have been popping up with Beacon Hill Books & Cafe, East End Books in Provincetown, and Porter Square Books expansion to the Seaport, to name a few.
It may delight readers to know that the city has a designated literary cultural district spanning Downtown Boston and Back Bay. Locations in the district include the homes of Robert Frost and Henry James, and over 80 other sites that host book festivals, workshops, and writers' conferences.
There always seems to be book and literary happenings in Boston. Later this month, you can join author Laura Zigman as she discusses about her new book, "Small World," with Boston.com Book Club on Feb. 22. For those who want to share their own pieces, try a poetry open mic night at Trident Booksellers and Cafe.
If you are looking ahead to spring happenings, we've rounded up a list of 10 book events happening in March, April, and May.
Harvard Book Store will host Kate Zernike, New York Times reporter and Pulitzer Prize winner, for a discussion about her new book "The Exceptions: Nancy Hopkins, MIT, and the Fight for Women in Science." In it she tells the story of how 16 successful women work together to tackle the 1999 issue of MIT discrimination against women on its faculty. The discussion will be held at the Brattle Theatre on March 2 at 6 p.m. Tickets are on sale for $6.
The Brattle Theatre, 40 Brattle St., Cambridge, MA
Noche De Palabras, or Night of Words, is a bilingual open mic night on March 2 from 7 to 10 p.m in Chelsea. POEMSBoston and 2nd Level Events (a Clark Ave Production) invite you to share your work and hear from other talented artists, including host and producer Michael "Warrior" Bonds. For $15, you get dinner, drinks, and poetry at Tu Casa Restaurante y Bar in Chelsea.
Tu Casa Restaurante y Bar, 403 Broadway, Chelsea
According to the website, this festival is "a one of its kind book festival devoted to the young at heart." It will be hosted by the Ashland Public Library on March 25 from 10 a.m. to 4 p.m. and is a great event for younger readers and families who want to get the chance to attend workshops, book signings, and meet authors and illustrators. Registration is free and walk-ins are welcome.
Ashland Public Library, 66 Front St., Ashland
Best-selling author and humorist David Sedaris will join the Boston Symphony Hall as part of the Celebrity Series of Boston on April 2 at 7 p.m. Best known for his personal essays and short stories like "Calypso" and "Theft by Finding," Sedaris most recently published "Happy-Go-Lucky," a collection of semi-autobiographical essays reflecting on the past few years. Tickets range from $10 to $89 and can be purchased online.
Boston Symphony Hall, 301 Massachusetts Ave., Boston
Michelle Min Sterling will be coming to Brookline Booksmith to celebrate the release of her new book "Camp Zero." Set in a near future northern settlement, the book follows the story of climate change survivors discovering the disturbing secrets at Camp Zero. Attend the book release on April 6 at 7 p.m. to find out more about the author and her book. Registration is free.
Brookline Booksmith, 279 Harvard St., Brookline, MA
The first annual Boston Kids Comics Festival will be hosted by The Silver Unicorn Bookstore and invites children to explore kid-friendly comics, graphic novels, and hybrid books. The festival will occur on April 22 from 11 a.m. to 5 p.m. inviting authors and illustrators including some New York Times bestsellers John Patrick Green, Tom Angleberger, Gale Galligan, and more. This event will be held at The Silver Unicorn Bookstore location in Acton. Registration is free.
The Silver Unicorn Bookstore, 12 Spruce St., Acton
The Comics in Color: Boston group are passionate about comics and comic book making. This year, they'll be hosting the Boston Comics in Color Festival on April 29 which focuses on stories by and about people of color. The family-friendly event will be from 11 a.m. to 6 p.m. at the Reggie Lewis State Track Center. Registration is free.
Reggie Lewis State Track Center, 1350 Tremont St., Boston
Calling all poetry enthusiasts, Mass Poetry is hosting the Massachusetts Poetry Festival in partnership with the Peabody Essex Museum, Salem State University, and the City of Salem. The festival will bring workshops, readings, and poet meet-and-greets to Salem May 5 through 7. Registration will open this spring so keep an eye out.
On May 14 the Friends of the Public Garden will host its annual Duckling Day event including a parade. The parade celebrates the children's book "Make Way for Ducklings" by Robert McCloskey. The event will take place from 10 a.m. to 12 p.m. in the Boston Common with performers, games, and live music. Registration is $35 per family.
Parkman Bandstand, Boston Common, 139 Tremont St., Boston
GrubStreet's Muse & the Marketplace will host their virtual Manuscript Market and Spring Conference Series May 18 through 21 to bring together publishing professionals and writers in a roundtable discuss. In relation to this event, GrubStreet will also host an in-person party at GrubStreet's Center for Creative Writing in the Seaport the evening of May 20. Registration for both events will open for GrubStreet members on Feb. 16, and will be open to the public on Feb. 21.
GrubStreet, 50 Liberty Dr., Suite 500, Boston
Need weekend plans?
The best events in the city, delivered to your inbox