Books
This event has passed. Check out other things to do instead.
Your guide to Boston Book Festival 2023
The literary festival returns to Copley Square for its fifteenth year on Oct. 14.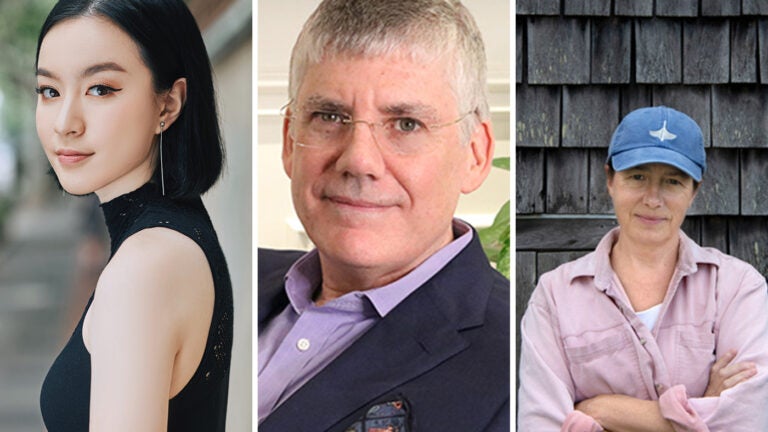 The Boston Book Festival returns for its fifteenth year with a packed lineup of authors, poets, artists, and other creatives. Thanks to a team of volunteers and local donors, the festival remains free for the public all day on Oct. 14.
This year's keynote speakers include Rick Riordan, author of the "Percy Jackson" series; historian and author Heather Cox Richardson; and Chloe Gong, author of the "Secret Shanghai" novels. Award-winning poets Diannely Antigua and Oliver de la Paz are the festival's poetry headliners.
"On our 15th anniversary year, it's especially fitting to feature these rock star writers, exemplars of their respective genres, as our keynotes," said the festival's founder Deborah Z. Porter in a press release. "They will be joined by a couple hundred other distinguished authors."
In addition to the dozens of author talks, children's storytimes, and panels, this year's festival also features live music from Berklee College of Music artists, food trucks, and tents from local vendors. You can also learn more about Back Bay's literary history with walking tours of the neighborhood.
With dozens of sessions to choose from, your schedule is sure to be packed from start to finish. We've put together a list of events and local writers you won't want to miss at this year's Boston Book Festival.
Sessions to attend at the Boston Book Festival
Rick Riordan introduced a generation of kids to Greek mythology with his bestselling "Percy Jackson and the Olympians" series. An upcoming adaption of his books is coming to Disney+ later this year, just in time for a new Percy Jackson adventure. At this presentation, Riordan will give his fans a look at how he crafts the novels millions of young readers have loved.
Saturday October 14, 10:30 a.m. at Old South Church, 645 Boylston St.
Tap into your creative side at this writing workshop led by Nadia Colburn, author of the poetry book "The High Shelf" and the forthcoming "I Say the Sky." Colburn will give you mindfulness and meditation skills that will help writers of any level get past the dreaded writer's block. At this session you'll "meditate, do gentle movement, closely read inspiring work by such writers as Rainer Maria Rilke, Audre Lorde, and Jimmy Santiago Baca," and, of course, write.
Saturday, October 14, 11 a.m. at the Goethe-Institut, 170 Beacon St.
Much has been made about how new AI technologies will change our lives, but how will it impact writers and other creatives? That's what Dr. Mahesh Daas and Andrew John Wit will discuss at this session on AI and human creativity. Daas is the president of the Boston Architectural College, a poet, and co-author of the forthcoming AI-illustrated graphic novella "I, Nobot." Wit is the novella's other writer as well as a researcher and associate professor at Temple University.
Saturday, October 14, 12:30 p.m. at Boston Architectural College, 320 Newbury St.
A planet of climate writers and researchers will discuss the history and future of the climate change movement. Harvard Law professor Susan Crawford will discuss her book, "Charleston: Race, Water and the Coming Storm," about one city's climate inaction and racism disenfranchised Black communities. Michael Mann, climate scientist and author of "Our Fragile Moment" will go over the data that gives him hope, and Jacopo Buongiorno, MIT professor and director of the Center for Advanced Nuclear Energy Systems, will discuss his study on innovative nuclear energy technology. This conversation will be moderated by Armond Cohen, founder and executive director of Clean Air Task Force.
Saturday, October 14, 1:15 p.m. at Old South Church, 645 Boylston St.
Enjoy a "fast-paced, time-stopping poetry extravaganza" with performances by eight spoken word poets. Joline Brito, Chandler Camerato, D Ruff, Phree, Ezana Demissie, Febo, and Durane West will each do a reading of their work. Also performing is Amanda Shea, who is 2022's Boston Music Awards Spoken Word Artist of the Year and is moderating this event.
Saturday, October 14, 3:30 p.m. at Boston Public Library Newsfeed Cafe, 700 Boylston St.
Come away from the Boston Book Festival with the tools you need to live a better life. At this session, three experts will discuss research-backed suggestions to lead a happier, more fulfilled existence. The panelists include Robert Waldinger, director of the Harvard Study of Adult Development and author of "The Good Life," MacArthur Genius and National Book Award-winner Tiya Miles, and philosopher Kieran Setiya. This session will be moderated by Paris Alston, co-host of Morning Edition on GBH.
Saturday, October 14, 4:45 p.m. at Old South Church, 645 Boylston St.
Local authors and poets to discover at the Boston Book Festival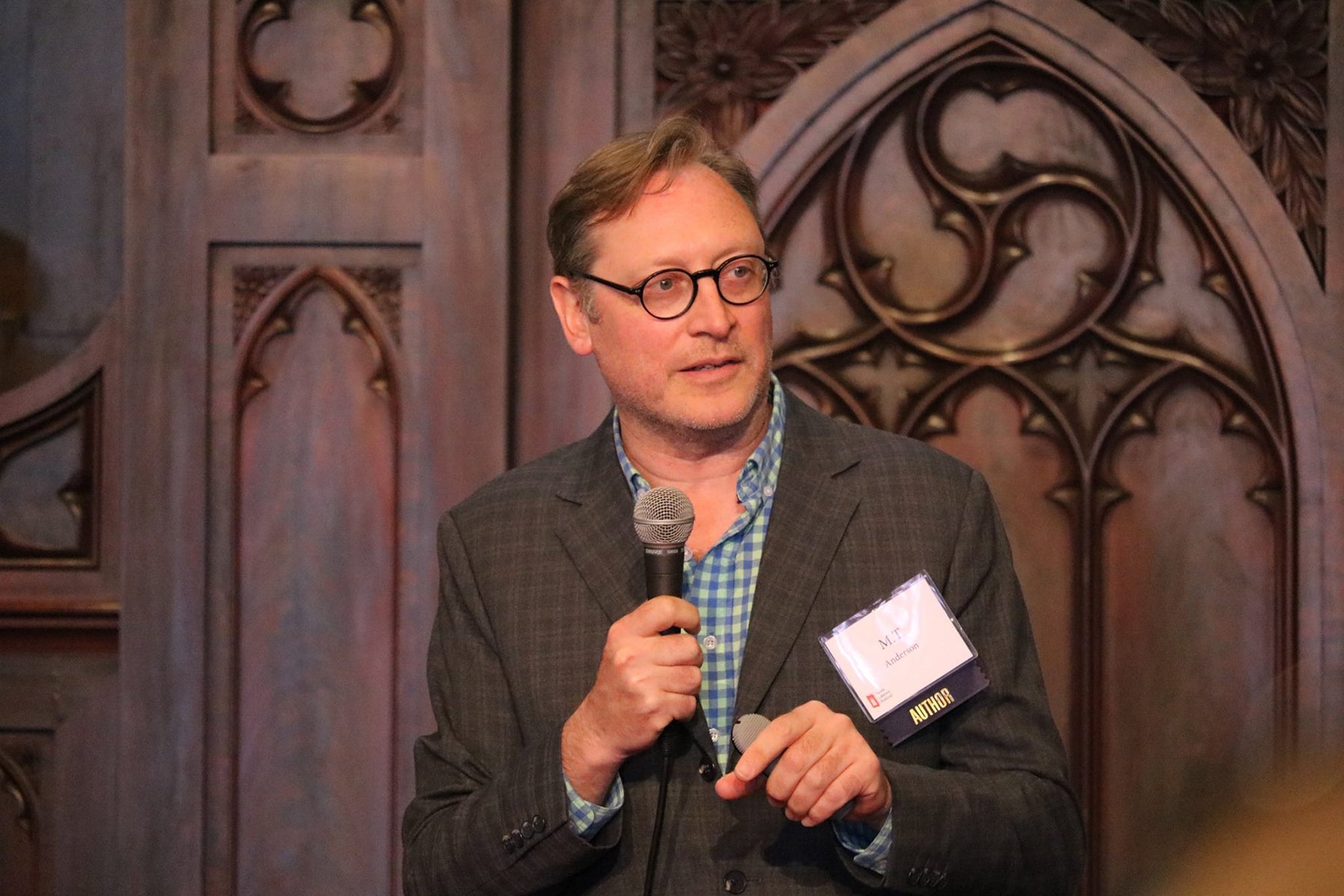 M. T. Anderson is a Cambridge native and the award-winning author of several kids and young adult novels. His novel "Feed" was a National Book Award Finalist and six years later, his novel "The Astonishing Life of Octavian Nothing, Traitor to the Nation" won the award. His latest novel "Elf Dog & Owl Head" will hit close to home for anyone who was part of the quarantine pet boom. In it, a young boy bored of lockdowns finds adventure when he meets a mysterious dog.
Furry Friends: A Perfect Partner; Saturday, October 14, 12:45 p.m. at Boston Public Library Children's Rey Room, 700 Boylston St.
Diannely Antigua is a Dominican-American poet and educator, born and raised in Massachusetts. Her debut collection Ugly Music was the winner of a 2020 Whiting Award. She is the poet laureate of Portsmouth, N.H., and the recipient of several fellowships, including the Community of Writers and the Fine Arts Work Center Summer Program. As the host of the Bread & Poetry podcast, Antigua is always in conversation with poetry lovers of all works of life. She is one of the poetry headliners for this year's Boston Book Festival and will do a reading of her work alongside Oliver de la Paz.
Headliners Readings; Saturday, October 14, 2 p.m. at Goethe-Institut, 170 Beacon St.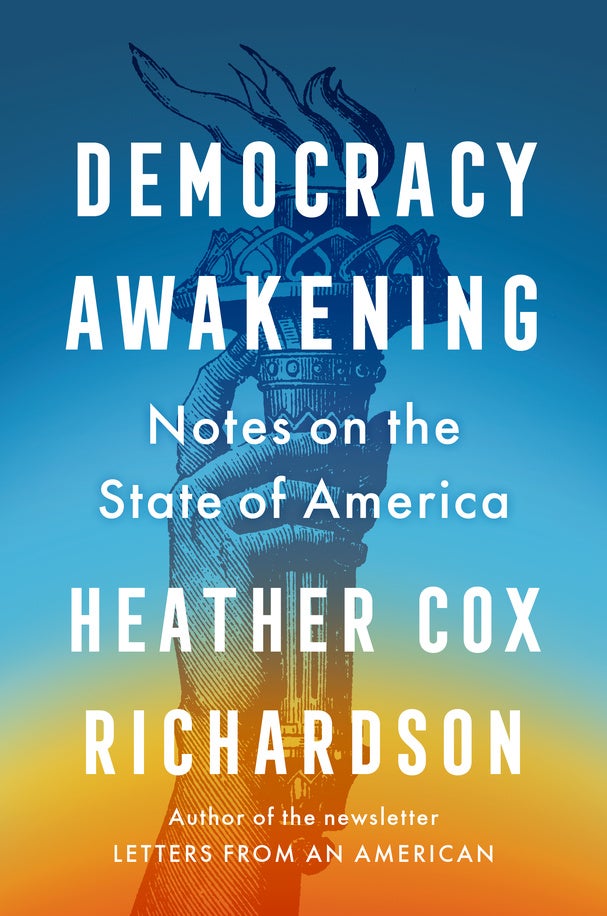 Historian Heather Cox Richardson brings her keen eye to our turbulent times with her latest book, "Democracy Awakening: Notes on the State of America." Richardson makes the case that a small group of wealthy people have organized disaffected Americans and sent the nations down the path of authoritarianism. The Boston College history professor is the author of seven books, including the award-winning "How the South Won the Civil War."
She has spent much of her life in New England, first in Maine then in New Hampshire as she attended Phillips Exeter Academy. She studied in Cambridge at Harvard University for both her B.A. and Ph.D. Richardson is the Boston Book Festival's nonfiction keynote speaker and will be interviewed by journalist and President and CEO of GBH, Susan Goldberg.
Nonfiction Keynote; Saturday, October 14, 12:15 p.m. at Old South Church, 645 Boylston St.
Award-winning author Jennifer Haigh grew up in Pennsylvania but has made Boston her home. So much so, that several of her novels are set in and around the city. Her 2008 novel "The Condition" was set on Cape Cod, her 2011 novel "Faith" was set in the suburbs of the city, and most recently, "Mercy Street" was set at a women's health clinic right by Boston Common.
She is the winner of the PEN/Hemingway Award, the Massachusetts Book Award, a Guggenheim Foundation Fellow, and was previously a featured author for Boston.com's Book Club. This Saturday, you'll find her discussing how to write about class in fiction with a panel of other talented writers.
Fictions of Class, Fictions of Place; Saturday, October 14, 11:45 a.m. at Church of the Covenant, 67 Newbury St.
Charlot Lucien is a poet, storyteller, and visual artist who founded the Haitian Artist Assembly. The organization supports local artists and creatives of Haitian descent. He is also a frequent lecturer on Haiti's culture and history at the University of Massachusetts and other institutions across the United States. He joins the Boston Book Festival for a conversation with fellow artists spotlighting the history of Haitian culture and literature across the diaspora.
Haitian Literature in the U.S.: the Intersection of Migration and Translation; Saturday, October 14, 12:30 p.m. at Boston Public Library Orientation Room, 700 Boylston St.
Emmanuel Oppong-Yeboah is a Boston-based Ghanaian-American poet, editor, and educator. Oppong-Yeboah's work is the recipient of the Pushcart Prize and they teach 11th grade English at Cambridge Rindge and Latin School. They have also been a teaching artist at the Massachusetts Literary Education and Performance Collective, the Cambridge Arts Council, Northeastern University, and Boston's Institute of Contemporary Art. Oppong-Yeboah is one of several poets who will perform at the festival's Poems & Pints nightcap event.
Poems & Pints; Saturday, October 14, 6:30 p.m. at Room and Board, 375 Newbury St.
Need weekend plans?
The best events in the city, delivered to your inbox