Concerts
This event has passed. Check out other things to do instead.
CHVRCHES brings pop horror to the House of Blues
The Scottish pop trio is coming to Boston on the heels of their latest release, "Screen Violence."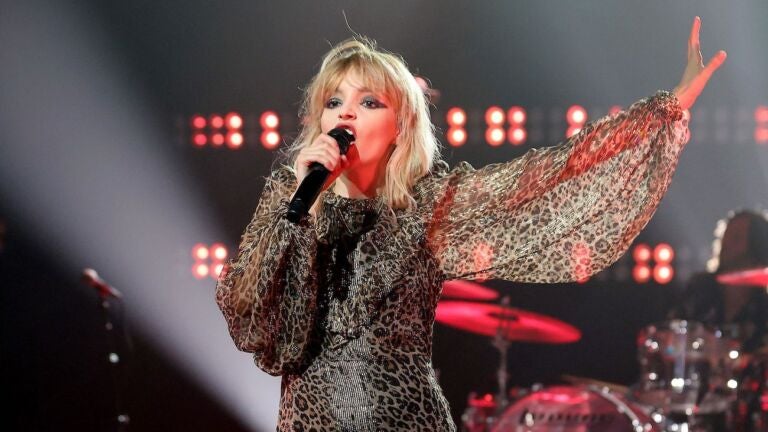 Three years since their third album, CHVRCHES is still turning heads.
The Scottish pop trio is coming to Boston's House of Blues on Dec. 1, on the heels of their latest release, "Screen Violence" — a horror-laced collection of songs that still contains all the wrappings of the group's signature synth pop.
After all, the title is a phrase as old as the band itself: Screen Violence, some 10-plus years ago, was once considered as a potential name for the group that later settled on CHVRCHES, frontwoman Lauren Mayberry told Slate in August.
"[The three of us in the band are] all big movie nerds, generally," Mayberry says. "And when we first started the band, a lot of bonding was done in the pub, but a lot of bonding was done watching those kinds of movies."
Indeed, "Screen Violence" took its inspiration from visual art, not music, including — you guessed it — horror movies, Mayberry says.
"Watching a lot of those films and trying to think especially about women's stories and narratives within those films was a big part of my preparation," she says.
Women have historically been absent leading roles in narratives, especially in a film genre where they are more likely to be a victim than any other part.
"We're always talking about the killer, [but] we never talk about the girl who got killed," Mayberry says. "And even in things that I love, like 'True Detective' or 'Twin Peaks,' so much time is spent talking about dead girls as a plot device to serve other people."
"Nobody ever really asks the woman what it's like in her situation, when we get obsessed with violence against women." Mayberry adds. "We're obsessed with the secondhand, grotesque observation of violence. We never ask why it's happening, or what happens afterwards. And I guess that's what a lot of the songs are about."
Word of the wise: The House of Blues show sold out. Be prepared to shop around for tickets if you want to see CHVRCHES up close.
Need weekend plans?
The best events in the city, delivered to your inbox