Concerts
This event has passed. Check out other things to do instead.
Behold The Bacon Brothers in Beverly
The multi-talented siblings spoke to Boston.com in advance of their rescheduled stop at The Cabot on August 7.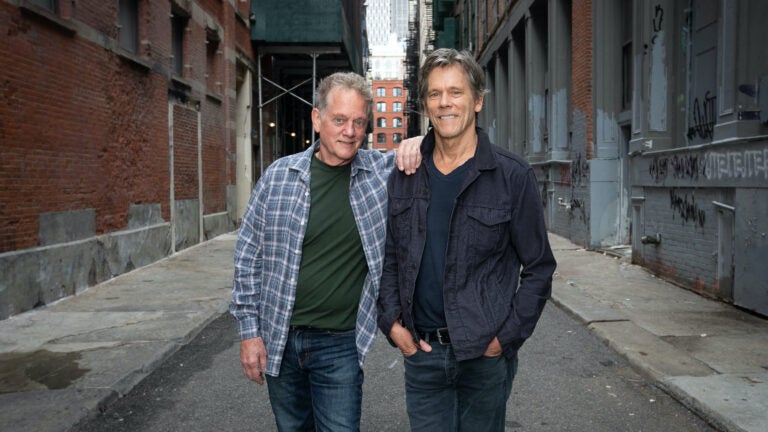 72-year-old musician, composer, and professor Michael Bacon and his 64-year-old actor, songwriter, and musician brother Kevin released their new EP, "Erato," on July 8, 2022, four months short of the 25th anniversary of their debut LP, "Forosoco."
The title of that 1997 album was the word that Kevin coined to describe the Bacon Brothers' sound.
"It was kind of a joke," the younger brother explained in a phone interview with Boston.com. "When you put a band together, everybody wants to know what kind of music you play and who you sound like. So that was our answer. It's not really folk, it's not 100% rock. It's got a little country; it's got a little soul. So that's where we came up with 'forosoco.'"
Considering Kevin's greater familiarity to the general public, one might be surprised to learn that Michael actually has three more IMDB credits as a composer than Kevin does as an actor.
How did that happen, you ask? Well, if you're a devotee of documentaries, then you have most likely heard music that flowed from the musical mind of the older brother.
Michael's work can be heard in Academy Award-winning documentaries, Emmy-winning PBS programs (he received the Original Score honor for "The Kennedys"), numerous features on the major networks, and the long-running PBS series "American Experience," "Nova," and "Finding Your Roots with Henry Louis Gates, Jr."
(When I inquired as to which brother had won more awards, Michael answered, "He has more acting awards, I have more music awards. Let's put it that way!")
Interestingly, Michael's contribution to "Erato," "Let Me Happen to You Girl," employed a composition that had not found a home.
"Often when I'm archiving old tracks, I come across a track and go, "You know, that really feels good to me," and I'll put it in this folder that I think I labeled 'Cool Stuff,'" Michael explained.
"When we were starting to put together this EP," he continued, "I pulled [the folder] out and wrote a song on top of this track that I had written for a television show. It took me about a half an hour, and it's really fun to play live."
On the EP's title track, Kevin appeals to the Greek Muse of lyric poetry: "Come to me Erato … Send me lightning in a bottle."
When I asked him to explain the meaning of "Karaoke Town," another of his three contributions, he replied, "I think there's something about karaoke that is fun but not artistic … It's fun, just like "Guitar Hero," but you're not creating … So I think that the song is talking about the difference between being an artist and playing a game."
And while the interview was meant to provide background for this preview of their August 17 show at The Cabot, I couldn't not ask Kevin if he had developed an affinity for Boston from having acted in several Beantown-based movies and shows.
He answered, "Oh my God, yes. Absolutely," but added, "One of the things that is most important to me about Boston is that the first or second gig that I ever did in Boston was where I met my wife (Kyra Sedgewick) 34 years ago. We did a show for WGBH's American Playhouse called "Lemon Sky" … That's where we met, and that's where we fell in love."
Could Michael top that with one of his own Boston-related experiences?
You be the judge: "Uh, I went to Harvard Summer School in the Middle Ages…."
Hopefully the brothers' Beverly stop on their Out of Memory tour will be at least as memorable.
Need weekend plans?
The best events in the city, delivered to your inbox