Concerts
This event has passed. Check out other things to do instead.
Bring on some Belew at City Winery
Guitarist Adrian Belew plays a solo show on Aug. 5.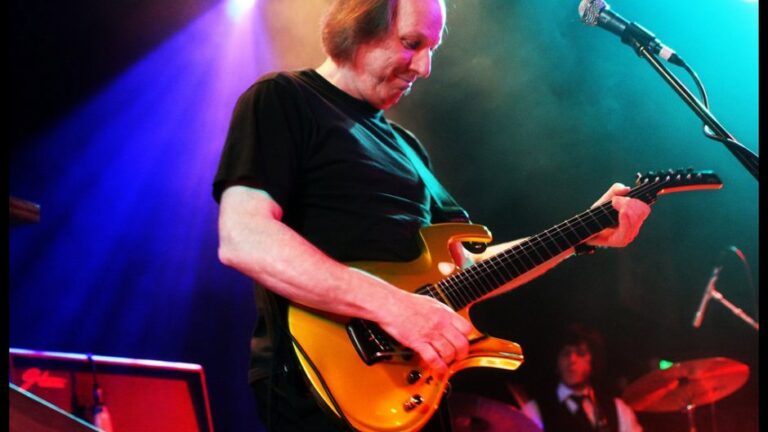 It's safe to say that guitarist-singer-techno wizard Adrian Belew is a work in progress, and has been one for decades. His musical journey can be traced back to when he was 5, singing along to a neighborhood jukebox in his hometown of Covington, Kentucky.
By high school, he was playing the drums – in a marching band. At 16, he started teaching himself guitar – making sure to come up with strange chords along with all the mainstream ones – and writing songs.
Belew is on the endless list of musicians who saw the Beatles on "The Ed Sullivan Show" and now claims that it changed his life. But by that time, he had already been a fan of the Everly Brothers and Roy Orbison, and he later fell under the spell of George Gershwin and Igor Stravinsky.
His earliest bands were content to fill set lists with cover songs, but he was writing more and he was developing his guitar skills. It was on a fateful mid-1970s night in Nashville, playing with his band Sweetheart at a club called Fanny's, that Frank Zappa happened to be in the audience, was very impressed with what Belew was doing on guitar, and told him he'd call him sometime.
Which he did, six months later, with an offer to audition for his touring band, followed by an invitation to join it. In 1977, he did just that, singing and playing guitar alongside Zappa. In 1978, he played guitar on David Bowie's tours. In 1980, he moved on to play and sing in Talking Heads. A year later, he became the front man – playing guitar and singing – in King Crimson, starting with their superb album "Discipline." In 1982, he released his first solo album "The Lone Rhino," and his career has just kept on going, with him often playing all the instruments and doing all the singing on his records.
Now, some 20 albums later, he's still evolving, always pairing up his guitar skills with new technology. His August 5 solo show at City Winery will allow him to display his musical prowess, aided by a couple of his signature Parker Fly guitars and a battery of electronics, including effects boxes, pedals, looping devices, a bit of feedback, and his ever-present whammy bar.
Need weekend plans?
The best events in the city, delivered to your inbox