Concerts
This event has passed. Check out other things to do instead.
Catch a case of 'Winter Hill Blues' with Medford's Ryan Lee Crosby at The Rockwell
The Medford blues musician will introduce his new album in Somerville's Davis Square on May 22.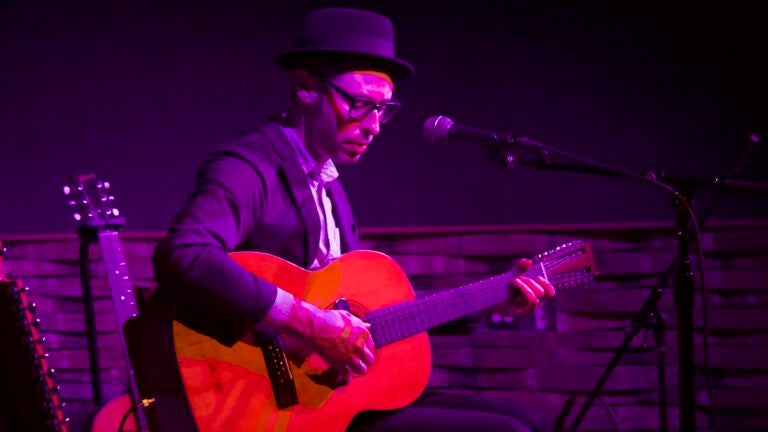 "I feel like 'Winter Hill Blues' is the summary of a decade of playing," Medford-based musician Ryan Lee Crosby proudly says of his new album, the release of which he will celebrate at The Rockwell (presented by ONCE) on May 22.
"Everything that I did before went into the making of this record," the songwriter, 12-string fingerpicker, and guitar instructor continues. "I feel like this is the most cohesive and realized record that I've made so far."
Crosby recently participated in the annual Juke Joint Festival in Clarksdale, Mississippi. "And being down there, you know, it gets things turning," he says.
Of another town in the Magnolia State, Crosby says, "Bentonia is where a lot of my energy is. That's where Skip James is from and Jimmy 'Duck' Holmes lives there."
Skip James (1902-1969) was perhaps most responsible for Crosby's love of the music that has most profoundly inspired him.
"About 11 or 12 years ago, one of my closest friends played me Skip James's 'Hard Time Killing Floor Blues' from 1931," he recalls. "It was one of those moments that maybe happens once or a few times in a lifetime where your perspective completely changes."
Journalist Jim Beaugez called Jimmy Holmes "the last in a line of bluesmen from Bentonia" in a profile for Smithsonian Magazine. Crosby "think[s] of him as a mentor in the blues and a teacher," and plays at Holmes's Blue Front Café a few times each year.
So what is the Bentonia sound, exactly (or approximately)?
"It's a haunting, hypnotic, and ethereal sound," in Crosby's words. "It's generally in a minor key. It's a unique sound in all of blues. There's really nothing else quite like it. I feel like it's music that has the capacity to really thin the veil between worlds."
Of the songs on "Winter Hill Blues," he describes "Was It the Devil?" as "very much a traditional Bentonia style."
Despite his fondness for a Southern generally and Mississippi-specific style of music, Crosby was born in Maryland, grew up in Virginia, and has been in New England for 31 years, including the 24 that have passed since he came to Boston to attend Northeastern.
"During my younger years, I moved around quite a bit and lived in probably almost every neighborhood in Boston or close to it."
Moreover, his influences are not restricted to Mississippi blues artists.
As a singer, he greatly admires his Medford neighbor Warren Senders, a New England Conservatory faculty member whom Crosby describes as a "wonderful Indian classical khyal vocalist" who has "shaped and continues to shape the way I think about singing now."
In terms of early influences, Crosby names Iggy Pop, Ian Curtis of Joy Division, and Bad Brains' H.R., of whom he says, "I loved how H.R. could go from these big, operatic, round sounds to something that felt much more tight and textured. The idea of kinda being able to swing widely with your vocal tone within even a single verse section was something that he impressed upon me."
Crosby will be joined by harmonicist Jay Scheffler and percussionist Grant Smith, two of his longtime collaborators, at the Rockwell. The scheduled opening acts are the country/folk sextet Possum — who will take the stage at 7 — and fiddler extraordinaire Ilana Katz Katz.
Need weekend plans?
The best events in the city, delivered to your inbox