Concerts
This event has passed. Check out other things to do instead.
Catch Judy Collins at the Cabot Theatre
Collins is bringing her sweet voice and famous blue eyes to Beverly Dec. 3.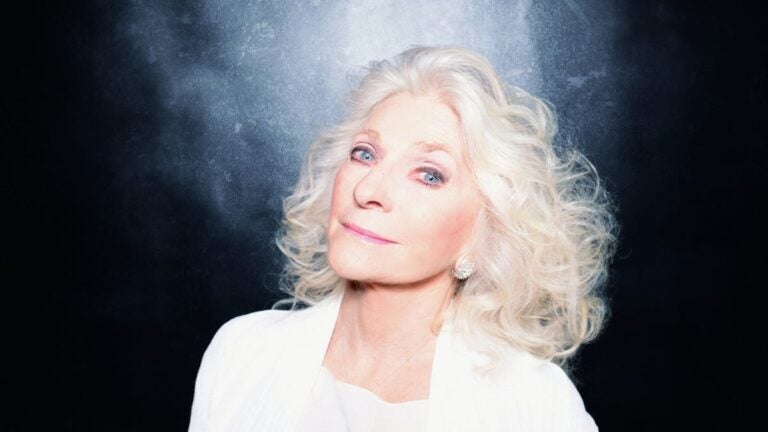 In her 2020 appreciation of singer Roberta Flack, Ann Powers of NPR Music wrote, "In popular music, interpretation is a form of authorship."
Among the other artists who have this talent in abundance is Judy Collins. Born in 1939, Collins covered many of Bob Dylan's songs in the 1960s, but released her debut album four months before he did his. She also recorded compositions by Joni Mitchell ("Both Sides Now") and Leonard Cohen ("Suzanne") before either of them did so. Furthermore, her version of Roger McGuinn's arrangement of Pete Seeger's "Turn! Turn! Turn!" appeared two years in advance of the No. 1 version by the former's band The Byrds.
Needless to say, Collins was on the cutting edge of a very sharp blade.
In the later '60s, Collins started writing her own material, was the subject of the Crosby, Stills (her boyfriend) & Nash song "Suite: Judy Blue Eyes," and enjoyed a run of commercial success that continued until the late 1970s. Having remained impressively prolific in subsequent decades, she received a Grammy nomination as recently as 2017 and topped a Billboard survey for the first time in her career when her holiday collection "Winter Stories" became the No. 1 bluegrass album in the nation on Dec. 21, 2019.
And Collins isn't done expanding her resume yet. This past July, this child of a radio show host launched a twice-monthly podcast called "Since You've Asked," the title of which references the first song that she composed herself more than 50 years ago. Her visit to Beverly's Cabot Theatre on Dec. 3 is part of a six-month tour that started in September and winds up next March.
As she recently said in an interview with AARP, "I had no idea when I sat down for my first piano lesson that I would still be doing this at 82."
Need weekend plans?
The best events in the city, delivered to your inbox