Concerts
This event has passed. Check out other things to do instead.
Enjoy masterfully written folk-pop with Dar Williams and guest Sophie B. Hawkins in Somerville
The singer-songwriter, who rose out of Boston's '90s music scene, is set to perform on May 21.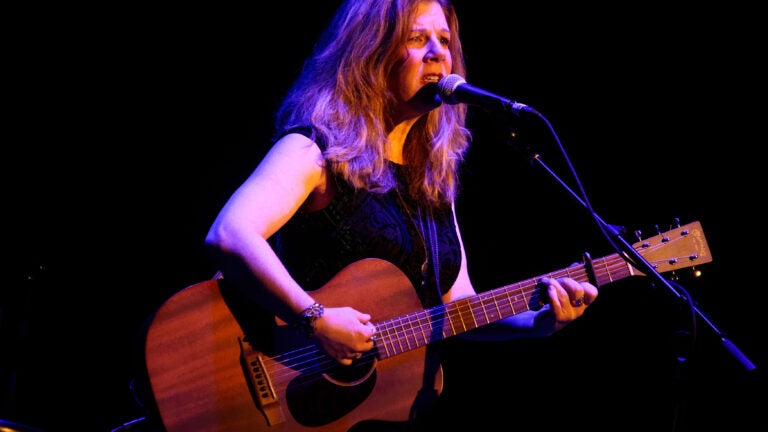 She rose out of the mid-'90s music scene in Boston, and now celebrated folk-pop singer-songwriter Dar Williams is set to return to the area this spring.
At 8 p.m. on May 21, Williams will take the Somerville Theatre stage with special guest Sophie B. Hawkins.
Last year, Williams released her 13th album, "I'll Meet You Here." It was recorded in Woodstock with guitarist and producer Larry Campbell, and Gail Ann Dorsey on bass and vocals, according to Newfolk Initiative. Williams and Dorsey toured together in the past.
"It's simply filled with the kind of superbly crafted songs you'd expect, enhanced by the tasteful production of Stewart Lerman, known for his work with The Roches, Elvis Costello, Neko Case, and countless others," the publication said of the album. "After a six-year hiatus from recording (save the limited release of a superb live 'Cry Cry Cry' album), this is a welcome comeback."
Americana Highways said the album "shows a maturity that's compelling."
"Performing since 1990 her songs were always good, but good, here & there. Not this time. Every song is a grand slam in its own way," the publication said. "From start to finish. At times there's the vocal warmth of Christine McVie (Fleetwood Mac), Christine Collister & Mary Black."
During a live performance at the Strathmore Music Center in Bethesda, Maryland, Williams spoke of her new album and played one of the new songs, Parklife DC said in a review of the show.
"Relationships are, for Dar, like for many songwriters, a theme she came back to later in the show, when she played 'Something to Get Through' for 'anyone who's wanted to say the perfect right right thing to friends after a breakup,'" the reviewer wrote.
"Nature is another of her central concerns," the critic said. "Introducing 'The Mercy of the Falling,' she told the audience about how her father would show her the constellations at night and explain the Greek myths behind them."
When she takes the stage in Somerville, Williams is likely to feature a fair sampling from "I'll Meet You Here," as well as highlights from her prior dozen albums and, just maybe, a cover or two — she's made well-received contributions in the past to tribute albums for the likes of The Beatles, Bruce Springsteen, and Judy Collins.
Sophie B. Hawkins, meanwhile, is probably best remembered for "Damn I Wish I Was Your Lover," her top 5 single from 1992. Though she hasn't released an album since 2012's "The Crossing," she's remained an active performer, having mounted a sold-out tour around the U.S. in 2019.
Need weekend plans?
The best events in the city, delivered to your inbox