Concerts
This event has passed. Check out other things to do instead.
Shout along with the Dropkick Murphys St. Patrick's Day week
The band is set to play four shows, at House of Blues and the new Roadrunner in Boston.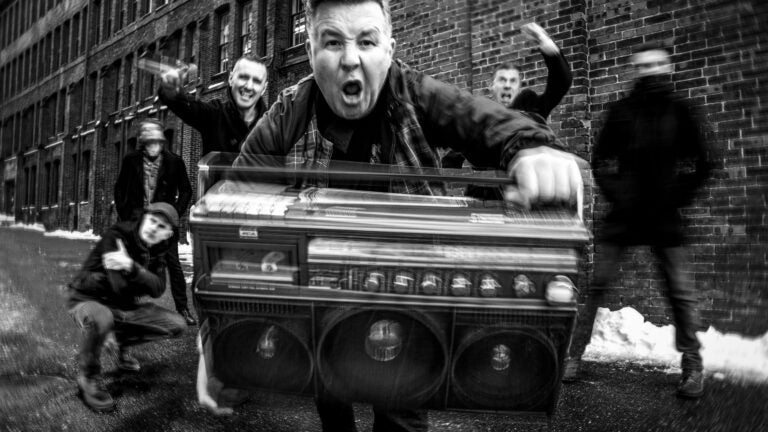 They're the Dropkick Murphys. And they're playing four nights in Boston. Need we say more?
This year, the local rockers are set to begin touring at the end of February, culminating in four nights in Boston for "St. Patrick's Day Week," according to Consequence of Sound.
Three of the four nights – March 17, 18, and 19 – will be at House of Blues (which, as of mid-February, were sold out except for verified resale tickets). The final show, March 20, is set for Roadrunner, with some tickets still left. The early start — 6 p.m. — is to allow for not one, not two, but three openers — The Bombpops, The Rumjacks, and Jesse Ahern at HOB, with Jim Lindberg from Pennywise taking The Bombpops' slot at Roadrunner.
Sadly, though, vocalist Al Barr won't be with the group: The band announced Feb. 15 that Barr's mother was recently diagnosed with Lewy Body Dementia, and Barr has decided to skip the current run of dates, as well as the band's upcoming summer European tour, to help care for her.
Vocalist Ken Casey will take lead for all songs on the St. Patrick's Day Tour, with openers Jesse Ahern, Mikey Rivkees from The Rumjacks and Jen Razavi from The Bombpops joining him on vocals for certain songs.
The group just released a new album last year called "Turn Up That Dial," their 10th — and as usual, it was rife with local references.
"Their approach to this album is simply one of letting off steam," Kerrang wrote of the album. "Don't expect anything profound or clever – this is Dropkick Murphys doing their damnedest to gee us up, nothing more. This translates as Celtic-styled riffs, reels and jigs amplified tenfold and bolstered by their now trademark gang vocal hooks."
The album, according to band member Ken Casey, aims to help the listener forget about their problems.
"On this record, the overall theme is the importance of music, and the bands that made us who we are," said Casey. "We just hope it takes people's minds off their troubles.
"We're so fortunate and grateful to be in the position to share a little happiness in our own way," he said. "Our gratitude levels are off the chart. Twenty-five years ago, somebody bet me 30 bucks I couldn't form a band with three weeks' notice to open for his band."
It's worth noting that for the Roadrunner show, 25 cents from each ticket purchased will go to The Shout Syndicate, a Boston-based, volunteer-run fundraising effort who raises money to help fund youth-led arts programs in Greater Boston.
Need weekend plans?
The best events in the city, delivered to your inbox