Concerts
This event has passed. Check out other things to do instead.
Experience guitar wonder with Julian Lange at Berklee
The guitar prodigy brings his trio to Berklee Performance Center Dec. 3.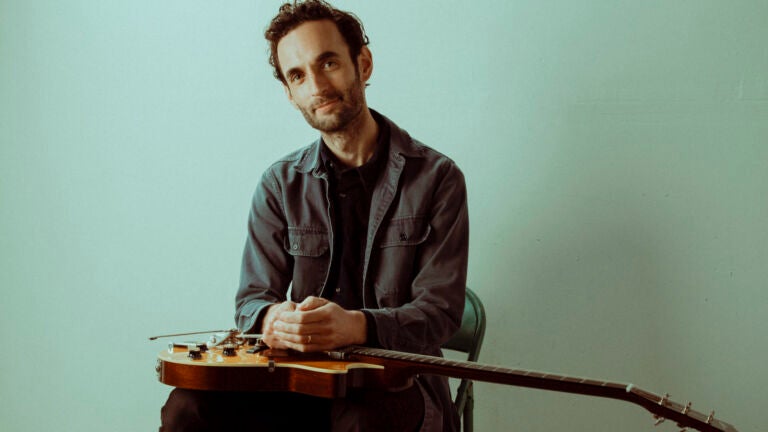 Put a guitar – be it electric or acoustic – in the hands of Julian Lage, and he'll immediately prove that he knows what to do with it, and has for a long time. At 7, the Santa Rosa native shared a concert stage with rocker Carlos Santana. At 11, he made his first recording, with bluegrass legend David Grisman. By 16, he was in the studio with jazz vibraphonist Gary Burton.
Now 33, with a passel of albums on his résumé – the newest, "Squint," marks his debut as a leader on the legendary Blue Note jazz label – he's out on the road in trio format (Jorge Roeder, bass; Dave King, drums) demonstrating the art of having an exciting three-way improvisational conversation by playing only instrumentals.
Lage's return to Berklee Performance Center on Dec. 3 – his signature model Collings guitars in hand – will likely feature originals and covers from "Squint." Highlights include his own laid-back but fast-paced "Familiar Flower" and a softly swinging version of "Call of the Canyon," the chestnut made popular by Gene Autry in the 1940s. Hint: It would be a treat if he listened to anyone calling out for his takes of Miles Davis' "All Blues" or of "Love Hurts" (yes, the Nazareth power ballad).
The combined chops and soul of and communication between the trio playing stunning and accessible music will be the main draw of the show. But should Lage's set list have the solo piece "Etude," which kicks off "Squint," on it, you'll have a chance to witness the prowess of a guitarist who has mastered the art of using a pick and fingerpicking at the same time.
Need weekend plans?
The best events in the city, delivered to your inbox