Concerts
Get goofy with Guster for the return of On The Ocean fest
The loosey-goosey event returns to a variety of Maine locales this August.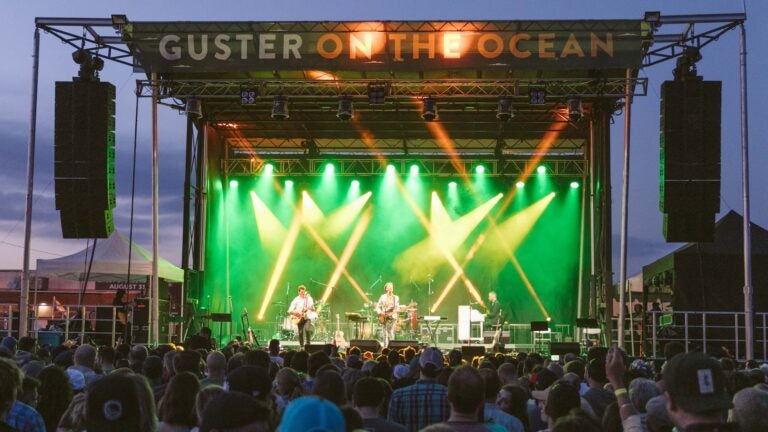 They may be a Boston-area favorite — famously forming while attending Tufts in the early '90s and cutting their rock-and-roll teeth in Somerville — but alt rockers Guster clearly also have a soft spot for the Pine Tree State.
That's why, after a pandemic-necessitated hiatus, the band is back this August with the fourth installment of On The Ocean, their notoriously loosey-goosey music festival in Portland, Maine, and environs.
On The Ocean isn't your typical, bands-on-stages kind of music festival either. Yes, it kicks off Aug. 12 with an acoustic performance at the State Theatre in Portland, featuring the incomparable Josh Ritter as an opener. But things get a tad wackier on Saturday, when the festival moves to Thompson's Point for "a full day of music and comedy."
Besides Guster, that day's festivities will include Shovels and Rope, Amythyst Kiah, and local acts Darlingside and Pete Kilpatrick. Actor Connor Ratliff, meanwhile, will be ringmaster for a side stage dedicated to comedy and improv. Plus … food trucks!
Then, on Sunday (please try to keep up), the band will host what they're calling "Camp Guster" at Camp Winnebago in Fayette, Maine. Says the band: "The members of Guster will serve as Camp Counselors for an afternoon of traditional camp games and activities. The day will wrap with an acoustic performance and sing-along by the campfire. And yes, of course there will be s'mores."
Clearly anything is possible when it comes to Guster — remember, this is a band that's prone to opening for themselves disguised as other bands, and who closed out their last On The Ocean fest, in 2019, with a free afterparty featuring "legendary EDM group" PIPPI. Which turned out to be Guster dressed as a bunch of Pippi Longstockings.
Tickets for On The Ocean Weekend's Friday Night Kickoff Concert (Aug. 12) and On The Ocean at Thompson's Point (Saturday, Aug. 13) go on sale Friday, April 8, at noon. Camp Guster goes on sale Wednesday, April 13, at noon. Prices are as follows:
August 12, single-day ticket – $55
August 13, adult ticket – $55
August 13, under 13 ticket – $10
August 12 & 13, two-day adult ticket – $105
Camp Guster – $200 (adults) / $100 (under 18)
Gusterheads (Gusterites? Gusterateurs?) can watch for updates at ontheoceanfest.com.
Need weekend plans?
The best events in the city, delivered to your inbox